Little Shop of Horrors, Regent's Park Open Air Theatre review - monstrously entertaining |

reviews, news & interviews
Little Shop of Horrors, Regent's Park Open Air Theatre review - monstrously entertaining
Little Shop of Horrors, Regent's Park Open Air Theatre review - monstrously entertaining
A blooming marvellous revival of a classic musical
Sowing the seed: Audrey II (Vicky Vox) tempts hapless botanist Seymour (Marc Antolin)
The resplendent partnership of Alan Menken and Howard Ashman – which produced Disney hits Aladdin, Beauty and the Beast and The Little Mermaid – first took root with this 1982 Off-Broadway musical, based on a low-budget Sixties film, about a man seeking love and fortune via a bloodthirsty plant.
This revelatory revival from Maria Aberg embraces the work's B-movie dichotomy: equal parts dark, gory fable and riotous carnival of delights.
Orphaned Seymour (Marc Antolin) is nerdy assistant to the Skid Row florist who took him in as a child. He pines after colleague Audrey (Jemima Rooper, pictured below), who's in an abusive relationship with sadistic dentist Orin (Matt Willis), and finally finds a way to win her affections – while also turning around the failing shop – by creating a new, exotic plant species: the towering Audrey II, which feeds on human flesh.
The most eye-catching casting is American drag queen Vicky Vox as Audrey II (main image), a character usually represented by puppets. It's an ingenious decision, one that feels so immediately right it's hard to imagine the show done in any other way. With commanding, cabaret-styled stage presence and a firm grasp of innuendo, Vox's Audrey II is a mean, green enticement machine, tempting Seymour into further sin like some unearthly combination of Mephistopheles, genie and Frank-N-Furter.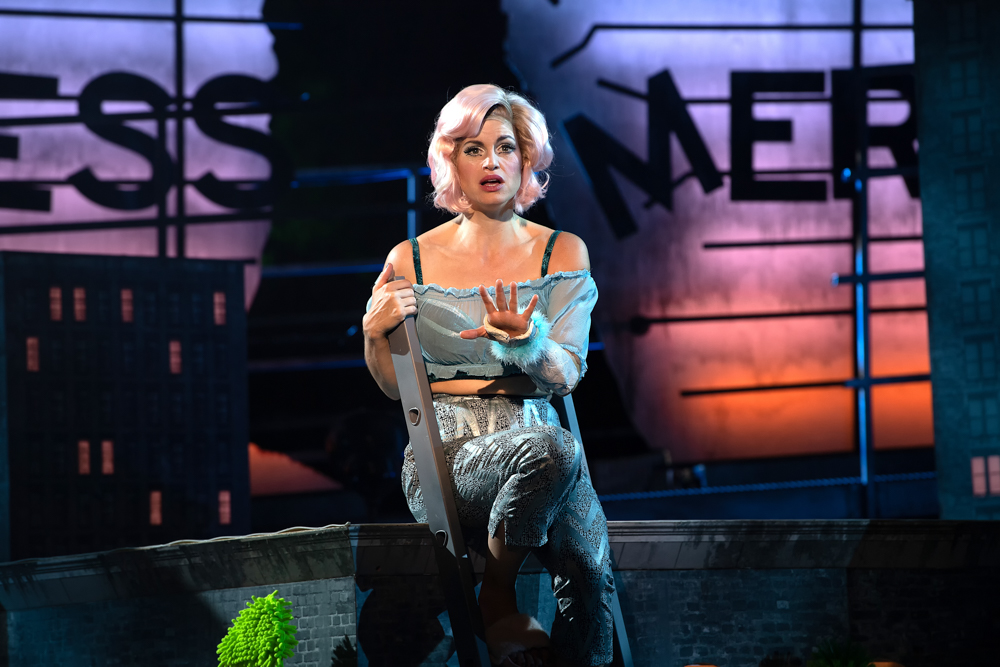 Towering over her prey in glittering heels or "Feed Me" go-go boots, voluptuous in skin-tight green spandex and fishnets, Vox's sensual succulent embodies the transgressive qualities of the story – Seymour's repressed desires come to life, and the moral Venus flytrap into which he wanders. Crucially, Aberg's production doesn't sugar-coat his actions, making the story's first death a visceral, grotesque set-piece that results in Seymour vomiting off the stage.
Throughout, there's a perfect balance of tones: subversive horticultural horror with a gentle emotional core. Rooper's "Somewhere That's Green" – in which Audrey longs for the American Dream version of suburban bliss, where there's "plastic on the furniture" – is heart-stopping in its yearning simplicity (and, last night, a real sunset obligingly matched Howard Hudson's dreamy lighting). Likewise, Antolin brings a sweet earnestness to Seymour; their romantic duet, "Suddenly, Seymour", is exquisitely euphoric.
Aberg's production is still faced with the problem of a domestic violence subplot written in queasily semi-comic fashion, and with Audrey's concerns that she's not pure enough for the virtuous Seymour. But there's effective work from Rooper to differentiate between the (literally) bubblegum-pink cartoon layer of Audrey and the troubled human being beneath, so that her choices feel appropriately weighted and her fate has meaning.
The entire company is in terrific voice, led by doo-wopping Greek chorus Christina Modestou, Seyi Omooba and Renée Lamb (pictured above). This slick trio cements the show, with Omooba in particular a brilliantly witty commentator on events. Matt Willis (of boy band Busted) brings the necessary manic energy – and some nifty mic stand moves – to the nitrous oxide-huffing Orin, as well as gamely producing a series of outlandish characters in the second half, while Forbes Masson is a droll delight as the kvetching shopowner Mr Mushnik.
Tom Scutt's striking set has a graphic novel quality: monochrome, crumbling tenement blocks surrounded by rubbish and rubble, with model versions of buildings pushed around in shopping trolleys by Skid Row's down-and-out occupants. The broken drive-in theatre sign, once proudly proclaiming "God Bless America", nods to the era's malaise, as well as to the work's cinematic origins. Against this backdrop, spots of colour pop: Seymour and Audrey's blue and pink costumes, the sprouting green invasion of Audrey II.
Lizzi Gee cleverly incorporates the trolleys in her choreography, which – matching the score's mix of rock n roll, Motown, doo-wop and ballads, rousingly delivered by the band – ranges from elegiac contemporary to lightning-fast period pastiche and a rocking climactic number that spills out into an increasingly anthropomorphised park. This finale is the wild capper to a thrilling evening – the full-blooded, feel-good hit of the summer.
With commanding, cabaret-styled stage presence and a firm grasp of innuendo, Vicky Vox's Audrey II is a mean, green enticement machine
rating
Share this article