Sharp Objects, Sky Atlantic review - Amy Adams battles her demons |

reviews, news & interviews
Sharp Objects, Sky Atlantic review - Amy Adams battles her demons
Sharp Objects, Sky Atlantic review - Amy Adams battles her demons
Gillian Flynn adaptation is a dark and deadly Southern Gothic drama
Mommie dearest: Adora (Patricia Clarkson) and her daughter Camille (Amy Adams)
Based on the novel by Gillian Flynn (author of Gone Girl) and directed by Jean-Marc Valleé (who helmed last year's award-winning Big Little Lies), HBO's Sharp Objects arrives trailing a cloud of great expectations.
Happily – albeit depressingly given its corrosively dark subject matter – it exerts its grip with increasing force, once you've committed yourself to stick with it past the first couple of episodes.
Mining the kind of steamy, silently menacing American hinterland also exploited by the likes of True Detective or Justified, Sharp Objects whisks us to the small town of Wind Gap, Missouri, where a young girl has been abducted, following the murder of another the previous year. Just what you wanted, right – yet another show about a serial killer who preys on women? A fair point, but Sharp Objects is at least different in being primarily concerned with the lives and viewpoints of the women in the story (pictured below, Eliza Scanlen as Amma).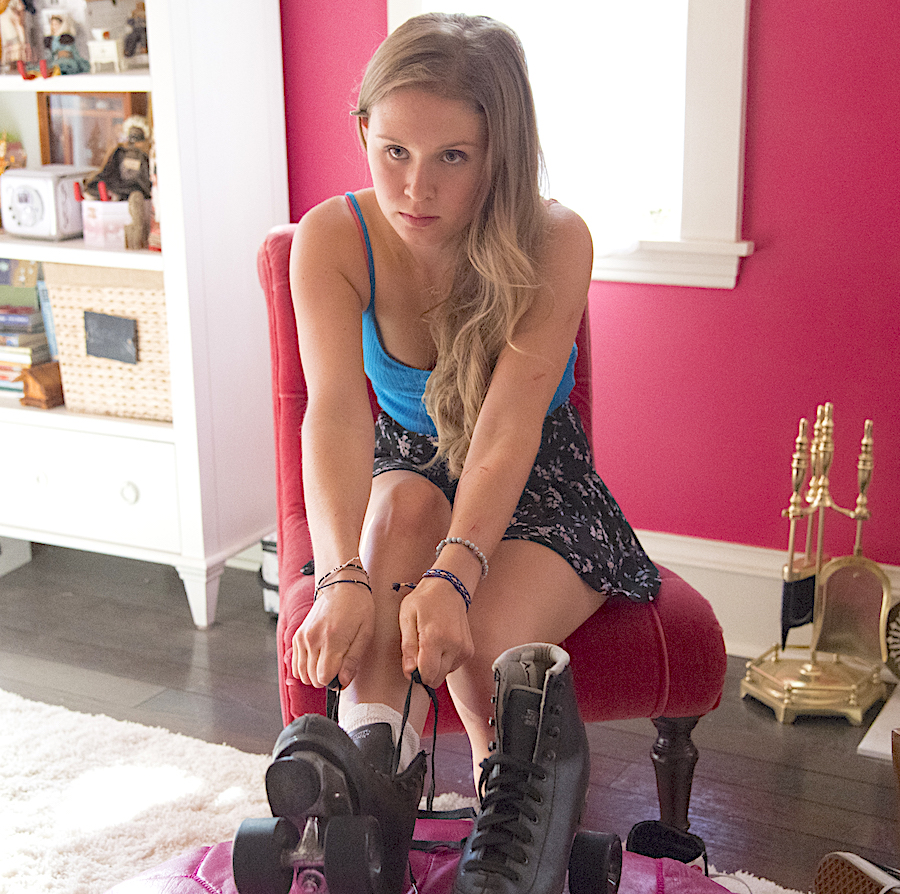 Casting is all, and they scored big here by recruiting Amy Adams to play Camille Preaker, a reporter for the St Louis Chronicle. She's recuperating from assorted drink and emotional problems and is sent by her editor to cover the Wind Gap story. It happens to be Camille's home town, but far from being an emotional reunion with her parents and half-sister, the assignment drags her through a cauldron of nightmarish memories and semi-suppressed trauma. The progress of the murder case parallels Camille's struggle to rid herself of her toxic past and find something to cling to for the future.
In this odyssey of dysfunction, the other of the story's twin peaks is a rip-roaring performance by Patricia Clarkson as Camille's mother, Adora Crellin. Her name aptly conveys the extent of her steepling amour propre, as she lords it over the townsfolk from her sprawling family mansion in its multiple acres of lawn and woodland (the family business is slaughtering pigs). Her second husband, Alan (Henry Czerny), has been reduced to a supporting role as a kind of glorified walker who gets to fetch and carry stuff while Adora indulges her assortment of hypochondriac ailments and imagined slights. At one point he asks meekly if he might stay with her for the night? "I don't think that will be necessary," she retorts icily. Camille and Adora have loathed one another since the day Camille was born.
Technically Missouri isn't quite the South, but the Civil War has never really ended here. There's a rumbustious set-piece episode where the town celebrates Calhoun Day, named after a local hero of the Confederacy and in particular his child bride Millie, who was subjected to vile physical abuse by Union soldiers. The event brings together Wind Gap's various social strata, from drunken good ole boys waving whisky bottles and Confederate flags to Adora dolling herself up like Scarlett O'Hara as she floats patronisingly among the local wives and widows. Meanwhile a brawl breaks out between two potential murder suspects.
As she pokes about for information about the killings (the missing girl's mutilated corpse having been found displayed in the window of a derelict building), Camille is assailed by ghosts and hallucinations. She fuels herself on neat vodka quaffed from an Evian bottle, blasting Led Zeppelin in her earphones for additional numbing effect, as disconnected images of being raped by the high school football team, splashes of blood, a spectral woman in white and memories of the death of a younger sister flit disorientatingly through her mind.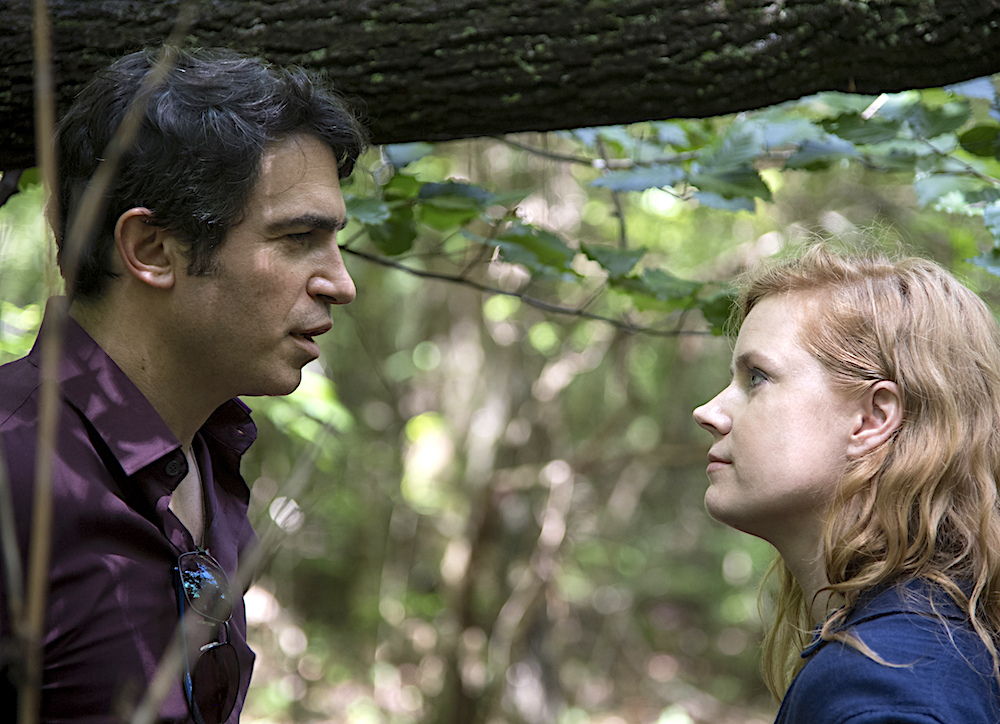 A pudgy, dishevelled Adams acutely portrays a woman whose inner emotional life has been reduced to a scorched wasteland. The extent of her addiction to self-harming with razorblades, paperclips, or indeed anything pointed is revealed in one shocking scene where she's trying on dresses in a local store, and it's no surprise to learn that she suffers from what you could call intimacy issues. WIth the Gothic-horror factor rising to boiling point, it remains a mystery how she ever manages to write a single word for her newspaper.
She gets help from detective Richard Willis (Chris Messina, pictured above with Adams), who's been drafted in from Kansas City to work on the case, though he starts to realise that taking the measure of Camille's self-loathing and assorted psychoses may be more than a lifetime's work. Camille also finds herself confronted with a mini-me in the shape of her half-sister Amma, a precocious 13-year-old fascinated by her big sister's aura of damage and danger. "She's delicate – a rare rose, but not without thorns," is how Adora describes Camille. She's certainly a mess, but delicate? I reckon it would take a silver bullet to stop Camille.