David Shrigley talk, Brighton Festival review - comedic stroll through a career in art |

reviews, news & interviews
David Shrigley talk, Brighton Festival review - comedic stroll through a career in art
David Shrigley talk, Brighton Festival review - comedic stroll through a career in art
High speed PowerPoint entertainment from the kingpin of oddball cartoons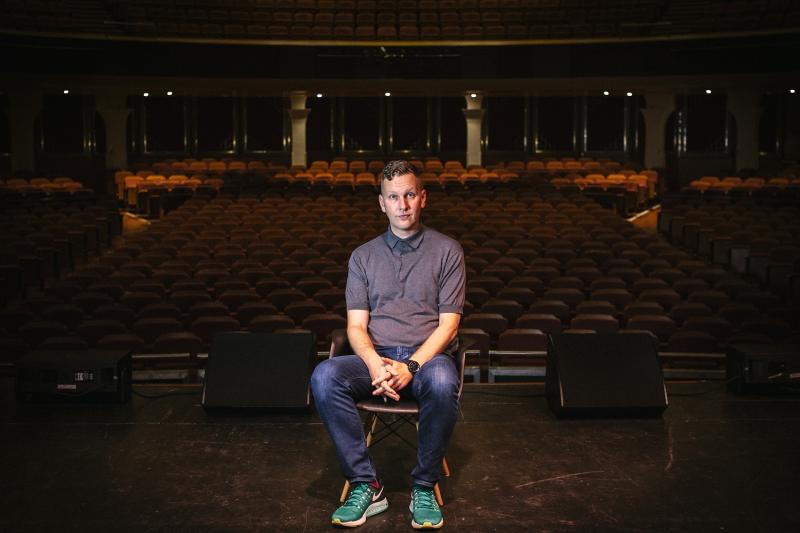 Shrigley awaits his audience
As the Brighton Festival 2018 draws towards its closing weekend, its Guest Director, the artist David Shrigley, has committed to an illustrated talk about his work that "will contain numerous rambling anecdotes but not be in the slightest bit boring". In the programme, he claims to have promised this signed in his own blood. Such drastic assurance proves unnecessary.
His talk his sardonically
funny
, sometimes causing waves of raucous laughter and applause to sweep across the packed Dome Concert Hall.
The format is simple. Accompanied by a woman signing, who Shrigley often tells not to translate bits and pieces, he stands on a bare stage, initially looking rather shy, and fires through an avalanche of slides and occasional film footage. He does, as promised, ramble - there is no overarching narrative or regularly returning thematic - but, excepting a couple of hardly noticeable technical slip-ups, he never falters and is certainly never boring.
We arrive in the venue to be confronted by a typically bizarre, abject Shrigley cartoon projected at the back of the stage. It features someone who the text tells us has hair growing on their eyes. When he comes on he immediately starts leading us about his career via his slides. There are sections on robots, on obscenity, on whether he can actually draw, on the way he subverts the exhibition process (eg, creating hidden art in gallery spaces), on his dislike of audience Q&As which he circumvents tonight by attempting to answer all the questions he's usually asked.
He sends himself up, is easily self-depreciating about his work, but more he makes a mockery of the commercial process whereby large corporations who know his name but don't really "get" what he's about, hire him to do commercials. There are very funny film sequences involving animations he did for Pringle of Scotland (accepted and shown) and Googlemail (rejected). He has long been pushing at such boundaries culminating (up to this point in time) with his Really Good thumbs up on Trafalgar Square's Fourth Plinth.
David Shrigley has proved a good choice as Guest Director of Brighton Festival 2018. He has brought a cheek and approachability to the three week, multi-venue extravaganza. Last year's Guest Director, Kate Tempest, also brought accessible zip to the Festival, following some year's when the ratio between accessibility and high art gravity had perhaps slipped slightly too far towards the latter. Shrigley has pushed things further, as is the nature of his wry personality, and brought fizz and levity to an event that still maintains admirably high levels of vanguard work and avant-garde-ism.
If there's a point to his talk tonight, it's that art can be both sincere and ironic. We live in a cynical consumer world, tediously ruled by the drive to material gain, and a scattergun blast through Shrigley's career shows him to be a light-hearted subversive who's playing both sides with a mixture or shrewdness, bemusent, satire and relentlessly inventive artistic wit.
Below: Watch the David Shrigley short film that Googlemail rejected as advertising material
He does, as promised, ramble but he never falters and is certainly never boring
rating
Share this article