Formosa, Cloud Gate Dance Theatre of Taiwan, Sadler's Wells review - perfect in every detail |

reviews, news & interviews
Formosa, Cloud Gate Dance Theatre of Taiwan, Sadler's Wells review - perfect in every detail
Formosa, Cloud Gate Dance Theatre of Taiwan, Sadler's Wells review - perfect in every detail
A glorious fusion of athletic dance, creative visuals and intoxicating sound
Tsai Ming-yuan leaps across the stage in 'Formosa'
Whatever you do in the next couple of days, be sure to grab a ticket for this wonderfully atmospheric production. A glorious fusion of athletic dance, creative visuals and intoxicating sound, the piece pays tribute to the island of Taiwan, named Formosa ("beautiful") by Portuguese sailors in the 16th century, and home to Cloud Gate Dance Theatre.
It is a historic moment, since this is Lin Hwai-min's final production as leader of the company he founded in 1973. When he steps down next year, he will leave behind an impressive legacy that has won him countless accolades and comparisons with legendary figures such as William Forsythe and Pina Bausch.
Lin's choreography is a unique fusion of eastern and western traditions. He studied in New York with Martha Graham and Merce Cunningham, and his 24-strong company are schooled in contemporary dance and Asian disciplines such as martial arts, calligraphy and Qi Gong, a form of meditation involving deep rhythmic breathing and the fluid movements that permeate this piece.
The calmness achieved by Qi Gong gives the dancers enormous presence. The opening sequence sees them walking around a brightly lit stage. Simply dressed in trousers and tops coloured greens and browns (by Apu Jan) to represent villagers, they appear to wander aimlessly, yet the intensity of their focus lends their movements a captivating precision and clarity.
On the soundtrack a man reads the first of many extracts from poems describing the island, the gist of which is translated into surtitles. The pace soon quickens as, moving energetically in unison, the dancers evoke the hardships of rural life and the mutual dependence it demands, while Sangpuy Katatepan Mavaliyw sings a rousing work song followed by the more intimate sounds of humming.
Later the dancers conjure the busyness and isolation of city life by moving hither and thither with apparent disregard for one another. Then as fishermen eagerly trawling for mullet, they evoke the excitement of the catch with athletic spins, leaps, twirls and somersaults (pictured below), their feet flexed and toes spread wide. Its amazing how expressive feet can be when not restricted by the conventions of western dance.
The battle between the sexes is explored in combative duets that see men dragging women across the floor, lifting them awkwardly and balancing them in ungainly poses; but combining athleticism with tenderness, the women give as good as they get (pictured above Huang Li-chieh floored by Kuo Tzu-wei).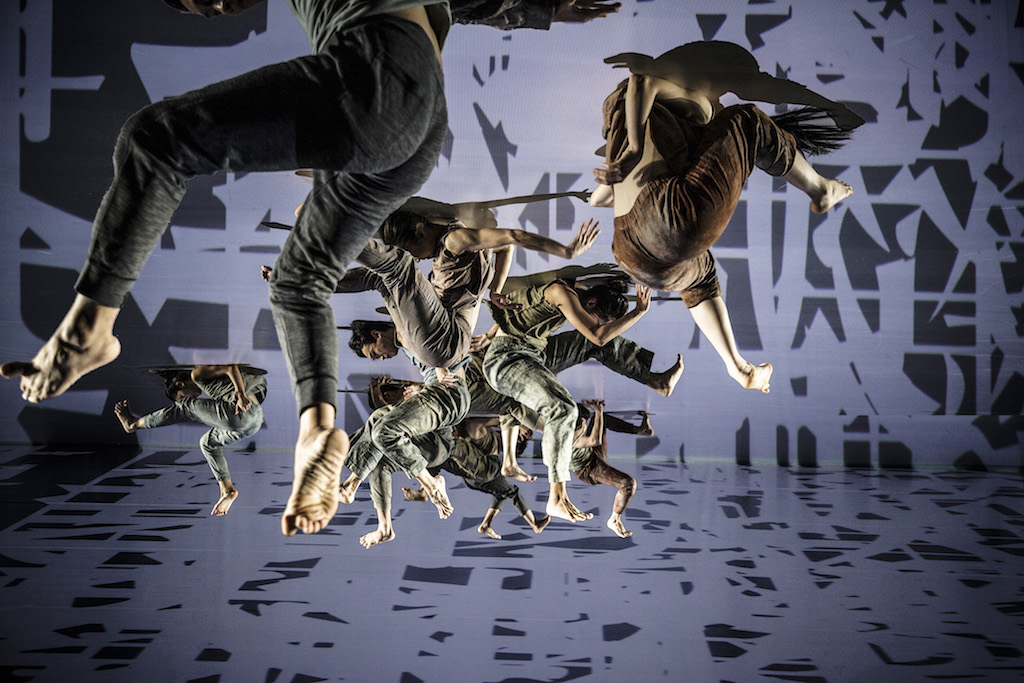 There's a glorious duet between a rice farmer (Chou Chen-yeh) and a beautiful woman dressed in white (Huang Mei-ya), whom he probably imagines. His movements are grounded and earth-bound, while in graceful lifts, she soars upwards as though she were an airborn sprite. Appearing on the wall behind them are elegant lines of Chinese calligraphy. They are the start of an endlessly evolving landscape of words taken from the poems along with names of Taiwanese rivers, mountains towns and villages. The words drift like mist or rain, fall like snow, enlarge into abstract patterns, form darkly regimented blocks, crash down like exploding bombs or twinkle in the night sky like stars. Designed by Chou Tung-yen and Very Mainstream Studio, this visual feast is an artwork in its own right.
Suddenly the words contract into a line of white light, like a deep fissure cleaving the space. A female dancer begins to shake and tremble; although she is constrained and comforted by a male colleague, the tremors continue until finally she collapses in his arms.
Her trauma is the catalyst for a conflict that divides the company in two. A stand-off between the warring factions ensues but soon ends with a fight between a man and woman. Their martial arts training comes to the for as they wrestle, punch, kick and tumble in a choreographed bout convincingly won by the woman. Two men (pictured below) follow suit, but a full-scale battle quickly erupts. Every now and then, the churning and writhing mayhem stops as the dancers freeze into a stylised tableau reminiscent of Joe Rosenthal's famous photo of American soldiers raising the flag in Iwo Jima, in 1945, to mark the capture of the island.
Accompanied by the beat of drums, the clatter of wooden clappers and the crash of symbols, the fight is incredibly exciting and very real. A fine balance between order and chaos, it could only be achieved through enormous skill, perfect timing and endless rehearsals.
The war ends only when the combatants have all collapsed on the floor. Gradually, the dancers stagger back to their feet as a video of roiling seas (by Chang Hao-jan) sweeps away the calligraphy. Hands are slowly joined in reconciliation, lines are formed and, to the rousing cadences of a traditional folk song, the performers dance off stage leaving a man standing alone in the empty space.
Formosa is based on the history of Taiwan, but in acknowledging the whole gamut of human behaviour, it is also a universal tale that anyone can relate to. Don't miss this final demonstration of Lin Hwai-min's brilliance as a choreographer who not only created a company, but ensured Taiwan's place on the international map of contemporary dance.
Its amazing how expressive feet can be when not restricted by the conventions of western dance
rating
Explore topics
Share this article