Ordeal by Innocence, BBC One, review - Agatha Christie goes nuclear |

reviews, news & interviews
Ordeal by Innocence, BBC One, review - Agatha Christie goes nuclear
Ordeal by Innocence, BBC One, review - Agatha Christie goes nuclear
Delayed adaptation is a tangy brew of blood, bricks and bad mothers
Innocent? Ella Purnell, Eleanor Tomlinson, Anthony Boyle and Crystal Clarke in 'Ordeal by Innocence'
Ordeal by Innocence belongs to a new and, you hope, short-lived sub-genre. The only other stablemate is All the Money in the World. Both were in the can and good to go when very serious sexual allegations were made against a member of the cast. For the latter, Ridley Scott reshot every scene which featured Kevin Spacey, subbing in Christopher Plummer.
For
BBC One
's now annual serving of an
Agatha Christie
drama
, everyone came back to redo the bits which previously contained Ed Westwick and now have Christian Cooke (
pictured below
). Fortunately most of these seem to be interiors, as the exteriors take place in the full bloom of late spring (the wisteria is out in force).
Cook plays Mickey Argyll, a brooding former serviceman who as a child was adopted into a family domiciled in Sunny Point, an ironically named Georgian pile with its own tree-fringed lake. Rachel Argyll, the grand philanthropical matriarch responsible for bringing half a dozen orphans into the home, was fatally stabbed before the opening credits of the first episode. A pool of blood bloomed stylishly on the expensive rug under a prone Anna Chancellor, triggering hysterical shrieks from the Nordic maid Kirsten (Morven Christie) and an oddly calm reaction from the newly widowed Leo (Bill Nighy).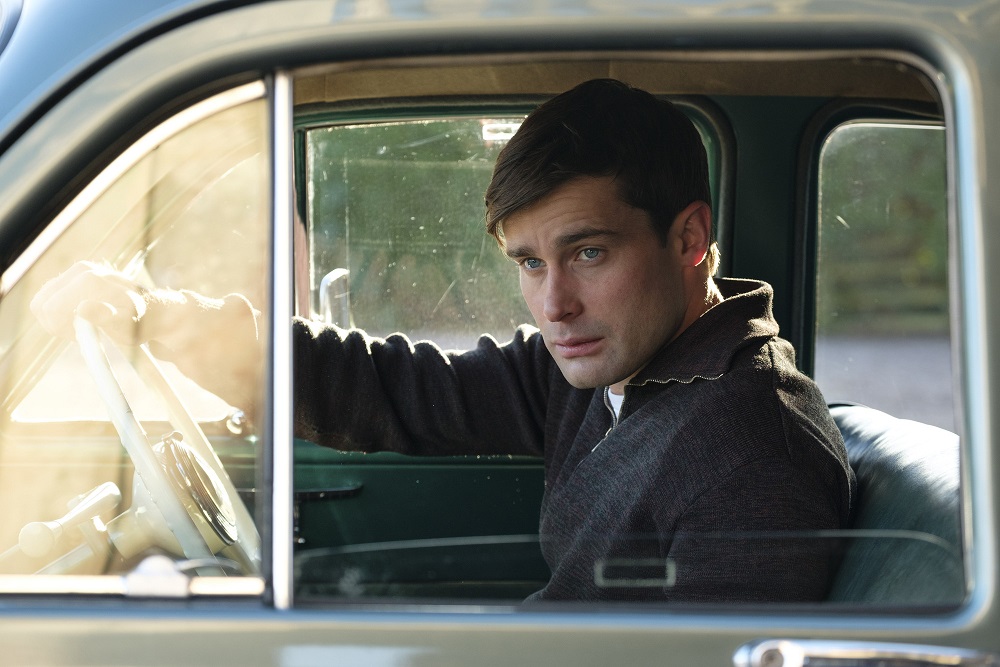 Spool on 18 months and the funeral baked meats are coldly furnishing forth the marriage table. Leo's pneumatic bride-to-be Gwenda (Alice Eve) totters and sashays on heels wearing a dress she's managed to pour some but not quite all of herself into. The grown-up kids all simmeringly detest her. The only one who won't, indeed can't spit tacks in her direction is Jack (Anthony Boyle), who was laid to rest shortly after the opening credits, having died in jail while awaiting trial for the murder of his adopted mother.
Why would the delinquent Jack have wanted to do in Rachel? Frankly who wouldn't? As a mother she turns out, in strategically arranged flashbacks, to have been a perfect nightmare who administered a draconian home-schooling and fussed snobbishly over appearances. Thanks to their upbringing, Tina (Crystal Clarke) is now suicidal, Hester (Ella Purnell) is an alcoholic and Mickey, who always refused to have his glottal stops drummed out of him, self-harms with lit cigarettes. Only Mary (Eleanor Tomlinson) might have escaped this dread ménage by marrying the dashing RAF ace Philip Durrant (Matthew Goode), but he no longer has use of his legs after crashing his motor. While he keeps his upper body screengrab-trim on the parallel bars and peps up his spirits with shots of morphine, he has let his mind turn rancid with bitterness. (Pictured below: Anna Chancellor and Morven Christie)
This is the third of Sarah Phelps' Agatha Christie revamps. Like And Then There Were None and The Witness for the Prosecution, her scripts have syringed much of the starch out of the Christie brand. All these stories – and Julian Fellowes' recent Crooked House – share much of the same basic DNA: warring family members, a hated second bride, suspects all marooned in one inescapable location, the devoted servant of the murdered chatelaine. Sometimes Ordeal by Innocence seems even to have borrowed the stories attached to the actors in other dramas. Matthew Goode flirted with crashing fast cars in Downton Abbey. Dr Arthur Calgary (Luke Treadaway) claimed to have arrived from a job as a scientist in the Arctic Circle, which is what Treadaway was doing in Fortitude.
The novel from which the drama has been freely adapted, with a greatly changed ending promised, was published in 1958. Unlike Christie's pre-war product, the concept of country-house living is inherently less stable and Phelps had stirred in a slightly synthetic additive in the form of anxieties about the A-bomb: Dr Calgary is even reading a nice old Penguin paperback of John Wyndham's post-apocalyptic The Chrysalids.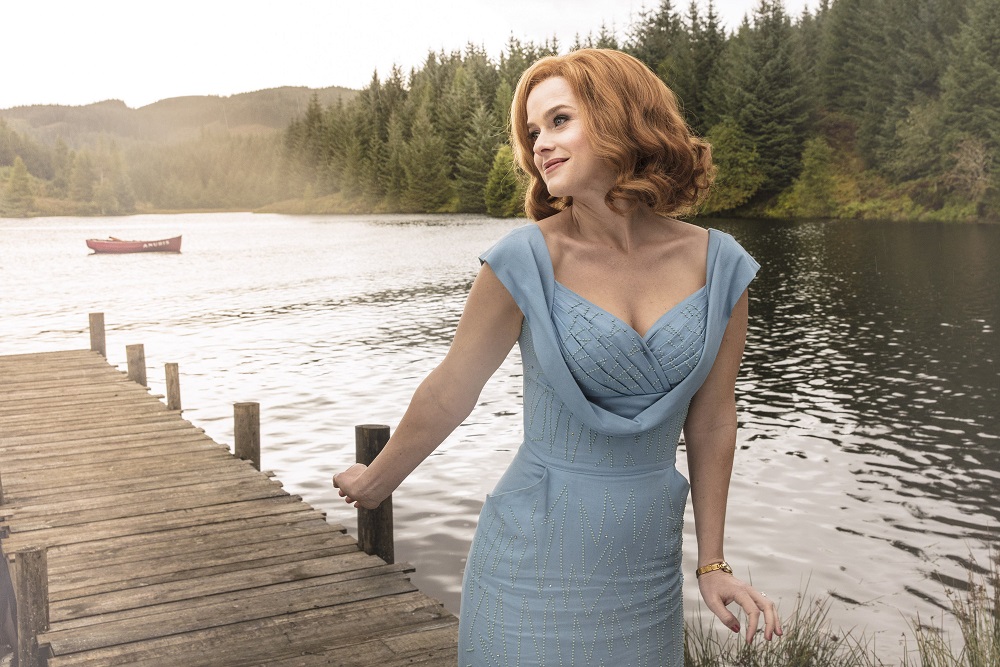 The period is brought closer to the here and now by actors such as Nighy who don't come barnacled in an old-world upper-crustiness. Goode and Chancellor play posh to the manor born, while the nervy, vulnerable Tomlinson (better known as Demelza Poldark) and the horridly grinning Boyle (who won an Olivier Award as Scorpius Malfoy) are both scene-stealingly good. Alice Eve (pictured above), whose filmography mainly consists of modern American bombshells, gets to work her comic chops as a social climber with a steely eye on the prize. "I don't know what you're smiling at," she snapped at Anna Chancellor's towering portrait on the wall. "It's my house now."
It's really director Sandra Goldbacher's house. She takes possession of every nook and angle with a greedy eye for its spacious splendour but also its overbearing gloom. Some of the filming has a painterly loveliness – Nighy doing the crossword in a becalmed scarlet boat on the placid lake – while the camera spots dread and threat in the dripping of forest fruit, the skinning of a boiled leg of pork, the death stare of an uncooked fish. The whole confection is wonderfully fishy, and coming tangily to the boil.
Alice Eve totters and sashays on heels wearing a dress she's managed to pour some but not quite all of herself into
rating
Explore topics
Share this article