Frozen, Haymarket Theatre review - star cast explores the reality of evil |

reviews, news & interviews
Frozen, Haymarket Theatre review - star cast explores the reality of evil
Frozen, Haymarket Theatre review - star cast explores the reality of evil
Suranne Jones, Jason Watkins and Nina Sosanya convincingly examine human darkness
Wednesday, 21 February 2018
In search of closure: Suranne Jones and Nina Sosanya in 'Frozen'.
Whatever the weather, this week is Frozen. On Broadway, the Disney musical of that name begins previews, but let's let that go. In the West End, our Frozen has no Elsa, no Anna and no glittery gowns. Although it does have plenty of ice imagery.
No, our
Frozen
is a much darker story; it's a revival of Bryony Lavery's 1998 award-winning play about a child killer – definitely no singing, no dancing, no hummable tunes. But it does have an outstanding cast: Suranne Jones (a familiar agonised face from
Doctor Foster
), Jason Watkins and Nina Sosanya.
The story of Frozen is told by only three characters in a mixture of lengthy monologues and dialogues. Nancy (Jones) is the mother of a 10-year-old girl, Rhona, who is abducted and murdered by Ralph (Watkins), a middle-aged serial killer. A New York psychologist, Agnetha (Sosanya), travels to England to interview the killer, as part of her own research into the minds of murderers. Similarly, Lavery has based her play on research into criminal psychology, and it shows how understanding a crime can slowly unfreeze the minds of victims and perpetrators alike. In the end it is a plea for knowledge and forgiveness.
The play is a plea for knowledge and forgivenessWritten with an immaculate control that partly conceals the emotional rawness of its subject, Frozen takes its three characters on a journey into the heart of human darkness, and then back again. Nancy's grief at the disappearance of her daughter is partly mollified by her conviction that the child will return, but this hope is cruelly shattered when Ralph is caught and it is revealed that he has murdered seven girls over a period of 21 years. At first we watch him as he meticulously plans his abductions, noting his chilling lack of any empathy and his obsessive behaviour. In prison, he lies to Agnetha, and only thaws when finally confronted with the link between his own life and that of his victims.
It's a textbook case of the abuser being himself a victim of abuse, although this doesn't make his actions any easier to accept. Lavery, who is also adapting Graham Greene's morality tale, Brighton Rock, for Pilot Theatre's national tour (see sidebar), explores the implications of our contemporary understanding of good and evil with great flair. People, she argues, are not born evil, but evil behaviour is created by abusive parenting. At one crucial point, Agnetha shows how neglected kids suffer physical changes to their brains, so that serial killers are not able to make moral choices – they are driven to murder.
In some of the best lines of the play, Agnetha stands at a lectern and tells us, "The difference between a crime of evil and a crime of illness is the difference between a sin and a symptom." But while this works well as an exposition of theory the realisation of its dramatic consequences is at times a bit too neat and tidy. Especially near the end of the story, you sometimes wish that the writing would be more ragged and more messy. Less cut and dried. And one of the most fascinating of the questions that Lavery asks, namely "Tell me about killing girls", receives the killer's reply: "No. It's private."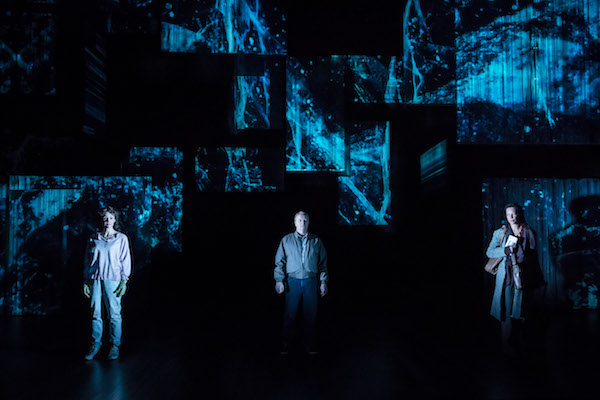 Even if this dark, dark play often feels out of place in the glowing golden hall that is the Theatre Royal Haymarket, Jonathan Munby's revival is brilliantly cast. After watching Jones as the vengeful fury in Doctor Foster you feel you know her, so it's a bit of wrench to see her as very different character. Here she is a victim on a journey of psychological change, and the strain of loss and shock make her clench her jaw so hard that at times the words have to wriggle out. At various points her emotions are so pent up they come tumbling out in a wild rush. When she collapses her grief is simply harrowing. And you can't take your eyes off her.
By contrast, Watkins's Ralph is clever, devious and controlling. He describes his arrest as a "slip-up in efficiency". He delights in child porn; he tells elaborate lies about his family life; he boast of his tattoos; he plays games with his visitors. And he has the sinister bonhomie of the abductor. His eventual breakdown is even more shocking than Nancy's. It's a terrific performance. Lavery also gives Agnetha a recent bereavement that adds her tears to those of the others, as well as an Icelandic heritage that makes her symbolically frosty. Sosanya negotiates between the private and the public aspects of her character with nervy conviction.
At times, this large-scale production, designed by Paul Wills, with its soaring set, huge projections and thumping filmic music threatens to dwarf the human beings on stage (pictured above), but at least the numerous scene changes are rapid and efficient. And the storytelling is gripping and satisfying. If the play at times is too neat for its own good, and not everyone will enjoy being lectured at by the Agnetha character, it is also compelling as a psychological thriller and convincing as a portrait of human malevolence. And hey, this Frozen even has a couple of moments when one of the characters says the magic words: "Let it go."