DVD/Blu-ray: The Mystery of Picasso |

reviews, news & interviews
DVD/Blu-ray: The Mystery of Picasso
DVD/Blu-ray: The Mystery of Picasso
Pablo at work: Henri-Georges Clouzot's 1956 art documentary, with wonderful extras
Transparent easel: Picasso in 1956
What a gallimaufry! The polymath Picasso (1881-1973) was one of the most prolific, obsessed and best-known artists in the history; in fact, without qualification, he remains the best-known, for his genius, his mastery of so many media, his public personal life.
Not to mention the
four museums
, the thousands of books and catalogues, the auction records, and the posthumous marketing of his name (both authorised and not) from the Citroen Picasso to coffee mugs.
The Mystery of Picasso, remastered for this Arrow Academy release, is Henri-Georges Clouzot's 1956 film of Picasso drawing (Clouzot, better known for his thrillers like Les Diaboliques, made it with cameraman Claude Renoir, grandson of the artist). It was filmed over a month in the south of France, using transparent canvases to show the drawing or painting materialising before our eyes. (The premise was that we, the audience, in such a way would have been privileged to see Mozart composing his Jupiter symphony, or Rimbaud his poem Le Bateau ivre.) Nearly two hours of material show lines materialising on paper, followed by colour, then revisions, erasures and, for the longest time, the final drawing/painting; then almost total erasure again, and Picasso telling us it just did not work, and starting over, and over again.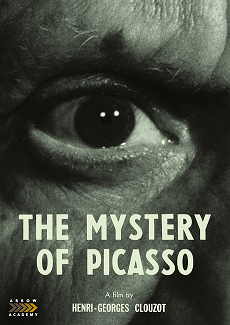 At least 20 artworks were created with a kind of ferocious fluency. Picasso was in shorts and sandals, bare-chested, and really enjoying himself; he smoked continuously and obviously thought the whole thing a jolly jape, but he was seriously invested in the drawing/painting. The most spectacular was a fantastical fish that turned into a chicken and then, overwhelmed with colour, into something else, ambiguously appealing. Faces appeared from nowhere; he liked older men and naked young women, especially their breasts and bottoms, scenes in the artist's studio, and moments by the seaside.
None of the art – while obviously Picassos: we saw him doing them, and the last image was his flourish of a signature – was obviously much good by his standards. But it was fun for him, and some serious points were made; by his own admission, he started with a line and just saw where it took him; he had no preconceived ideas and held no finished composition in his head. It was the journey that was transfixing. But at almost two hours it all went on a bit too long – the fault of Clouzot, the film's mastermind; having captured the maestro, he was reluctant to let him go.
But this release is worth it, and more, for the extras. First, in wobbly black and white and with BBC received pronunciation, is Paul Haesaerts's 1949 A Visit to Picasso, finding him in Vallauris, where both art and the artist were installed in a collection of historic buildings. This is a period piece, amazingly awkward and pompous by today's standards. But it paradoxically proves a neat crash course in Picasso's styles, showing 10 different ways in which he portrayed a woman's face, and 10 different ways he portrayed another motif, the bull. Next, in scratchy colour, La Garoupe, an amazing 1937 home movie by Man Ray, on a giggly holiday near Antibes with Picasso, Paul Eluard and other friends, as well as assorted wives and mistresses, gorgeously lip-sticked and casually glammed up in sundresses. Surrealist play ensued with great palm leaves as facial masks.
Picasso had the ability not to become downhearted: his joy does come through
But the pièce de résistance is a brilliant interview with Maya, Picasso's daughter by Marie-Thérèse Walter, in age, remembering the making of the Clouzot film: she had helped on it, in her twenties. In fact, in one scene her nylon bra was borrowed as a surface on which to draw: the technical problems were enormous and in that sense, too, the 1956 film was pioneering.
Picasso, always up for it, wanted Maya to sleep with Claude Renoir, on the grounds that the mating of a Renoir and a Picasso would produce a world-beating artist, she recalls. Shock horror: she thought Claude so kind, but he was 42! Ancient! She obviously thought her father a wonderman but was also clear-sighted; he was careful with money, hating to spend it so that he would always have a lot in his pocket just in case, and Picasso and Maya during the time of the filming had only three sweaters between them. Picasso, she told us, had the ability not to become downhearted: his joy does come through in the film. As does hers now, a daughter enmeshed in familial complexities, but also a collaborator. These are period pieces well worth watching.
The pièce de résistance is a brilliant interview with Maya, Picasso's daughter by Marie Thérèse Walter, in age
rating
Share this article