Misalliance, Orange Tree Theatre review - smashing Edwardian comedy is a festive treat |

reviews, news & interviews
Misalliance, Orange Tree Theatre review - smashing Edwardian comedy is a festive treat
Misalliance, Orange Tree Theatre review - smashing Edwardian comedy is a festive treat
Bernard Shaw curio gets its first major London revival in 30 years
Thursday, 14 December 2017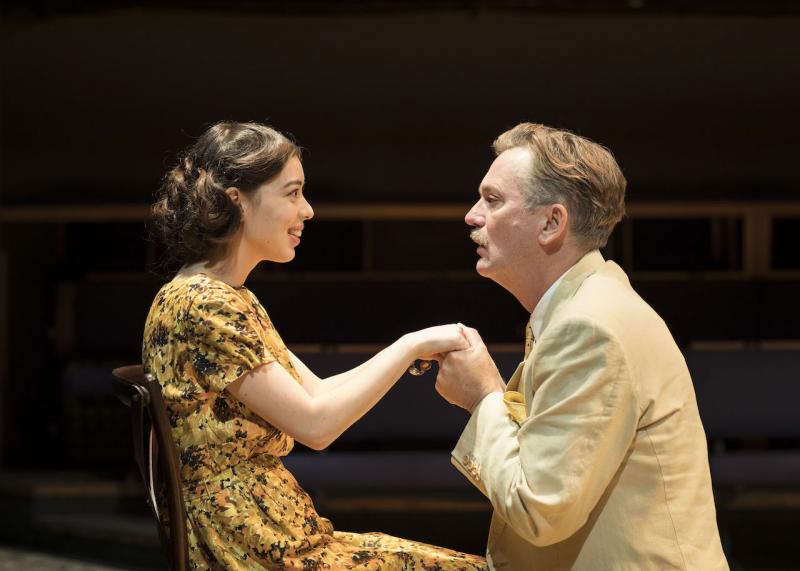 Will you be my widow? Marli Siu as Hypatia and Simon Shepherd as Lord Summerhays in 'Misalliance'
If this play really were "A Debate in One Sitting" as its author called it in 1909, it would have sunk without trace. "Talk, talk, talk, talk", complains Hypatia Tarleton (Marli Siu), daughter of an Edwardian underwear magnate. Sick to death of the menfolk talking at her and over her, she longs to be "an active verb", and we sympathise.
One expects loquacity in a
Bernard Shaw
play but in
Misalliance
the ideas tumble forth like a river breaking its banks: the evils of Empire and British class snobbery; the benefits of socialism, feminism, physical exercise, free libraries and frank communication between parents and the young. All the Shavian hobby horses jostle in the flood, and it's to the credit of Paul Miller's lively revival at the Orange Tree, the third in a run of neglected Shaw plays, that Act One manages to stay afloat on the torrent of words.
Not the playwright at his most dramatically astute, then, but his anarchic sense of mischief comes to the rescue. What begins as an overstuffed ideas play is literally blown to bits at half time when a private plane smashes into the Tarletons' conservatory, yielding not only the man of Hypatia's dreams in the shape of dashing aviator Joey Percival (Luke Thallon), but also the proto-feminist of the playwright's dreams in the plane's passenger, Polish daredevil Lina Szczepanowska ("say 'fish', say 'church', say 'fishchurch' and you've got it").
The delicious irony is that, while scorning society's obsession with romantic attachment, this singular personage – played with rapier-like focus by Lara Rossi (pictured above, with Jordan Mifsud) – makes every man in the house go weak at the knees. In the course of the play's single afternoon there are, in total, eight proposals of marriage, and every one of them would be judged a misalliance by the voice of reason, Gabrielle Lloyd's solid Mrs Tarleton.
The first and most public mismatch is the engagement between Hypatia and Bentley ("Bunny") Summerhays, spoilt weakling son of a colonial panjandrum. Rhys Isaac-Jones's playing of this over-entitled brat takes camp petulance to the limit and makes you wonder if he's been studying Kenneth Williams in the 1954 film. Simon Shepherd, as Lord Summerhays, is as suave as his son is absurd, not least when he delivers a chilling account of his method of dealing with troublesome natives.
Young and old are permanently at loggerheadsThe Tarleton men are of a different stamp. Tom Hanson's Johnny, Hypatia's brother, is a smug philistine, "all body and no brains". But the vital energy of the cast radiates from Tarleton senior (Pip Donaghy), autodidact, bibliophile, philanthropist and fanatic of novel ideas and objects. It's from within his newly delivered portable Turkish bath that the play's other bolt-from-the-blue leaps forth: a downtrodden young clerk (the excellent Jordan Mifsud) wielding a pistol with which he plans to settle a lifelong grievance with the rich industrialist, who he claims dishonoured his mother and ruined her life.
The misalliance of the title, it turns out, has less to do with nouveau-riche entrepreneurials marrying into the impoverished gentry than the mismatch between what parents want for their children and what those children want for themselves. Young and old are permanently at loggerheads, a problem Shaw saw as directly analogous to the difficulty of maintaining a democracy – a notion he fleshes out in his preface to the play. Misalliance offers no solutions, only an entertaining volley of arguments and ideas.
This revival is smartly directed, especially precise in its comic timing and placing of British accents – crucial in a play where the markers of social class are so minutely scrutinised (Shaw inevitably mines comedy from usage of the terms "tea" and "dinner"). I wonder, though at the decision to clothe the production in the garb of the Twenties, rather than 1910. It looks fresher, for sure, but the First World War changed everything for young and old in ways even this far-sighted playwright could not have imagined.