Blu-ray: Jabberwocky |

reviews, news & interviews
Blu-ray: Jabberwocky
Blu-ray: Jabberwocky
Terry Gilliam's rough-edged romp through blood and excrement, freshly restored
Tuesday, 28 November 2017
Gyring and gimbling in the wabe: Michael Palin in 'Jabberwocky'
Jabberwocky is all the more enjoyable once you get past what it isn't; Terry Gilliam's 1977 directorial debut is a medieval romp starring Michael Palin and a short-lived Terry Jones, but audiences should
n't expect a Monty Python film. Gilliam and Palin's bonus commentary is a joy, Gilliam describing his relief at "not having to be funny all the time," free to let this baggy, rambling
tale
unfold at a more stately pace. There are many mirthsome moments, but Gilliam admits that
Jabberwocky
"is more quirky than funny."
The inspiration for Gilliam and screenwriter Charles Aveson was the nonsense poem encountered by Alice in Lewis Carroll's Through the Looking Glass, expanded into the story of Palin's character, cooper's apprentice Dennis. He's forced to seek his fortune in a cramped, filthy city whose inhabitants live in fear of the titular beast. Led erratically by Max Wall's King Bruno the Questionable ("son of Olaf the Loud"), the town's elders initially profit from the overcrowding, before a contest is announced to find a knight brave enough to slay the monster.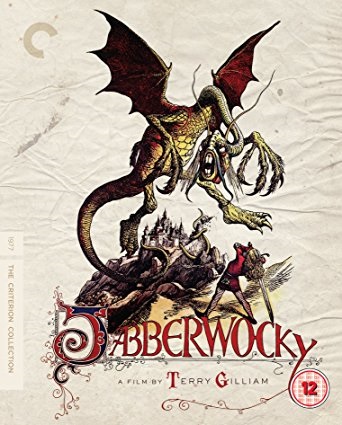 Dennis is a likeable idiot whose adventures bring him into contact with a gallery of faces familiar from 1970s sitcoms. It's an extraordinary cast: John Le Mesurier, Warren Mitchell, Bernard Bresslaw, Harry H Corbett and Brian Glover all pop up, and there's a fleeting cameo from the late Rodney Bewes. Wall's performance as Bruno is magnificent, worth the price of the disc alone, and there's a memorable turn from a young Annette Badland as the slovenly Grizelda Fishfinger. Predictably, Dennis kills the Jabberwocky, though things don't quite turn out as he'd have liked.
This film's incidental pleasures are many. The claustrophobic city is beautifully realised, Gilliam's knack for creating convincing imaginary worlds already present. The location footage, shot in two Welsh castles, is gloriously lit. It recalls, incongruously, the interiors from Kubrick's Barry Lyndon: producer Sandy Lieberson recalls Kubrick's disbelief that such a beautiful-looking film could have been made on such a tight budget. Gilliam was able to reuse the elaborate sets built for Carol Reed's Oliver!, and long stretches of Jabberwocky suggest a Bruegel painting brought to vivid life. Many scenes fizz with colour and energy, and Bruegel's scatological tendencies are illustrated in graphic detail. Maybe a little too graphically in the case of Warren Mitchell's bare buttocks, seen shitting out of an open window early on. Quite how it was given an "A" certificate on its release is a mystery, given the abundance of bodily fluids and body parts on display.
It's wonderfully restored in this Criterion Blu-ray release (cover image above), the image brighter and sharper than it's ever been. Along with the aforementioned commentary, the extras are generous: a 40-minute "Making of" documentary is enormously enjoyable, and there's an interview with the pioneering designer (and long-time Gilliam collaborator) Valerie Charlton. Her tale of the monster's creation is fascinating, its apparent size enhanced by deploying a small child in a suit of armour. Gilliam reveals that the creature's final collapse was unintentional, the result of the costume's inhabitant accidentally falling over.
Gilliam reveals that the creature's final collapse was unintentional, the result of the costume's inhabitant accidentally falling over
rating
Share this article