Everybody's Talking About Jamie, Apollo Theatre review - inclusive and utterly joyful |

reviews, news & interviews
Everybody's Talking About Jamie, Apollo Theatre review - inclusive and utterly joyful
Everybody's Talking About Jamie, Apollo Theatre review - inclusive and utterly joyful
It's a triumphant West End transfer for this big-hearted British musical
Thursday, 23 November 2017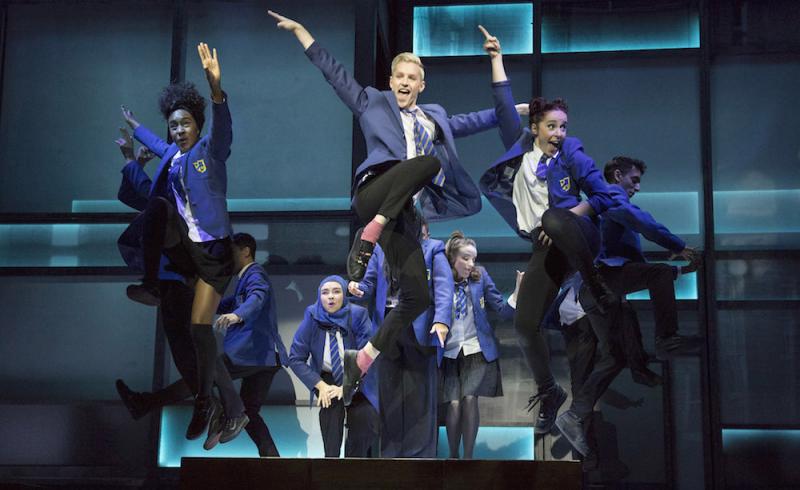 The kids are all right: Jamie New (John McCrea, centre) and his classmates
Everybody's been talking about Everybody's Talking About Jamie since its Sheffield Crucible debut earlier this year. It's unusual to see a musical come steaming into the West End based on word on mouth – not star casting, or association with an existing franchise.
Instead, inspired by humble BBC Three
documentary
Jamie: Drag Queen at 16
, Jonathan Butterell's production is, in every sense of the word, refreshing: a genuine homegrown hit.
Jamie New (John McCrea, pictured below right by Johan Persson) has decided he wants to become a drag queen, and to make his grand debut by wearing a dress to school prom. Mum Margaret (Josie Walker) is steadfastly supportive, as is best friend Pritti (Lucie Shorthouse) and drag mentor Hugo (Phil Nicol), but Jamie's ambitions exacerbate tension with his absentee dad (Ken Christiansen), class bully Dean (Luke Baker) and school authorities.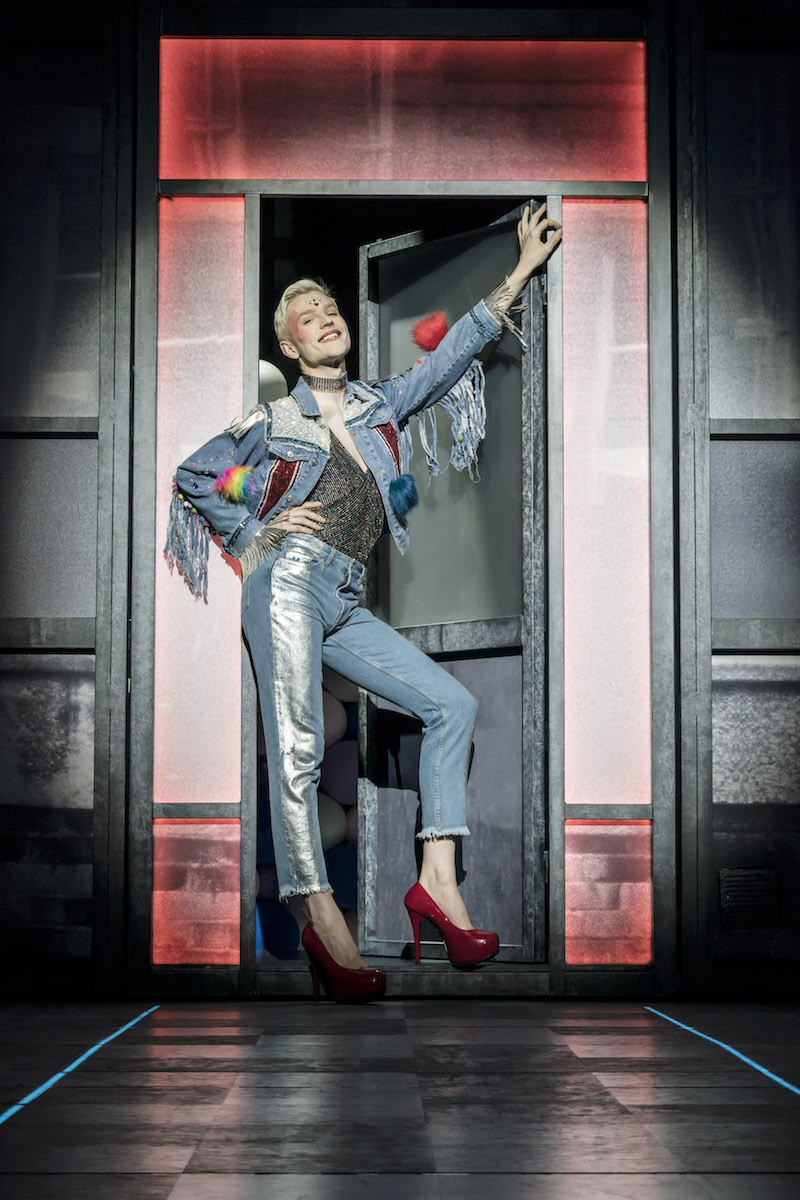 The musical's origins are key to its appeal, keeping this modern fairy tale – Kinky Boots meets Billy Elliot – grounded and authentic. Tom MacRae's vivid, idiomatic text is pure working-class Sheffield, while an upbeat, catchy score from Dan Gillespie Sells filters grand dreams through this specific setting. A few generic clichés slip through (naturally, there are walls to climb), but like the best pop music, it makes timeworn ideas feel fresh and immediate – particularly appropriate for its teen mouthpieces.
It's also thrilling to see a production celebrating difference not just in song, but in practice. Jamie's school is matter-of-factly mixed race, and though his journey is the central one, the show gently challenges his solipsism (no coincidence that his drag name riffs off "me"), ensuring that the loyal women in his life have their turn in the spotlight.
His tender friendship with Pritti is based on shared alienation: Jamie challenging his community's gender norms, Pritti as "a Muslim girl with a Hindu first name…thanks, Mum", who cares more about studying to become a doctor than boys and make-up. Prompting Jamie to ask Pritti why she wears a hijab is one of several instances where the messaging is rather heavy-handed, but the warm, engaging Shorthouse develops a believably lived-in friendship with McCrea, as their characters nudge one another towards acts of courage.
McCrea's Jamie is fierce and fabulous, but also textured. Strutting in scarlet stilettos or letting loose pop star vocals, he commands the stage, but his doubts in the face of bullying or rejection reveal the young, developing boy, still easily bruised. There's careful specificity about his journey: it's not one of sexuality (he's already openly gay), nor ultimately about the armour of drag, but about self-discovery and bravely revealing that self to the world.
While the adolescents ponder their future – and a grimly realistic careers advisor lowers expectations – Margaret is still tethered to the past and a long-deceased relationship. This powerfully elegiac strand lends necessary balance to the feel-good main plot, and the superb Josie Walker (pictured above with John McCrea, by Johan Persson) belts out two show-stealing numbers: one addressing her younger self, another demonstrating blood-and-guts maternal devotion. It also smuggles in smart commentary about alternative families, with Mina Anwar's fiery Ray assuming a parental role.
Kate Prince's choreography matches the inventive range and contemporary feel of the score, including an arresting lyrical hip hop number, while Anna Fleishle's flexible set whizzes from classroom to drag club to homey kitchen, Lucy Carter stylishly places the excellent band in silhouette, and Luke Halls' projections pump up set-pieces and nail a first half climax.
The drama could use more nuanced jeopardy (rather than easily dispatched roadblock antagonists), and there are some flabby sections – Hugo's shtick as a washed-up drag queen can become, well, a drag. But it's the kind of message, and the kind of show, that makes you want to forgive its flaws and advocate for it, strongly. Real talk: this inclusive and utterly joyful new musical has the biggest heart and the best pair of legs in the West End.
It's thrilling to see a production celebrating difference not just in song, but in practice
rating
Share this article