Of Kith and Kin, Bush Theatre, review - comic but confused gay surrogacy drama |

reviews, news & interviews
Of Kith and Kin, Bush Theatre, review - comic but confused gay surrogacy drama
Of Kith and Kin, Bush Theatre, review - comic but confused gay surrogacy drama
New play about gay parenthood suffers from an identity crisis
Saturday, 21 October 2017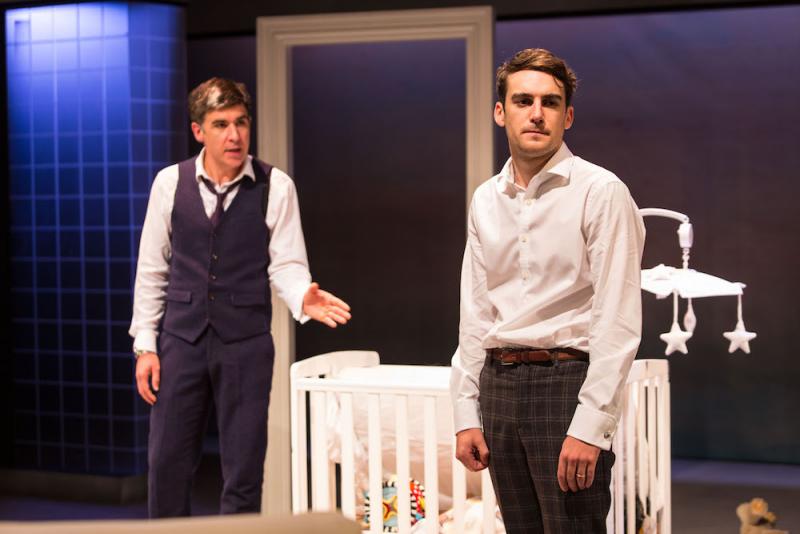 Who's the daddy?: James Lance and Joshua Silver in 'Of Kith and Kin'.
A new baby is like an alien invasion: it blows your mind and it colonises your world. For any couple, parenthood can be both exalting and devastating, with the stress hugging the relationship so tightly that eventually all its lies pop out.
In his new play, which opened tonight at the
Bush Theatre
, Chris Thompson takes this idea and chucks it at a broody gay couple and their surrogate mother: Daniel, a 46-year-old lawyer, and his husband Oliver, a 32-year-old freelancer, are having a baby with their best friend, Priya.
As the story begins in their classy Shadwell flat, Priya is due any day, and the three of them are having a baby shower, and playing game of pin the sperm onto the egg, followed by an equally hilarious session on the Wii. Their party is interrupted by Lydia, Daniel's mother, who of course is Oliver's mother-in-law. True to form, he's not keen on her at all, and provokes a confrontation which spirals out of control. As a result, Daniel, Oliver and Priya end up in a family session at a local magistrates court with a custody battle on their hands. The repercussions make up the rest of the twisting plot.
What are the rights of the surrogate mother?
Numerous issues are aired: given that the egg was from a donor and the sperm was a mixture from both Daniel and Oliver, whose baby is it? What are the competing rights of the surrogate mother, and how do they compare with those of the men? Who deserves to have custody: the woman who carried the baby for nine months, or the men who have the money and the time to look after it? Thompson complicates the conflict by showing that Daniel has a violent temper, like his wife-beating brother, and shows how this might be a result of both nature and nurture. The playwright also asks whether this compromises Daniel's desire to have a baby.
Into this initially witty comedy of manners, Thompson also throws more family tensions. For example, Daniel is the godfather to Priya's teen son, Sammy, and this becomes an important plot point in the developing argument. There's a lot of psychological brinkmanship, but the piece's overall uncertainty of tone, and its rather repetitive nature, militates against some of the pleasure of the conflict. Also, the lengthy courtroom scene, which features an unconvincingly larky judge, strikes a dissonant note in an otherwise realistic conflict.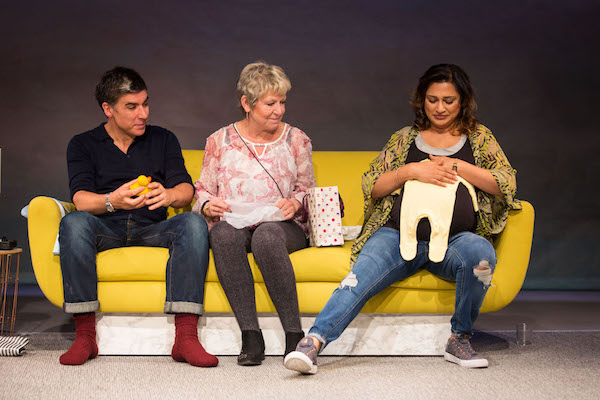 The story, which is clamorous with passionate if inconclusive discussions, is saturated with a gay sensibility which seems to be determined to reproduce all the angst of straight relationships: just as Daniel will do anything, it becomes painfully clear, to cling onto "his" baby, so Oliver seethes with resentment about his husband's unromantic marriage proposal. All the miseries of banal married relations are perfectly repeated here. But what becomes increasingly annoying is the way that the play jumps from subject to subject, switching from comedy of manners to courtroom drama to a discussion of relationships and life choices.
Although these discussions tend to meander, and to lack conclusiveness, there's a delicious and humorously mischievous spirt in this seriously grown-up story that longs to misbehave and cry out from the rooftops. Alas, it gets little chance to do so. Still, there's a lot of fun to be had in Robert Hastie's production, which has already been seen in Sheffield. On James Perkins's elegant set, James Lance's Daniel and Joshua Silver's Oliver are neatly contrasted, each feeling a different kind of anguish. As Priya and Lydia, Chetna Pandya and Joanna Bacon (pictured above with Lance) deliver similarly truthful performances. Of Kith and Kin is no masterpiece, but it does have its entertaining moments.
The drama is saturated with a gay sensibility which seems determined to reproduce all the angst of straight relationships
rating
Explore topics
Share this article