LFF 2017: Last Flag Flying review - anti-war film without a bite |

reviews, news & interviews
LFF 2017: Last Flag Flying review - anti-war film without a bite
LFF 2017: Last Flag Flying review - anti-war film without a bite
Richard Linklater and top-notch cast go on the road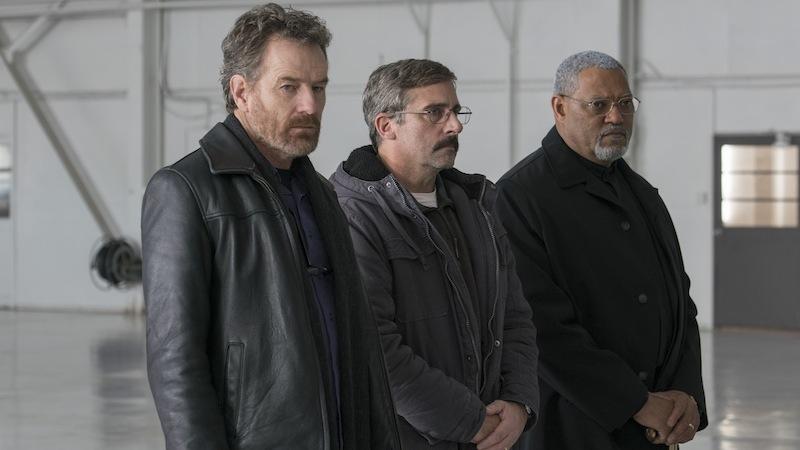 War again? Cranston, Carell and Fishburne are Vietnam vets in 'Last Flag Flying'
Richard Linklater's sort-of sequel to one of the great American films of the Seventies, shown at London Film Festival, stars Bryan Cranston, Steve Carell and Laurence Fishburne as old Vietnam buddies reunited as America is embroiled in another futile war
a>, in Iraq. On paper, it's a timely and enticing prospect. Yet it's not the impactful film it could have been.
Directed by Hal Ashby, with Jack Nicholson in the spectacular early phase of his career, The Last Detail followed two Navy lifers as they escorted a younger seaman to military prison – determined to give him a good time on the way.
It was based on a novel by Darryl Ponicsan, whose follow-up book Linklater has adapted, with Ponicsan himself. They start with an unnecessary amendment and a bum note: whereas Ponicsan revisited his original characters, here we have a different trio, not sailors but marines.
It's 2003. Having not seen each other for decades, the grieving "Doc" (Carell) asks heavy-drinking bar owner Sal (Cranston) and hellraiser turned Baptist preacher Mueller (Fishburne), to accompany him as he views the body of his son, killed in Baghdad. The army wants to bury him "a hero" in Arlington; but Doc decides to take his son home – and the friends embark cross-country with the coffin.
While the characters rile against how little has changed from the Seventies to the Noughties – they're still being lied to by officers and politicians – there are clear ripples forward to today's news.
But while the result is an amiable, bitter-sweet road movie, with the actors riffing nicely off each other, Cranston in particular making hay with the boisterous, diehard insubordinate Sal, it feels half-cocked, as though there's an angrier, more provocative film dying to get out. Linklater is being too laid back for his own good.
Thoroughbreds
In competition for the best film prize, Thoroughbreds is an original and brilliantly executed psychological thriller – spikily performed by its two up-and-coming lead actresses and directed with a muscular authority that belies the fact that it's writer/director Cory Finley's first film.
In an affluent Connecticut suburb, teenagers Lily and Amanda (Anya Taylor-Joy and Olivia Cooke) rekindle an old friendship. Amanda has become a local pariah after euthanising her horse; her mother is paying Lily handsomely to give the girl some company.
You could cut the frisson between them with a knife. Amanda blithely admits to feeling no emotions, suggesting a sociopathic nature, or worse. But the pair are not simply angel and devil, as Amanda's moral ambivalence rather too easily coaxes Lily towards an idea for dealing with her loathsome stepfather.
Finley originally wrote this as a stage play, though you'd never know it from the highly cinematic compositions within Lily's family mansion, the use of space and close-up to delineate the nuances of this fascinating and dangerous teenage relationship. Cooke (Me and Earl and the Dying Girl) and Taylor-Joy (The Witch) are equally compelling, as the power constantly and subtly shifts between the two. They're ably complemented by the late Anton Yelchin, in his last film, as a small-time drug dealer embroiled in the girls' scheming.
Though initially jarring, the booming percussive soundtrack soon contributes to the sense of strangeness and tension within the house. A very impressive debut indeed. ★★★★

Abracadabra
Spanish director Pablo Berger isn't one to keep still. His first film was Torremillinos 73, a sex comedy about husband and wife amateur pornographers during the Franco regime; his second Blancanieves, a black and white silent film which transposed Snow White to the bullfighting world of the 1920s. Abracadabra is his first contemporary story, though it retains from Blancanieves a heavy dose of the fantastical. All three are marked by glorious imagination, wit and cinematic nous.
Abracadabra is a daring melting pot of a movie: an old style "women's picture" about a woman's path towards empowerment (which includes a pointed attack on Spanish machismo) and a supernatural comedy, with elements of horror, mystery and very Spanish kitsch.
The terrific Maribel Verdú is Carmen, a loving wife and mother lumbered with boorish husband Carlos (Antonio de la Torre), a man without a single redeeming feature. At a family wedding, Carmen's cousin Pepe, an amateur hypnotist, puts Carlos under his spell, with no control over the results.
What's not to like when Carlos starts to make his wife breakfast in bed, helps his daughter with her math homework and suddenly proves fleet of foot on the disco dance floor? But when Carmen and Pepe feel obliged to find out who, exactly, has possessed her husband, they don't like what they find.
Incredibly funny and constantly surprising (a scene involving the estate agent from hell is an instant comedy classic), this is a film whose oddness demands total surrender. ★★★★
It feels half-cocked, as though there's an angrier, more provocative film dying to get out
rating
Explore topics
Share this article