Blade Runner 2049 review - powerful but needs more soul |

reviews, news & interviews
Blade Runner 2049 review - powerful but needs more soul
Blade Runner 2049 review - powerful but needs more soul
Sci-fi sequel is a masterpiece of design and cinematography
Thursday, 05 October 2017
In the footsteps of Rick Deckard: Ryan Gosling as Detective K
Ridley Scott's original Blade Runner from 1982 stands as an all-time sci-fi classic, so anybody trying to make a sequel (even 35 years later) needs galaxy-sized vision, an army of high-powered collaborators and balls of steel. Is director Denis Villeneuve the man for the job?
Key to Scott's original triumph was his fascinating depiction of a dying future earth, epitomised by a rain-drenched, mongrelised Los Angeles in which future technology rubbed shoulders with squalid slums and putrid tenements. Villeneuve has followed Scott's trail, but has amplified it to deliver frequently intimidating visions of gigantic, brutalist architecture rearing up over drab urban wilderness and looming out of storm clouds and rain. The LAPD headquarters in 2049 is a massive slab-like tower that looks like it won first prize in a Build a Totalitarian State competition, while the headquarters of the mega-billionaire Niander Wallace (Jared Leto), who has saved the starving world with his revolutionary bio-tech farming, is as vast and gloomy as an Egyptian pyramid.
Early scenes of Detective K (Ryan Gosling), the new blade runner, tracking down a rogue Nexus 8 android running a "protein farm" (he breeds edible worms), is a grim vignette of rural misery under dead, grey skies. In a later episode, K's quest for a missing child takes him to the derelict shipyards of San Diego, a dumbfounding landscape of massive partially-disintegrated hulks and enormous satellite dishes which have collapsed face downwards. LA itself is protected from the stormy Pacific by a towering man-made sea wall.
Credit for these hallucinogenic creations must be due to cinematographer Roger Deakins, designer Dennis Gassner and a squad of art directors and visual effects personnel, while composers Benjamin Wallfisch and Hans Zimmer intensify their utter strangeness with music whose thunderous drones and synthetic tones often threaten to overpower actors and audience alike. Thus, the clear and present danger is that human beings and their emotions are apt to get squeezed out of the picture. Mind you, one of the principal concerns of the original film was the convergence of humans and androids, and here, synthetic technology has advanced to such a degree that sorting homo sapiens from the gadgets is becoming close to impossible.
Gosling, who is also a droid, pitches it nicely, navigating through twisty plot-puzzles and encounters with various weird and ambiguous characters with an air of imperturbable nonchalance. He has some help from his personal digital assistant Joi (Ana de Armas, pictured above), a hologrammatic mate who materialises in a variety of attractive costumes to soothe, tease, seduce or advise her employer. The scene where she melds herself into the physical form of the prostitute who she thinks has taken K's fancy is, so far at least, way beyond the capabilities of Amazon's Alexa product.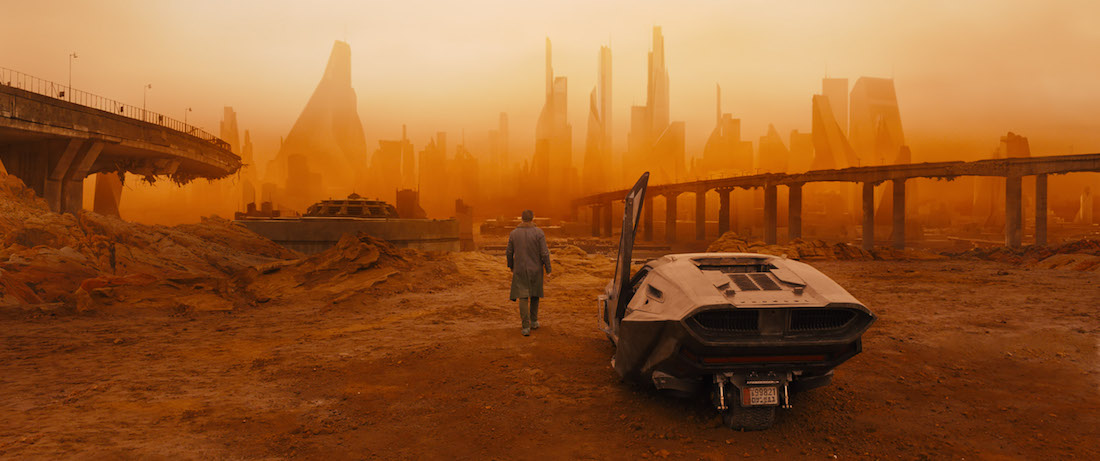 Villeneuve issued an appeal for reviewers not to give away too many plot details, but since he's all over the movie posters it's probably okay to say that Harrison Ford returns as the venerable Rick Deckard. Indeed, the Deckard legacy and the fate of Sean Young's original "replicant" Rachael become issues of primary concern to K, and Ford's bulky, grumbling presence brings some welcome human ballast to the story. Robin Wright's bossy LAPD Lieutenant Joshi (K's boss) has potential which doesn't get much room to develop, and Leto is barely a cypher as the creepy Wallace, though Sylvia Hoeks impresses as his merciless sidekick Luv. And there's a neat comeback cameo for Edward James Olmos, the mysterious Gaff from the first film who likes strewing origami animals in his wake.
It's a film that's short of soul, and most of the original thinking was already done in Blade Runner 1, but it delivers a powerful impact in other ways. See it on an Imax screen if you can.
The LAPD headquarters looks like it won first prize in a Build a Totalitarian State competition
rating
Explore topics
Share this article