Arrival |

reviews, news & interviews
Arrival
Arrival
Philosophical science fiction with a pivotal role for Amy Adams
Thursday, 10 November 2016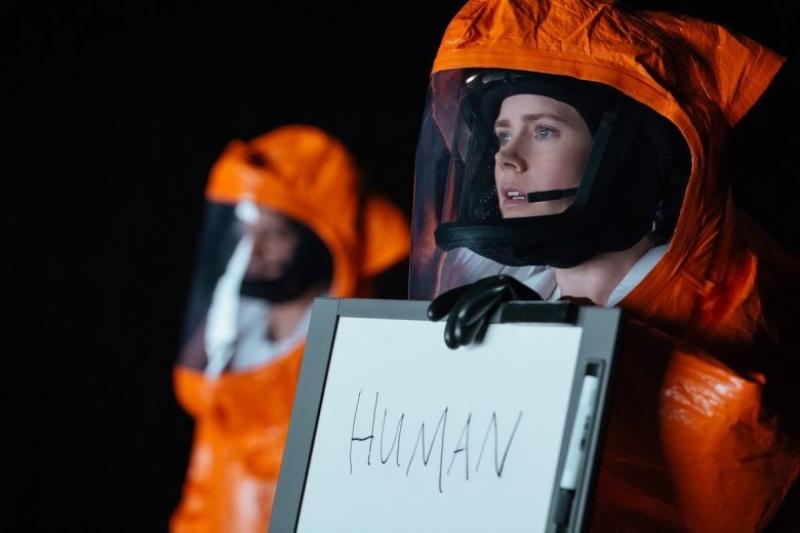 For audiences who like to think: Amy Adams in 'Arrival'
While the world goes to hell in a handbasket, it's faintly reassuring to imagine that there might be some intelligent life form out there beyond the stars that's just waiting to land on our planet and make us all love one another – or swiftly put us out of our squabbling misery, once and for all.
This familiar story – from
The Day the Earth Stood Still
, through
Close Encounters
and
Independence Day
, to
Mars Attacks
– is reworked for adults with a philosophical bent in
Arrival
.
Twelve enormous black ovoids have mysteriously arrived on Earth and are hovering over locations from Devon to New Delhi. There's some life form inside the spaceships but who knows what it is and what it wants? Cue fighter jets streaking across the skies while panicking politicians try to calm the masses on television screens around the globe. Rival nations' security services sow suspicion where collaboration is most needed. Forest Whitaker steps in as a US Colonel whose job is to persuade "the world's best linguist" Louise Banks (Amy Adams) away from her quiet lecture hall. There are some elegiac sequences with Louise and her little daughter, but when Colonel Weber comes to ask Louise for interpreting services, she's unencumbered by motherhood and free to enter the Montana valley where one of the spaceships looms like a monolithic hot air balloon.
Arrival is high-concept science-fiction made for audiences who like to think rather than just watch actors slug it out in fancy costumes. It's light-years away from Marvel's universe, though it does borrow one of its superhero actors, Jeremy Renner, here playing Ian Donnelly, a supportive physicist accompanying Adams's sensitive translator.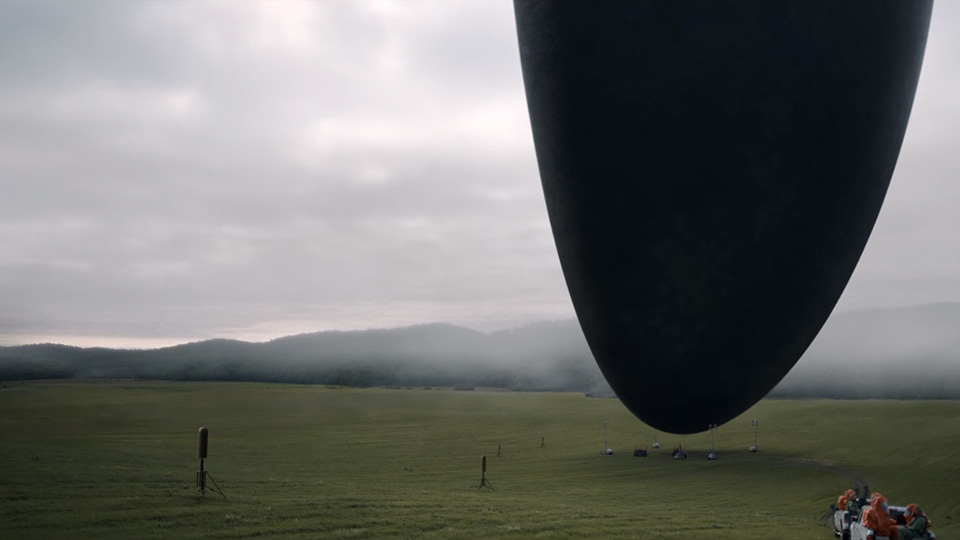 Denis Villeneuve, the French-Canadian director best known for stylish crime movies Incendie and Sicario, has always loved science fiction (he's currently remaking Blade Runner). Here he gets the big budget needed to create his own stylish vision – the look is Nordic desaturated colour, shadowy landscapes and lone figures in lakeside modernist houses. Villeneuve is aided by cinematographer Bradford Young's elliptical imagery and a score by minimalist Icelandic composer Jóhan Jóhannsson that is far more effective and atmospheric than the crudely emotional music plastered all over the trailer.
Villeneuve has adapted Ted Chiang's award-winning short novella, The Story of Your Life, with scriptwriter Eric Heisserer (Hours). They keep Chiang's central idea that aliens may not perceive the time-space continuum in the way that we understand it, making it all but impossible to decode the sounds and symbols that make up their language. Will Louise be able to interpret whether the aliens' intentions are benign or hostile before our own leaders lose patience and fire first?
This is very much science fiction to appeal to an art-house audience. There are echoes of Terrence Malick in the dreamy flashbacks/flashforwards to Banks's life with her young daughter. When she and Donnelly climb into their hazard suits, they walk like giant orange Michelin figures into the cavernous void of the aliens' spaceship. The interior is more akin to one of James Turrell's light works, all mist and mystery, than the clutter of Alien. To describe the spaceship's inhabitants would be to give away one of the film's pleasures, but they are an excellent deployment of CGI, both creepy and oddly endearing. If Arrival's ending is a little too upbeat and the explanations for the fractured narrative leave one a bit puzzled (though not as wearisomely as Interstellar), it's still a worthy attempt to refresh a familiar story.