Aida, English National Opera review - heroine almost saves a dismal day |

reviews, news & interviews
Aida, English National Opera review - heroine almost saves a dismal day
Aida, English National Opera review - heroine almost saves a dismal day
Phelim McDermott's static and shallow production hosts one glorious performance
Friday, 29 September 2017
Musa Ngqungwana as Amonasro and Latonia Moore as his daughter Aida
If the best is the enemy of the good, then the excellent is also the enemy of the "meh". And if you can stomach Verdi's Aida, go and see English National Opera's new production for its central performance by Latonia Moore.
In what's become her signature role – the American soprano has sung Aida a hundred times previously – her searingly expressive, silvery tone and complete inhabiting of the character brought the doomed Ethiopian princess in Egyptian enslavement leaping to life. Unfortunately she was the pearl in an oyster that otherwise proved rather resistant to winkling – showing up how wide of the mark much of this production by the usually inspiring Phelim McDermott and his theatre company Improbable has fallen.
Aida and Princess Amneris both love the Egyptian military hero Radames. He loves Aida, so the jealous Amneris decides to destroy them both. Aida's father, King Amonasro of Ethiopa, captured and hiding his identity, turns her into a honey-trap to get military secrets from Radames, who is tried for treason and ultimately buried alive; Aida hides in his tomb to die with him. The strong simplicity of plot that so endears this opera to its public is also problematic, because if interpretations lack subtlety, in part it's the fault of Verdi and his librettist Antonio Ghislanzoni: the characters are scarcely more rounded than a pantomime's. It is down to director and cast to give them some convincing depth.
Still, there's spectacle, and everyone loves spectacle, except they might love this one a little bit less. It has its moments. The large, static choral scenes match the monolithic shapes of Tom Pye's sets to some degree, there are some pretty colours, with rippling silk effects created by Basil Twist; and the beautiful, slanted, varied lighting by Bruno Poet is the subtlest thing on stage. But too often the static direction becomes almost ossified. Kevin Pollard's timeless costumes don't always help. Elaborate hieroglyph-inspired head-pieces, exotic venerations of Isis (ancient goddess, not so-called Islamic State), and Radames's rather 19th century military uniform sit awkwardly with otherwise updated imagery and poor old Amneris is trussed into a white contraption that might have looked happier in 1970s science fiction (Michelle DeYoung's Amneris pictured above with attendants).
No elephants. Instead, the triumphal march accompanies the return of some coffins. Arguably, of course, it is a grotesque moment: Aida's people have been defeated, her father has been taken prisoner, and her enslaver is stealing her lover. So it's valid – but grim nonetheless. Radames enters at the height of it to flurries of red bits of paper (plus audible pops as they're released). Redemption could be found in the team of fabulous on-stage trumpeters.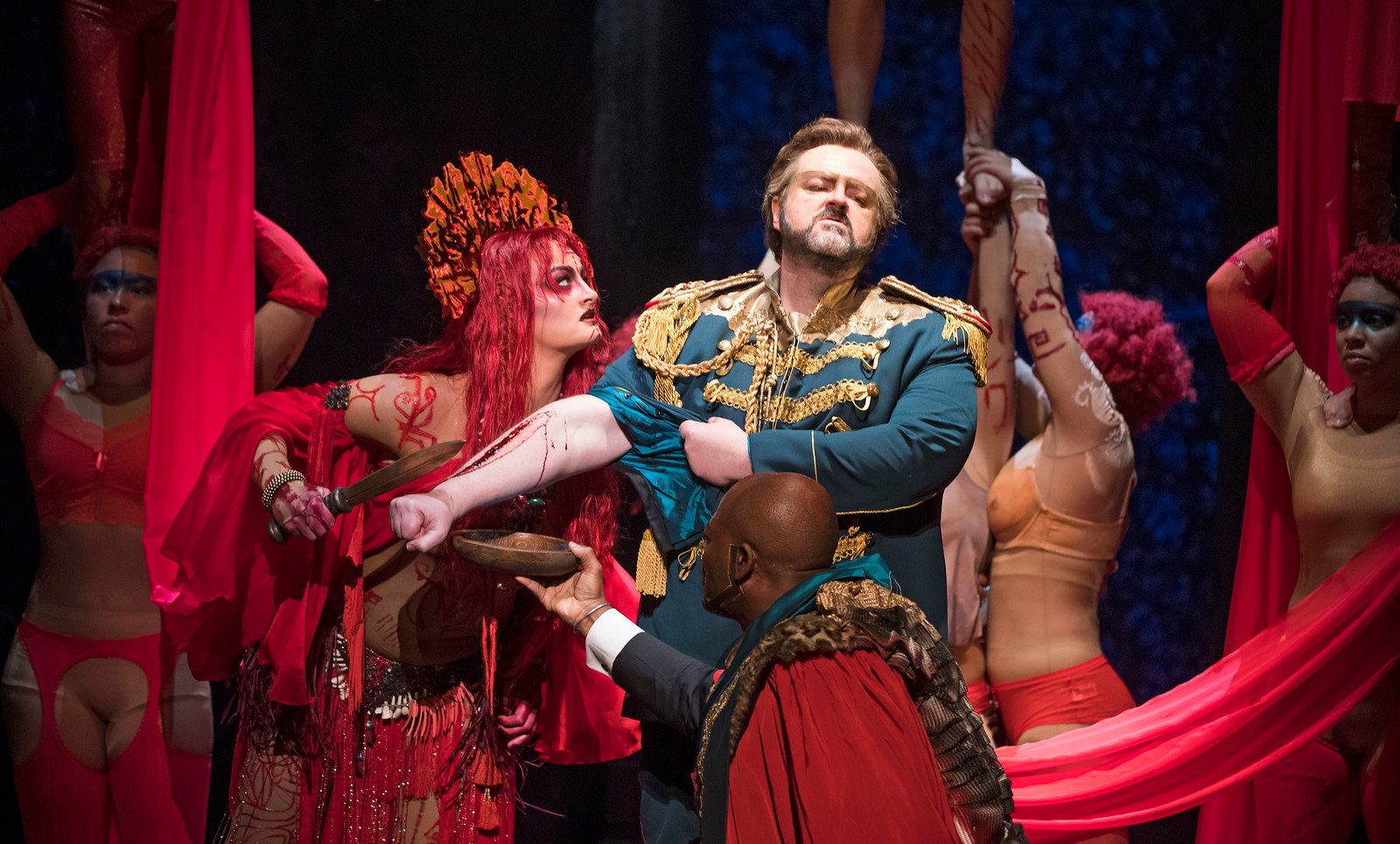 None of the visuals would matter if the characters were fully explored and their interactions were vivid, but few were the moments when that happened; and instead of addressing one another, they mostly had to stand metres apart and bark forwards. Some crucial scenes barely featured eye contact.
Michelle DeYoung's Amneris never lost her regal stance or full tone, but so much more could be made of her inner conflict, terrible jealousy and, above all, the sonic colours of this huge role. Tenor Gwyn Hughes Jones (pictured above) carried the role of Radames well and was strong vocally, with plenty of ping in the high notes, yet even he could not quite transcend the cardboard cut-out direction. Amonasro was the South African bass-baritone Musa Ngqungwana, making his UK debut, with excellent, warm tone, but perhaps without quite the requisite power of presence. The Egyptian King, Matthew Best, again sang creditably, but with scant personality. Eleanor Dennis, an ENO Harewood Artist, was notable as a Priestess with seductively beautiful tone. Despite good individual components, the whole failed to ignite; the final scene, with Aida and Radames united in the tomb and the regretful Amneris above them, nevertheless moved onto another level, taking Verdi on his own terms at last.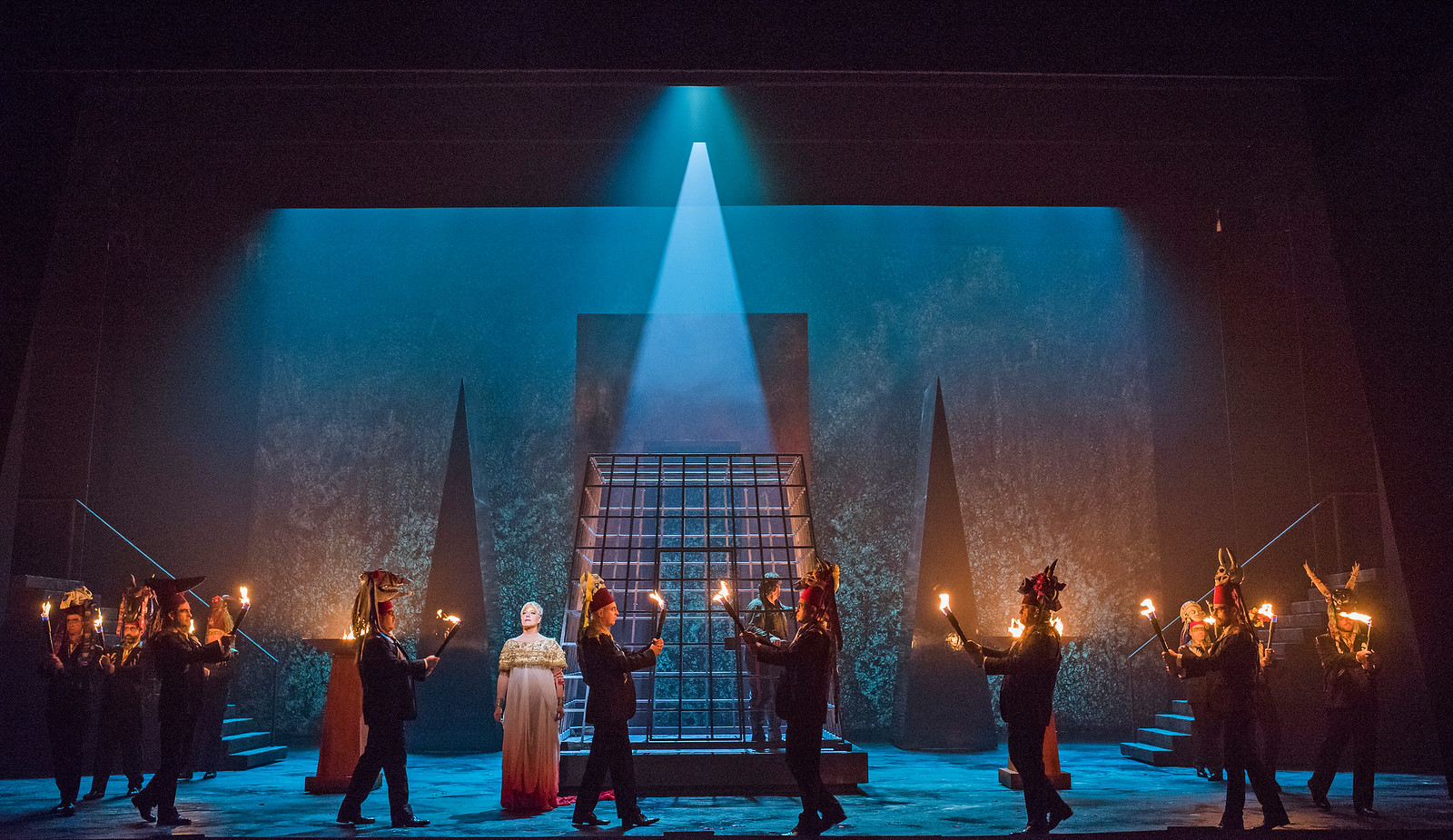 The chorus mostly stood and delivered, which they did extremely well, with the hushed moments especially fine. There was strong playing from the orchestra under the baton of Keri-Lyn Wilson, who took often brisk tempi and provided solid support to her soloists' voices, mainly without drowning them in orchestral splendour and cavernous Coliseum space.
There is one elephant in the theatre: it's Verdi in English. Or Verdi in this English. Some composers translate better than others, and Verdi is one of the thorniest of all. Even so, this version is so clunky that it not only disrupts occasional rhythms but also distracts from its purpose, which presumably is to make the drama more immediate. Aida shouldn't leave you laughing – but when rhyming couplets match "Isis" with "[in]side us", and "shelter" with "Delta", splashed loud and clear over the surtitles, you can't help thinking that ENO's opera-in-English mandate is past its sell-by date.