Tom of Finland review - engaging biopic of gay pioneer |

reviews, news & interviews
Tom of Finland review - engaging biopic of gay pioneer
Tom of Finland review - engaging biopic of gay pioneer
From darkest Helsinki to sunny California, the story of the artist who created a distinctive gay subculture
All together in leather: Pekka Strang as Tom of Finland
Finnish director Dome Karukoski has made a sympathetic and quietly stylish biopic of Touko Laaksonen, the artist who did as much as anyone to define 20th century male gay visual culture. There's a degree of irony in the fact that we know him by his national pseudonym – he started signing his work "Tom" for anonymity, while "of Finland" was thought up by an American publisher – given that post-war Helsinki is depicted here as about as repressive an environment for a young man exploring his sexuality as could be imagined. Asked at one point whether he has published his work in his homeland, Laaksonen replies, without a trace of irony, that it would be more likely to appear in the Vatican.
Karukoski and screenwriter Aleksi Bardy give the film's first half over to the artist's early years, and it feels considerably more organic and contained than the second, which tells of Laaksonen's discovery of, and by America. It opens with his military service in the Russo-Finnish war, when he first started cruising night-time parks; that resulted in unexpected comradeship with some of his fellow soldiers, as well as providing the origins of his visual iconography. Police repression, and the violence with which it was often associated, became somehow absorbed into his images of strong men, often in uniform. One particular wartime experience – a murderous encounter with a Russian parachutist – is given special significance: Laaksonen clearly came out of the war traumatised.
The film's final scene movingly brings home the full trajectory of his journey
After the conflict ended, he shared a flat with younger sister Kaija (Jessica Grabowsky), also an artist, and life slowly began to look up. Laaksonen started to work in advertising, in due course becoming art director at a major agency. But the subjects he made his own – his trademark heavily muscled and phallused men in tight uniform and leather – had to be kept locked away. Even a trip to more progressive Berlin confirmed his anxieties.
But the arrival, as the siblings' lodger, of the beautiful Veli (Lauri Tilkanen), a dancer, slowly began to change Tom's world – although Karukoski leaves the details of their relationship rather undeveloped – and gave him an increasing confidence in his work, which started to circulate among friends. His signature fetishisation began to include bikers. "We have started a motorcycle club, only without motorcycles," he tells one old friend from the war years, with a new element of humour, even if such levity is qualified by the fact that the friend concerned has been disgraced after a police raid and is now in an asylum, determined to "cure" himself of his homosexual orientation. (Pictured below: from left, Lauri Tilkanen, Jessica Grabowsky, Pekka Strang)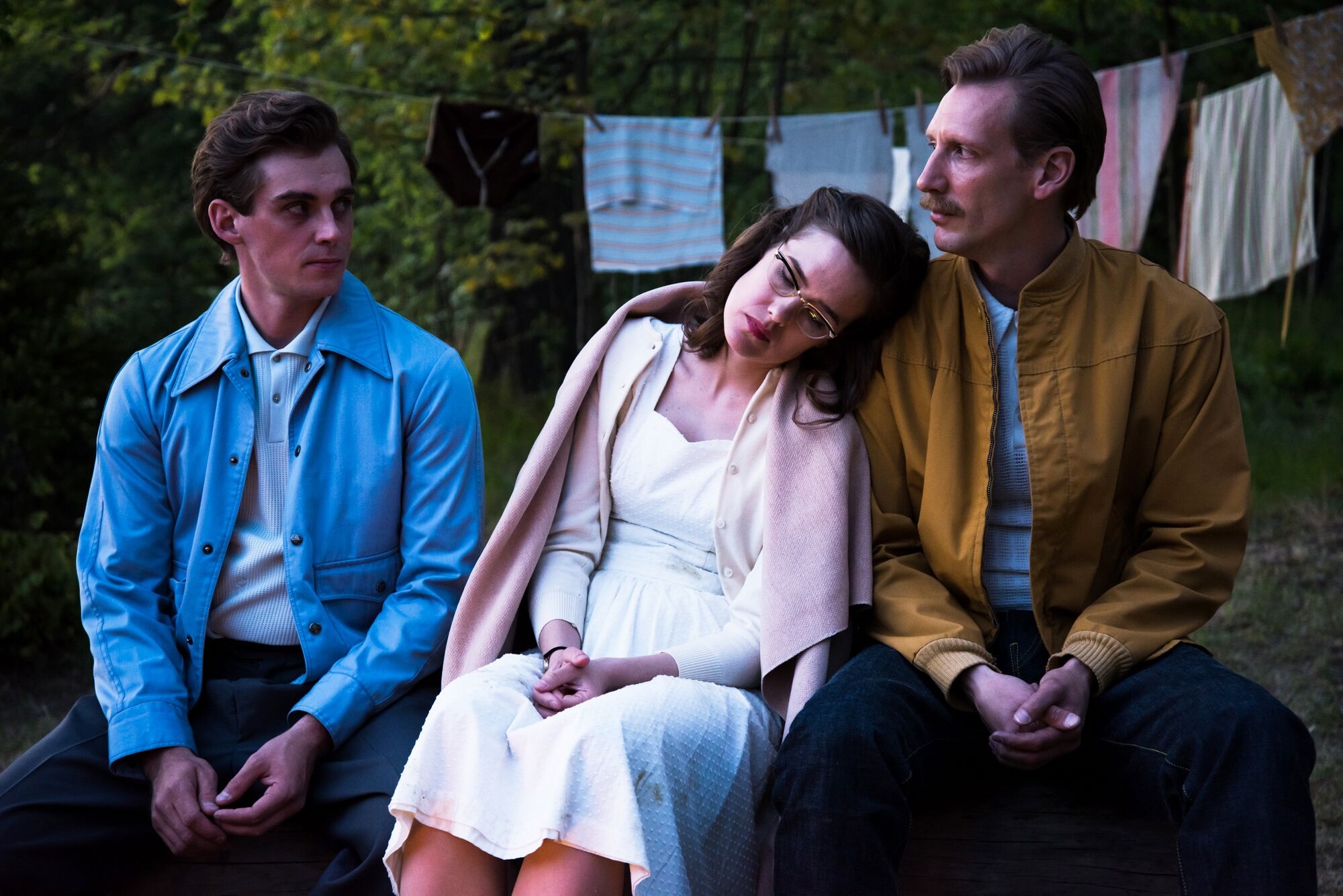 Designer Christian Olander portrays this dark Helsinki world through a palette of subdued colours, greys and blues (we only see the Finnish sun once, on a summer day out in the archipelago). Which also works just right in setting up the contrast to Tom's first trip to California, with its bright colours and sheer enjoyment of physical beauty. First published in the mid-1950s in Physique Pictorial – the magazine was beginning to fascinate David Hockney at about the same time – the artist's work was initiating a whole style of American gay life, one that, it feels, left Laaksonen himself with some catching up to do. He had, in every sense, arrived in another world.
Along the way Karukoski rather jumbles his timeline, virtually skipping a decade or so, but it doesn't detract from the whole. There's definite digression in the director expanding his story to include Laaksonen's first American fan, and later close friend Doug (Seumas Sargent) with unlinked episodes from his life. The closing of Tom's Helsinki life is dealt with somewhat perfunctorily, especially in his relation to his sister Kaija who either has or hasn't – it's never quite clear – understood all along what was going on in her brother's life. The onset of AIDS in the 1980s, which brought a backlash against Tom's art, is rather unconvincingly set against an all too obvious feel-good plot diversion.
But for viewers sympathetic to the film's subject – and Karukoski has made a sufficiently mainstream film for that number to include a considerably wider audience than might be expected – all that will seem carping. Pekka Strang turns in a very accomplished performance as Tom, as convincing at the age of 20 as at 70, with a certain haggard, occasionally uneasy distraction that seems particularly fitting for the early years. The film's final scene movingly brings home the full trajectory of his journey – how, out of the pain and isolation of his early years, he created and helped to define a subculture that became emblematic for so many gay men the world over. It will be a stony-hearted viewer indeed who resists the celebration of Tom of Finland's conclusion.
Overleaf: watch the trailer for Tom of Finland
But the subjects he made his own - his trademark heavily muscled and phallused men in uniform or leather - had to be kept locked away
rating
Explore topics
Share this article