Maudie review - intriguing and irritating in turn |

reviews, news & interviews
Maudie review - intriguing and irritating in turn
Maudie review - intriguing and irritating in turn
Sally Hawkins vehicle about an artist could use more artistry itself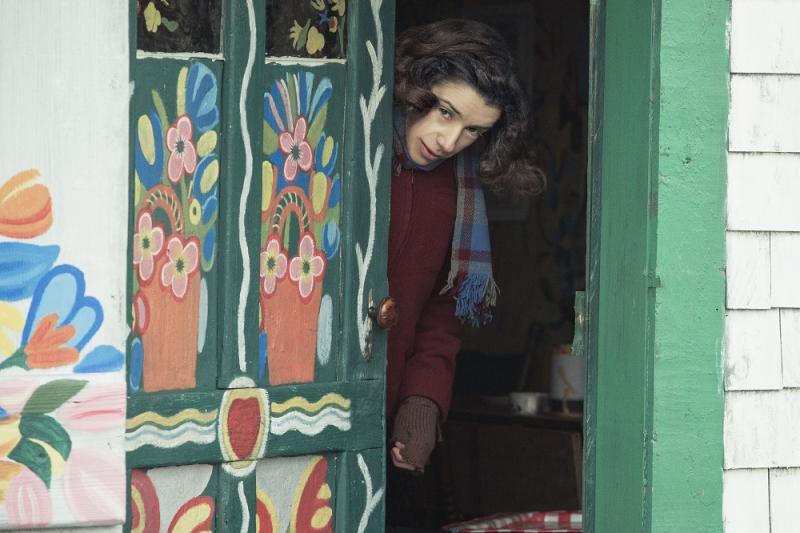 Oscar bait? Sally Hawkins as Maud Lewis aka Maudie
The little-known Canadian folk artist Maud Lewis is the Maudie of the title of Aisling Walsh's grim-faced biopic, which feels frustratingly incomplete where it really counts.
Sally Hawkins's committed occupancy of this sweet-faced if largely woebegone soul compels attention, to be sure, but can't forestall the somewhat colour-by-numbers approach of the director Aisling Walsh: a movie given over to
art
all but demands more art of its own.
I confess to never having heard of Lewis, though it's certainly interesting to note that one of her purchasers way back when was Richard Nixon, of all people. (By contrast, has the current occupant of the White House ever even looked at a painting?) So there's every reason to have hoped that Walsh and screenwriter Sherry White might allow us greater insight into the art of a woman who died in 1970, age 67. Her legacy remains an array of canvases given over to deliberately one-dimensional chronicles of the everyday (flowers, animals etc), an aesthetic arrived at without schooling or training of any kind.
The severely arthritic Maudie worked purely on determination and instinct, it would seem, with Hawkins's tight-lipped fervour at times recalling Daniel Day Lewis's Christy Brown in My Left Foot, to which this film seems a kissing cousin of sorts. Maudie also puts one in mind of that peculiar Tim Burton entry Big Fish, another account of a painter of secondary renown whose art had to accommodate a difficult domestic life. There, one saw Christoph Waltz terrorising Amy Adams, whereas here one winces from the very moment Maudie first encounters the scowling termagant Everett (Ethan Hawke). Keen for company but with no idea how to treat a companion, he's a fish peddlar who views woman as chattel and looks as if he might have wandered into the frame from a Thomas Hardy novel.
Maudie ends up in Everett's belligerent care having severed ties with what family she can call her own: her brother is seen early on expressing scant interest in this indrawn, squeaky-voiced sibling whose juvenile rheumatoid arthritis resulted in physical malformations that appear to have been rather more marked than are indicated here. The chain of being, in Everett's order of things, starts with him and then dogs and chickens and, finally, Maudie, who navigates their beyond-intimate confines (no electricity) as if she had landed in her own baleful equivalent to Brie Larson's underground bunker in Room.
A two-hander in essence, Maudie after a while cries out for more characters, or, at least, for greater attention paid to its eponymous heroine's burgeoning artistry. Instead, we get a relentless trajectory of abuse, both physical and emotional: Maudie cooks turnip soup for Everett who, needless to say, doesn't like turnips, and when she happens to mention that they've made something "cosy" together, she is met with a thudding smack across the face by way of response.
The performers are left to carry the day and largely do, especially Hawke, who cracks a mean pair of knuckes and doesn't look quite as hellbent as Hawkins on riding the film to awards-season glory; one is aware even at his most fiery of a fundamental bewilderment to Everett, who may on some level actually love this impish woman whom he mistreats. (Everett was murdered in real life, which presumably is another story altogether.) Hawkins gives it her Mike Leigh-style method-conscious best, though I admit to feeling at times as if I was watching the hard work involved at the expense of surrendering to this character's odd, distinctive spell. Still, the actress is at no time more moving than when she blinks, as if each lowering of an eyelid might kickstart her hapless life anew. Thank heavens, under the circumstances, for art, even if the celluloid canvas that is Maudie doesn't dig very deep.