Don Quixote, Mariinsky Ballet review - gentle charm, impressive principals |

reviews, news & interviews
Don Quixote, Mariinsky Ballet review - gentle charm, impressive principals
Don Quixote, Mariinsky Ballet review - gentle charm, impressive principals
Tasteful design and perfectly poised dancers in classy first outing for Russians visiting the Royal Opera House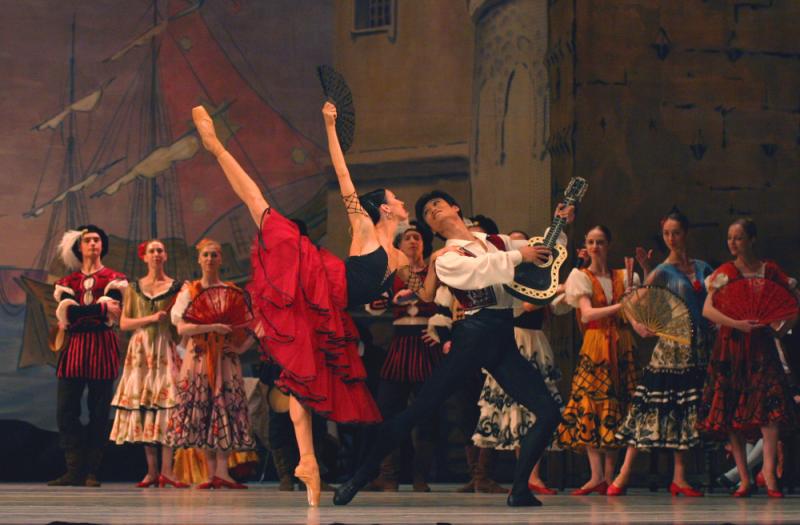 Plenty to show off about: Viktoria Tereshkina and Kimin Kim of the Mariinsky Ballet in 'Don Quixote'
One of the most Russian things you can do in ballet is dance Don Quixote, which is 100 percent set in Spain. Don't think too hard about it, and definitely don't think too hard about the plot (which is barely there).
The point is, the
Mariinsky
- perhaps the most pedigree
ballet
company in the world - are back on the Royal Opera House stage, and all ready for Britain's balletomanes to marvel at Russian training and tradition, and to perform the perennial comparison: who is best, Bolshoi or Mariinsky?
Viktoria Tereshkina (pictured below right) is a very Mariinsky choice for Kitri: she is trained, controlled, technical, exquisite. Though her acting of the steps themselves is perfectly charming: a smile here, an eye-roll there, all spot on time, she also seems unbothered about trying to make Kitri a character. Tereshkina is just here to be a Mariinsky ballerina - which, in fairness, is a damn fine thing to be. You just don't see poise like this every day. Every arabesque, every flourish is so under control that she can tease us by drawing out the wait for the final orchestra chord almost beyond belief. Of course it's hokey - but that's Don Q (as the insiders call it): it's pure showmanship, the apotheosis of everything theatrical in the ballet tradition.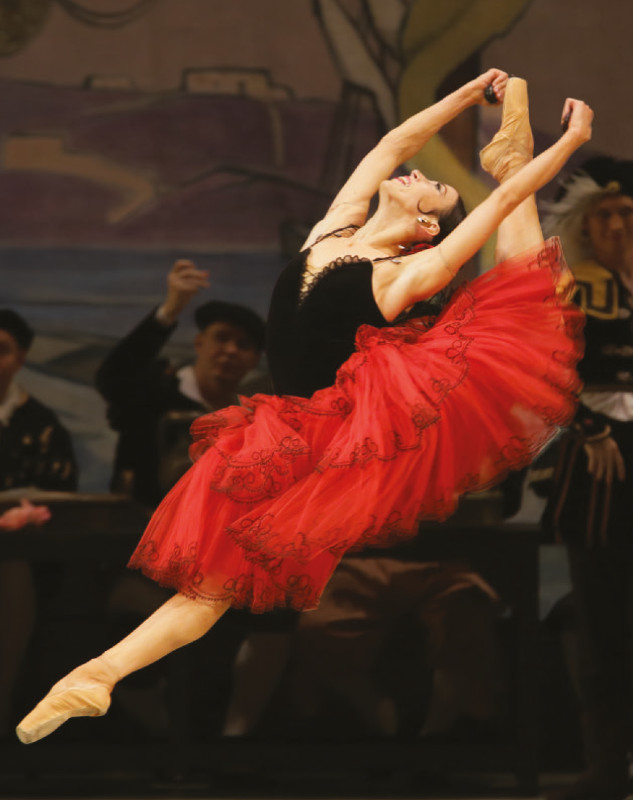 This is really more a Bolshoi vehicle than a Mariinsky one, and Tereshkina's A-list composure isn't going to displace memories of the infamous, firecracker Osipova/Vasiliev Don Q in the 2010 Bolshoi tour, a watermark in many ballet fans' minds. But Tereshkina and her handsome, long-legged Basilio, Kimin Kim, do have plenty to show off about, not least their mastery of the ballet's many one-handed lifts: the value of all that discipline shows through in the implausibly smooth, long, and balanced moments Tereshkina spends eight feet above the stage, connected to the ground only through the upraised palm of Kim's hand. Kim is a treat in his own right, full of youthful joie de vivre that he translates into mega jumps spiced with the air of abandon that Tereshkina mostly eschews. But abandon only goes so far: Kim's hands, hair and shirtsleeves may be flying wildly, but just look at those feet, clear and crisp as castanets in every beat and landing. By the time the two of them get to the final, magisterial pas de deux, it's like watching two expensive German cars eat up the kilometres on the autobahn, a triumph of world-class engineering.
Those who like a flavour of something more thoughtful to balance out the straightforward cheerfulness of the main story should look to the slender figure of the Don himself as played by Soslan Kulaev. Floating abstractedly through the action, Kulaev seemed to me like a wistful genius of Romantic ballet, searching for high ideals but finding only common-or-garden windmills. It's no accident, surely, that the ballet's white act takes place in the Don's imagination: he is its conduit away from the earthy exoticism of the Spanish setting and back to the realm of wilis, and shades.
Don Quixote is not, at heart, a Mariinsky calling cardIn this case, they are dryads, a much more homely kind of spirit, and their colours are correspondingly far from moolight-blue: in an Alphonse Mucha-style woodland of dusky coral leaves, the corps de ballet appear in lemon, peach, powder blue and parma violet, led by a Kylie-esque little Cupid (Tamara Gimadieva) and their Queen, Ekaterina Chebykina, a second soloist who has been given the signal honour of dancing both Odette/Odile and Nikiya on this London tour. The star quality the Mariinsky's director, Yuri Fateyev, must have identified in Chebykina was not immediately obvious to me. She's a pretty and competent dancer, not a showy one, but over her time on stage I became aware of a certain steely determination under the prettiness, particularly evident in her final sequence of Italian fouettés, that might serve her well in both Swan Lake and La Bayadère.
The real scene stealer among the supporting dancers was Olga Belik's Mercedes, whose stupendously supple variation of balletified flamenco thrummed with charisma. Konstantin Zverev, another second soloist who has a leading role on this tour (as Count Vronsky in Alexei Ratmansky's Anna Karenina) was a likeable but not especially Spanish toreador, though his flexibility in backbends and renversés was a lovely surprise. Otherwise the succession of street dancers, gypsies, and flower sellers was competent but unremarkable. Much the same can be said of the music, though in fairness to conductor Boris Gruzin it's hard to do much with Minkus: it was designed for counting, not feeling.
One of my favourite aspects of this production is the design, originally by Alexander Golovin and Konstantin Korovin and recreated by Mikhail Shishliannikov, which is lovely and remarkably tasteful throughout. The mismatched tiered skirts and fringed shawls of the Spanish costumes are understated, Kitri and Basilio are dressed with elegant restraint; even the gypsy costumes mostly avoid the realm of piratical cliché. And the sets are utterly charming, from the shawl-draped gypsy wagon nestling under rocky cliffs, to the lamp-bright windows overlooking a town square at dusk, to the grand park in which the final wedding celebration takes place, complete with hanging lanterns, umbrella pines, and craggy palace. Another, slightly eerie, pleasure is the choreography's homage to Spanish dancing, which gives an impression of its original source material like a picture coming in and out of focus: by turns entirely characteristic and barely recognisable, but still carrying deep within it somewhere the a flavour of impressions gathered by the young Marius Petipa during the three years he spent in Madrid in the 1840s.
Don Quixote is not, at heart, a Mariinsky calling card: we will have to wait till Swan Lake opens later this week to see that. But already the company's gentle charm, its self-possession, and its highly impressive principals are making their mark on the Opera House stage. We await the rest of the tour with interest.
The Mariinsky Ballet are in residence at the Royal Opera House until 12 August, performing Don Quixote and other pieces in repertory.
Kim and Tereshkina are like expensive German cars eating up the autobahn
rating
Explore topics
Share this article