theartsdesk on Vinyl 30: Moby, The Beach Boys, Napalm Death, John Coltrane and more |

reviews, news & interviews
theartsdesk on Vinyl 30: Moby, The Beach Boys, Napalm Death, John Coltrane and more
theartsdesk on Vinyl 30: Moby, The Beach Boys, Napalm Death, John Coltrane and more
The best monthly vinyl record reviews on the world wide web
Always in the groove
If there's a downside to the resurgence of vinyl, it's that all that's left in most charity shops these days is James Galway and his cursed flute and Max Bygraves medley albums. Then again, there's always new stuff coming in so it's down to everybody to get in there quick, before the local record shops hoover up all the gems. And there it is. Many small towns now have local record shops again. That's surely something to celebrate.
There's even a Vinyl Festival this September in Rotherhithe
[Notification 20.7.2017: This event has been cancelled]
with a hundred stalls featuring
independent
labels and dealers, and the latest vinyl-related tech, alongside DJ sets and staged "in conversations" with various usual suspects (eg Tim Burgess). As I've written here before; vinyl is a fad right now but it may not always be, so get stuck in and grab some. Monthly reviews on
theartsdesk on Vinyl
guide through the best of what's out there, from bangin' techno to spanking new country'n'western to seminal 50 year old
jazz
. Dive in.
VINYL OF THE MONTH
Hidden Orchestra Dawn Chorus (Tru Thoughts)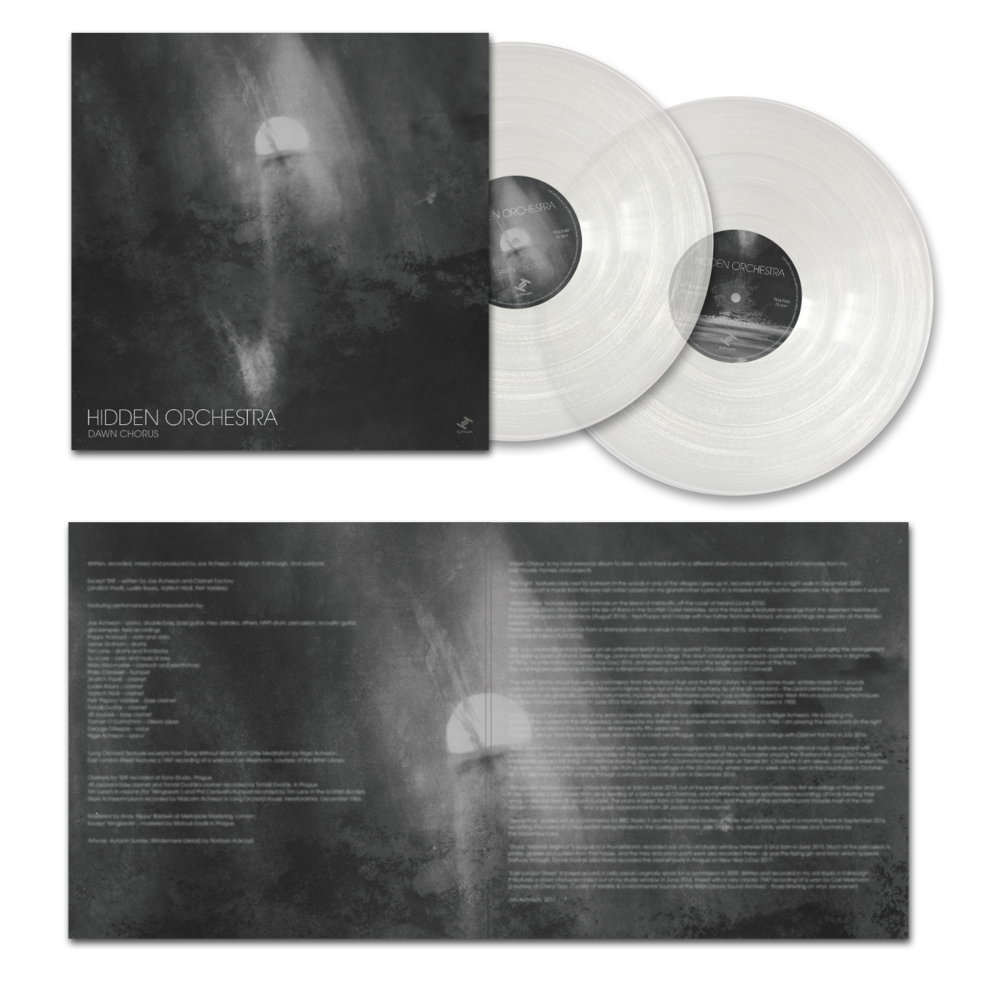 The third album from Brighton electronic producer Joe Acheson is a suite of field recording-based music themed around dawn in the countryside (apart from two tracks recorded in urban environments). That sounds like the sort of conceptual art project people give lip service to, that creates a few column inches in broadsheet arts supplements, but is basically boring to listen to. Not so. Coming on double transparent vinyl (only available via bandcamp.com) or regular black, the gatefold sleeve describes details of the various locations the material was recorded, which range from his own garden to a forest near Prague, and the whole is speckled with violin and piano by the composer Poppy Ackroyd, as well as loads of birdsong. What makes it all so listenable is a dubby propulsion, a mantric head-nodding quality that's earthy yet light, dragging the listener into what can only be described as a soundscape (my allotted one use of the term for 2017). Alongside the crackling fires and whistling winds (and, on "Serpentine", relatively hectic percussion) there's a plethora of mellow woodwind and mournful strings. The whole thing could have been an ambient drag but, instead, it's a gently engaging masterpiece.
Various The Wicked Die Young: Nicholas Winding Refn (Milan)
Nicholas Winding Refn is a Hollywood auteur to watch (albeit one from Denmark). His films are unafraid to wander outside the normative. Perhaps the best example of this is his beautiful, bizarre horror meditation on the fashion industry, The Neon Demon, from last year. Cliff Martinez wrote the distinctive electronic soundtrack to that film, as well as Refn's Ryan Gosling-starring pair, Only God Forgives and Drive. The Wicked Die Young is a companion piece, wherein Refn compiles, over four sides on art gatefold, the music that inspired the mood of The Neon Demon. The result is a great and imaginative collection that retains the strange, sometimes sickly sensual mood of the film in question. It runs the gamut from punk groovers such as 999's surprisingly supple "Homicide" to the kitschy sex-disco of Tommy Seeback's "Bubble Sex"; from the even purer kitsch of Lynsey de Paul's "Won't Somebody Dance With Me" and Dionne Warwick's "Theme From The Valley of the Dolls" to original gothic synth-pop tunes by Electric Youth, Martinez and Refn's brother Julian. The concept behind The Wicked Die Young sounds indulgent but the result is hugely enjoyable.
Moby & The Void Pacific Choir More Fast Songs About the Apocalypse (Little Idiot)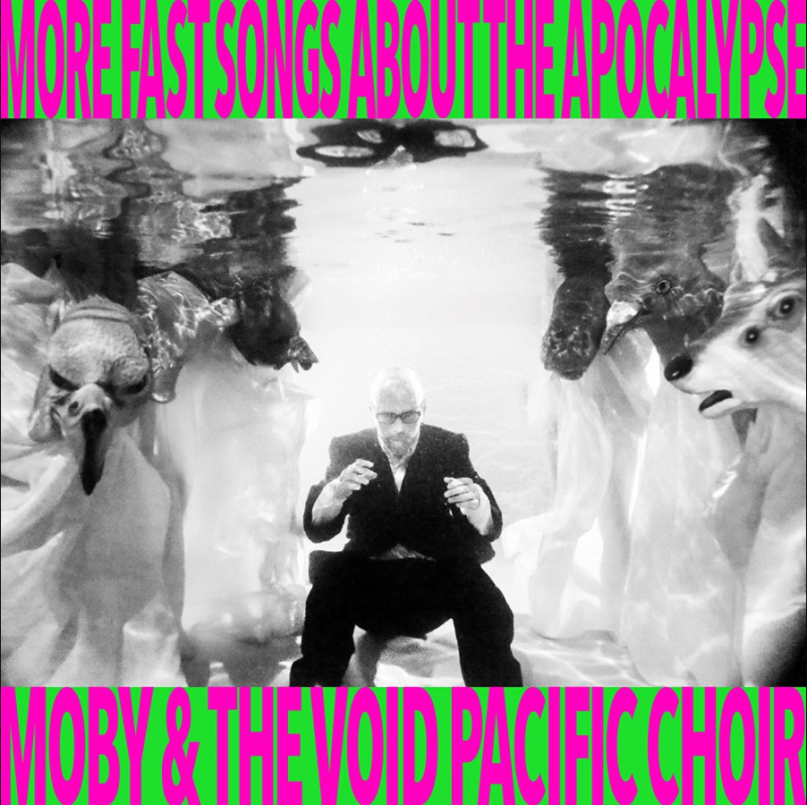 If you enjoyed last Autumn's These Systems Are Failing, then More Fast Songs About the Apocalypse is very similar. On transparent candy pink vinyl in photo-art inner sleeve, it may well be that Moby and pals recorded these songs in the same sessions. In terms of production, they certainly sound that way, great hammering walls of melodic synth, with attacking electronic percussion flying along beside, all adding up to a polished 21st century anti-Trump punk. The odd thing about this album is that, while it's exhilarating, I find it hard to recall specific songs after it finishes. I'm left with a general fist-pumping-the-air sense of righteous howling at the misguided powers that be. That said, there are gigantic stand-outs, such as the cinematically vast "All The Hurts We Made", which sounds like long-lost Eighties act Red Box reinvented on an apocalyptic scale by an angry rave-punk behemoth, or the closing "A Happy Song" which comes on like Gary Numan going ballistic. Hearing These Systems Are Failing, and More Fast Songs About the Apocalypse live on a large system would be a wild experience, they're a vibrant addition to Moby's critically underrated back catalogue, but two albums of this stuff is enough.
The Beach Boys Wild Honey (Capitol)
After the well-documented sandpit and LSD shenanigans of the Smile/Smiley Smile project, culminating in commercial failure, the battered Beach Boys regrouped for what would be songwriting genius Brian Wilson's last wholly conceived album for a decade. Given the critical kudos which The Beach Boys have gathered in the intermediate 50 years, it's usually forgotten that as the psychedelic Sixties bloomed and rock music came into being, they were sneered at as a crappy pop band, a relic of the previous clean-cut era. The critics were certainly not on their side in 1967. Wild Honey, then, was an attempt to deliver something with more oomph and, indeed, it has a rhythm'n'blues vivacity that fits in with what, say, Stax Records were up to at the time. It's not too far, even, from the Northern Soul aesthetic in places, while songs such as "How She Boogalooed It" have an almost Stonesy feel. The title track, with its Otis Redding-buys-a-Moog vibe, is a must-have number, and the whole thing has a welcome punchiness.
Various Closed Circuits: Australian Alternative Electronic Music of the '70s and '80s, Volume 1 (Warner Music Australia)
This collection is worth the price of entry for obscure unit And An A's seven-minute 1982 corker "Affirmation". It sounds somewhere between The Talking Heads and all those early Eighties Manchester indie bands who tried in vain to play funk. Closing with a hypnotic sequence where bleepy keyboard meshes with harmonica and jangling guitar, it's a minor classic. Over two records in an info and image-filled gatefold, the rest is a fascinating mixed bag which runs from the bizarre to the brilliant to the best-not. Given the title, I was expecting a collection of '80s electro-pop. There are moments imitative of that, such as Jules' "Rock, Rock Daddy", which recall's Animotion's 1984 hit "Obsession", or the ballad "Waiting" by The Dugites, which has a rhythm track very similar to Ultravox's "Vienna" (which it pre-empted). However, much of Closed Circuits is indie band music with electronic trimmings or just plain post-punk experimentalism. German Humour's "A Young Man's Old Girlfriend" is a lovely Chameleons-ish thing, albeit with the lyrics recorded inaudibly low, while Anna Cessna & Essendon Airport's "Talking to Cleopatra" is an alt-pop mess that would have fitted in well beside …And The Restless Natives' "There Goes Concorde Again" on The John Peel Show, meanwhile Scattered Order's "A Few Little Shocks" is sheer industrial assault. In parts, then, a revelatory selection.
Bernard Herrmann Psycho (Stylotone)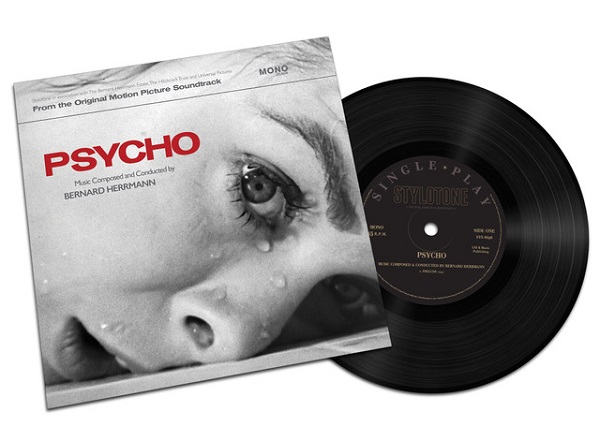 Psycho is one of the most groundbreaking films ever made. In terms of horror, it's a key text, and, as its director Alfred Hitchcock acknowledged, much of the film's power came from Bernard Herrmann's jarring music (Hitchcock pinned it down to exactly one third). This 7" single, limited to 1960 copies, in honour of Psycho's year of release, was cut directly from the master tapes at Abbey Road and sounds that way. It contains the theme music at the start of the film, which mingles a driving melodic thriller motif with something altogether more unsettling, and on the flip, the famous string stabs of the shower murder. The latter is still used as comedy verbal shorthand to describe the dangerously mad over half a century after it was composed. It's a short, sharp, shock of a piece and this 7" makes it ripe for dropping in between other tunes, as a DJ or host, spicing up the menu with something brief, utterly recognizable, classic and energetically disquieting.
Miranda Lee Richards Existential Beast (Invisible Hands Music)
Miranda Lee Richards would have made a less plasticized Lana del Rey, if she'd had that sort of team behind her a few years ago. She has that hazy David Lynch-ian thing down but seems more red-blooded and rockin' than America's A1 trip hop diva. Her fourth album, which arrives with a 12" x 24" lyric/art insert, has a country music tint, but is equally smeared with a woozy, stoned, singer-songwriter ethos. Her voice is crystal clear, girl-ish, precise in delivery, and provides an ethereal counterpoint to the tuneful, classy psyche-pop guitar. Here and there are very faint hints of the Cocteau Twins and Miranda Lee Richards' acknowledged influence, Mazzy Starr. It's likeable drug-tinted space-pop for wafting around dimly lit rooms trailing a hallucinatory swirl of Boho silk scarves.
Various Behind the Counter With Max Richter (Rough Trade)
Max Richter has gradually wended his way to becoming a leading light of the current modern-classical boom. He exemplifies an unfussy Venn diagram crossover between trad conservatoire virtuosity, self-taught electronic freakery and the relationship of both to the filmic, both literally and conceptually. This three disc set in triple gatefold lays out his parameters via a compilation that runs from Aphex Twin and Mogwai's "pop music" heritage to the canonical likes of Handel, Schubert, Rachmaninov and Purcell. Along the way, and, perhaps, most interestingly, he showcases the more approachable face of abstruse art music, such as Massachusetts vocal ensemble Roomful of Teeth performing a piece called "Partita III. Courante" by Pulitzer Prize-winning New York composer Caroline Shaw, which consists of singing and voice exercises cut together in a way that's both beautiful and entirely different, or the glitched Buchla synthesizer twinklings of Kaitlyn Aurelia Smith, which achieves a sort of sonic Aurora Borealis. There are a couple of his own works in there too, and it's pleasing to see him give peculiar teenage Norwich newcomers Let's Eat Grandma the nod. An elegant collection wherein Max Richter whispers, "Come into my world, it's not noisy and it's sometimes not immediate, but stick with me and you'll find unexpected treats."
Napalm Death Scum (Earache)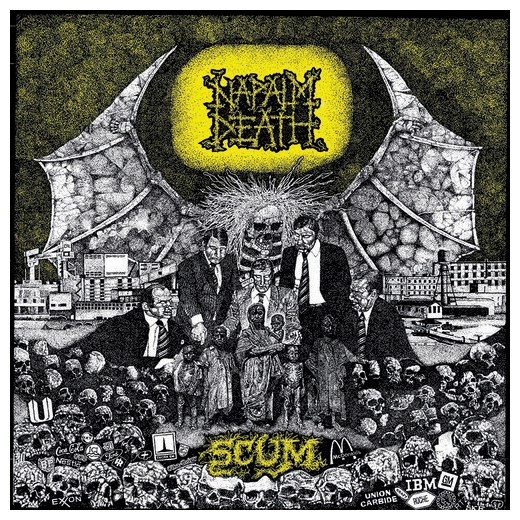 When Scum appeared in 1987, it changed the game for speed-metallers across the world. It brought in a number of tropes that would prove highly influential, notably the incomprehensible growl-vomited vocals and sudden bursts of "blast beats" (demented drum assaults). Time has not mellowed it. One way that it stands out from many of the bands it influenced is the defiant lo-fi scuzz-punk feel, especially on side one. Another curious aspect is that it's the ultra-hardcore Midlands outfit's most famous work yet was made by, essentially, two different bands, one per side, neither of which contained any members of the current Napalm Death (their bassist first appeared on the next record). Overseen by drummer Mick Harris, master of the aforementioned blast beats, and with input on side one from Justin Broadrick, later of industrial metallers Godflesh, it has a rising, falling insectoid hum, the brevity of the songs and the socio-political lyrical content subsumed by the violent need of its makers to purge these emotions from their system. Cheap, caustic and ballistic, Scum remains a signpost on the landscape of extreme music and its power remains little dissipated by the intermediate 30 years. Comes in original lyric/photo sleeve.
John Coltrane Olé + Coltrane Plays the Blues + Giant Steps + Trane: The Atlantic Collection (Warner Bros) + John Coltrane & Don Cherry The Avant-Garde (Warner Bros) + Milt Jackson & John Coltrane Bags and Trane (Warner Bros)
The word "legend" is much overused by music writers, and even more by PRs. However, some artists achieve legendary status, via the giant shadow their work/persona casts over the decades, most especially if their time on earth flared brief but oh so bright. John Coltrane falls into this latter category, a saxophonist who, for around a decade prior to his death from liver cancer in 1967, flew at the boundaries of what jazz could be in a manner only comparable to his great contemporary, rival and occasional collaborator, Miles Davis. These Atlantic albums, all recorded at the very dawn of the Sixties for Atlantic Records (although some were released later in the decade), showcase an artist enjoying the outer limits of what was then critically and commercially acceptable in jazz, prior to leaping off into free forms and outright experimentalism that divided listeners. 1962's Coltrane Plays the Blues, for instance, featuring material recorded during the 1960 sessions for the commercially successful My Favourite Things album, is full of warmly approachable tones and easy vamping, sprightly, never settling to easy levity. The hook-up with trumpet master Don Cherry around the same period (but not released until 1966) is entitled The Avant-Garde but finds both musicians enjoying their own take on Ornette Coleman compositions, flighty, occasionally challenging, but never going off at the deep end. Giant Steps, produced by Atlantic giant Nesuhi Ertegün (brother of Led Zep pal Ahmet) is a livelier creature, fluid and often frantic, by the standards of the time. It's all Coltrane's own music and was a breakthrough album, truly putting him on the map. Its restless energy still leaps from the speakers today. 1962's Olé, meanwhile, the last release while Coltrane was still on the label, is my own favourite, primarily for its driving, flamenco-flavoured, side-long suite of a title track, although the new Trane: The Atlantic Collection is a juicy catch-all compilation (although no "Olé"). Finally, the Milt Jackson collaboration isn't actually a John Coltrane album at all, more Jackson featuring him, but is from the same period and a tasty addendum to these reissues. All albums come with a 12" x 12" insert featuring the front/back cover art.
Alison Moyet Other (Cooking Vinyl)
As one who hasn't listened to anything Alison Moyet has done for years, and who associates her with middle-of-the-road jazz-pop from the Eighties, Other is a right ear-opener. Many of you will have caught up with these developments already with 2013's The Minutes album; Moyet's return to electronic backing which is, after all, where she began with Yazoo three-and-a-half decades ago. Other is, then, overflowing with elegant, studio-symphonic pop, produced by Guy Sigsworth. It ranges from the luscious Bond theme-ish "The Rarest Birds" to the snappy electro-funk of "Reassuring Pinches", and goes many places else (including spoken word poetry). Moyet has said how liberating recording this album and its predecessor have been, freeing her from expectations people have of middle-aged female jazz singers. More power to her. It's a creative renaissance worth following.
Coldcut x On-U Sound Outside The Echo Chamber Boxset (Ahead of Our Time)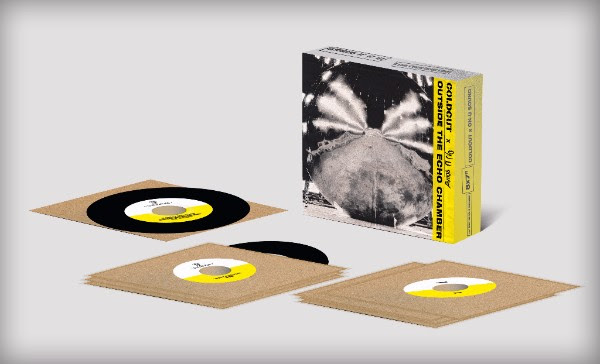 For five years, from around 1985, the DJ-producer duo Coldcut and the On-U Sound label-owner and producer Adrian Sherwood were two of the most influential sound-makers in British electronic music, always right at the vanguard, yet both with large popular followings. Coldcut majored in Steinski-influenced, hip hop-flavoured dance music cut-ups, with a soul-pop edge, while Sherwood, London's alt-dub kingpin, revelled in pushing reggae and world music into bassbin-shattering post-punk weirdness. Finally joining forces, Outside the Echo Chamber is an album in 7" boxset form. Names such as Roots Manuva and Lee "Scratch" Perry make solid appearances, although the best tune is an instrumental called "Metro" that riffs on the Doctor Who Theme. The package mingles poppy approachability, especially on the lovers' rock song "Make Up Your Mind", with more exotic outings, such as an appearance by Mumbai singer Hamsika Iyer, as well as a number of reverberating dub versions. The eight 7"s, in brown paper sleeves, are "dinked", which is to say they have a large hole punched out of the middle like old-fashioned jukebox fare. The boxset comes with two plastic Coldcut-logoed adaptors to play them on a normal deck.
Peter Gabriel Passion + Long Walk Home (Caroline International/Real World)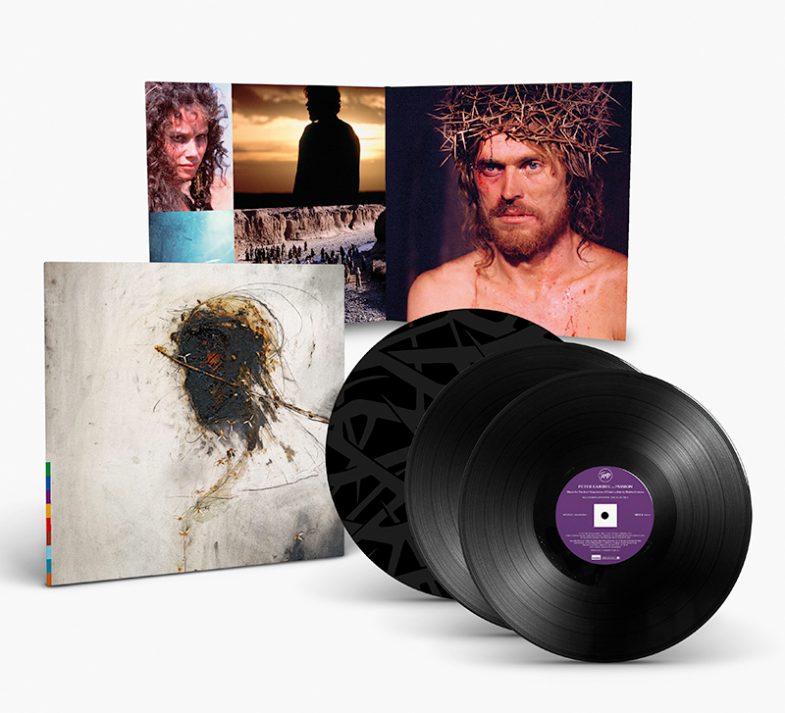 Really these should be called The Last Temptation of Christ OST and Rabbit-Proof Fence OST, for that's what they are. I had them allotted as secondary Gabriel releases but upon putting them on the decks, the mastering is extraordinary, the sound incredible, truly putting many of the other releases this month, however good the music, into sonic perspective. Take, for instance, "The Promise of Shadows" from the fifth side of the soundtrack to Martin Scorcese's controversial 1988 film The Last Temptation of Christ. It sees Gabriel on synths play off against virtuoso drummer Billy Cobham, the latter very far from his usual jazz-funk mode, creating a dark percussive piece that simply inhabits the whole head, such is the depth of sound. Passion is the much fuller, more rewarding of the two albums. It features musicians from all over, from Turkey to Bahrain to Ghana, and sees Gabriel immersed in his love for fusing sounds from around the globe. It also includes additional pieces that aren't in the film. Indeed, there's no need to have seen the film to enjoy it, a rich, electronically-enhanced tapestry of sound that would fit well into a marijuana-stewed late night yurt-bar at WOMAD. The music from the 2002 Australian film Rabbit Proof Fence is equally well-cut to vinyl but lacks Passion's breadth and sense of adventure. Instead, its meditative tones are moody ambient, more ponderous, although fans will note that the track "Ngankarrparni" was recycled by Gabriel on the Up album, put together around the same time. Both albums come in photo-laden gatefold with info/image inner sleeves. Passion is a triple, with its sixth side taken over with etched art imitative of the film's poster. Long Walk Home is a double.
Dave Gold Heaven on Their Minds (My Only Desire)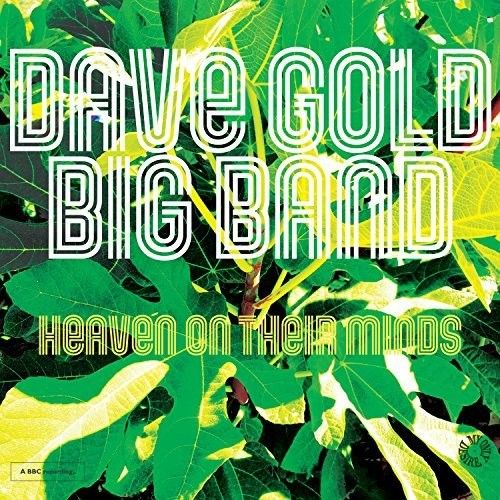 They were certainly having a ball at BBC Radio 2's Jazz Club live sessions in 1974. These four cuts are big band jazz, on its deathbed, having one last funky ball, before rolling over and becoming part of history. If you want to know more about all that, read Romany and Tom: A Memoir, a biography of his parents' lives by Ben Watt of Everything But The Girl. His dad was a big band jazzer dreaming of a future in the 1970s when there simply wasn't one. It's heart-breaking stuff. Back to the matter in hand, Dave Gold was a band-leader through the Sixties, Seventies and Eighties, working for library music label KPM and others. These loud, proud pieces of music have clearly been plucked from obscurity due to their outrageous danceability. Jesus Christ's Superstar's "Heaven on Their Minds" becomes a brassy monster, Gold's own walking bassline romp "O'Connell Street" is a flute-addled joy, Jimmy Webb's "A Pocketful of Keys" is frantic, cheesy easy, and Gold's "Nostalgia (Ain't What It Used to Be)" has something of "Theme From Shaft" about it in places, albeit on the end of Blackpool Pier. An ebullient package for retro soul-funk instrumental junkies.
Rubén González Introducing (World Circuit)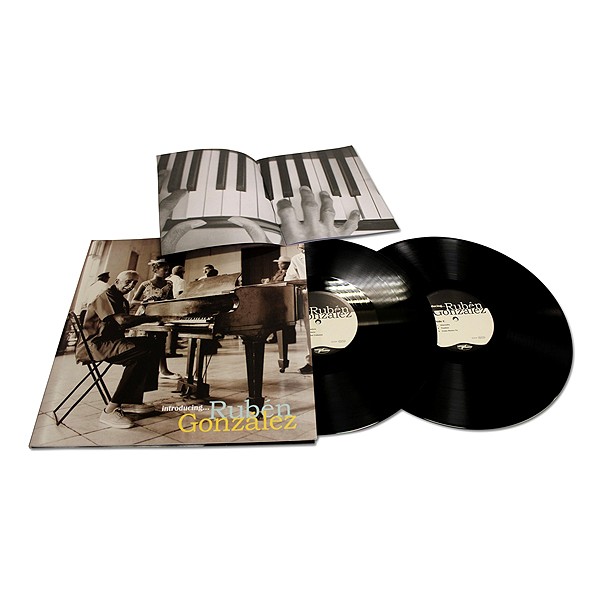 20th anniversary re-release for the album the Cuban pianist Rubén González cut at the same time and in the same studio as the outrageously successful Buena Vista Social Club, on which he also appeared. It's a wonderfully joyous affair. In his mid-seventies by the time of the Buena Vista sessions, he'd played with a who's who of Cuban music during the previous decades, from proto-salsa and rumba kingpin Arsenio Rodríguez in the 1940s to self-proclaimed inventor of the cha-cha-cha, Enrique Jorrín, in the 1960s. By 1996 González had no piano of his own and was living in relatively humble circumstances so, once Buena Vista was finished, he hung around at the studio, playing the piano. With producer Nick Gold still at the controls, able to see the potential of what was happening, González jammed out this album in two days with a gang of associates. It consists of Cuban standards as well as three of his own, and a jazzy, previously unreleased piece he composed with bassist Orlando "Cachaíto" López. Coming on double in gatefold, with a 16 page booklet containing info from the original release, it bleeds sunshine and booty-shaking rhythms redolent of the bubbling youth these ageing musicians were so easily able to capture.
ALSO WORTHY OF MENTION
Jason Isbell and the 400 Unit The Nashville Sound (Southeastern): The sixth album from former Drive-By Trucker Jason Isbell is a singer-songwritin' country music affair but with a steely, modern lyricism, reflecting the southern American working people's sense of abandonment and hopelessness. Arriving in a gatefold featuring group Polaroids and a photo/art inner sleeve, as well as an 11" x 11" four page lyrics booklet, The Nashville Sound was a Top Five US hit. It's easy to hear why. Whether rockin' out on "Cumberland Gap" or strumming quietly on "Chaos and Clothes", most of the album reeks of trapped, small town working class desperation at the circumstances low government investment and ruthless capitalism have wrought.
Goatwhore Vengeful Ascension (Metal Blade): There's a sticker on the outside of this one saying "America's most stirring Blackened Death Metal band is back!" Twenty years into their career and on their seventh album, Louisiana four-piece Goatwhore are no nearer making pop music than they ever were. Vengeful Ascension, which comes with a 12" x 12" lyric insert and demonic Boschian poster, is rammed with battering, down-tuned dirge-metal that concerns itself with Satanism and doomed apocalyptic imagery. These guys love their Book of Revelations. Possibly. It's rather too relentlessly chugging for this writer's tastes, but if you like your "blackened death metal" solidly machine-moody rather than bloodily raging, Goatwhore's latest may be for you.
Courtney Barnett How to Boil an Egg (Milk!): The Aussie garage chanteuse fires out a one-off while we await the follow-up to 2015's sassy breakthrough debut album Sometimes I Sit and Think and Sometimes I Just Sit. It's an exasperated song about stasis, about trying in vain to get life moving, pleading with mundanity, riding a jangling Modern Lovers-type riff. Although it lacks Barnett's capacity for pithy humour, it's a passable place-holder. The weird thing is it's supposed to be part of the Split Singles Club series of collectable 7"s released by Barnett's own Milk! imprint, yet my copy is a one-sided 12" white label.
Metro Skim Identifying Possibilities (6 Dimensions): Steve Bicknell was a perennial presence in 1990s UK techno, his LOST nights providing a template for a certain type of ruthlessly metallic toughness that exists to this day. 6 Dimensions is his label and this seven-track 12" EP is their second release. It's not music designed to be played by anyone but mixologist techno DJs, for whom it would be a tool in the armoury rather than listening music. In that world and that sense, these cuts are tasty. There are a couple of electronic abstractions thrown in but nothing invites anyone but supremely stern tech-heads to get involved.
Hector Plimmer Sunshine (Albert's Favourites): Busy London DJ-producer Hector Plimmer releases his debut album on the delightfully titled Albert's Favourites label (named after cassettes co-owner Adam Scrimshire's grandad would compile for summer holidays together). It's Gilles Peterson-friendly percussive noodle, tipping its hat to the sound of drum & bass here and there, but organic and cuddly, firmly in the realm of chill-out jazz. Music synch agencies reading theartsdesk on Vinyl should check it. It's too nice-but-forgettable for me but it's the sort of thing most of us have chatted across during delicious summer festival afternoons, a soundtrack for easy good times.
Paradise Lost One Second (Music For Nations): Twenty years ago Halifax metallers divided their fans with their sixth album. Gone was the raging drum attack and death metal snarl, to be replaced by banks of keyboards and polished production. They'd become electro-goths. There's a hint, even, of Violator-era Depeche Mode about this music, albeit backed up with Marilyn Manson-esque swathes of epic guitar. The creative punt paid off as the album was a proper commercial success in mainland Europe and even generated a Top 10 hit in Finland (with the song "Say Just Words"). On double in art/image gatefold, this two decade anniversary re-release only emphasises that their reinvention is surprisingly easy on the ear, with has much in common with the moodier output of late period Gary Numan as with longer haired contemporaries.
Umfang Symbolic Us of Light (Technicolour): New York DJ-producer Emma Olson – AKA Umfang - makes music that's uncompromising in the extreme. It leaves this listener wondering if it's ridiculous Emperor's New Clothes stuff or at the very vanguard of techno-tronica. It's incredibly simple, minimal material, looping around mantrically, too machine-like to be hypnotic, but earnest, stern, very much its own thing. A resident at Brookyn's Technofeminism night and a member of its associated Discwoman movement, she's involved in pushing the cause of women in electronica. As a writer and occasional promoter who's been involved in electronic music's shaven-headed blokeyness for nearly three decades, I heartily back that cause. And her music is fascinating, different… a possible grower…
James Yuill A Change of State (The Happy Biscuit Club): London singer-songwriter James Yuill is a good example of the 21st century musician. Once signed to Moshi Moshi, he earns his bread'n'butter here and there, self-releases an album every now and then, melding classic acoustic numbers to laptop-tronic beats and sounds. On A Change of State, Yuill's fifth album, his airy voice and lightly played guitar mingle with revolving, building synth patterns. The whole thing, on two records in lyric gatefold, has a melodic underpinning that's appealing, slowly persuading the listener in. There's something of Nick Mulvey about it although less cosmic in scope. Instead, James Yuill offers a classy lesson in combining classic song styling with home-made modernism.
LTO Storybook (Injazero): Eno-esque electronica from a Bristolian ambient producer who can range into fragments of crackly, Gonjasufi-style songs but is equally at home taking the listener off on a drift through shimmering instrumental tones. Once a member of opaque downtempo explorers Old Apparatus, alongside Planet Mu artist Asher Levitas, he currently earns much of his living as a piano teacher. Cuts such as "Rise" very much show off LTO's controlled skill at that instrument. A laid back but concentrated piece of work.
Dauwd Theory of Colours (Technicolour): Berlin-based American-Welsh producer Dauwd Al Hilali has had material out in the past on homes to quality techno-tronica such as Ghostly International and Kompakt. Now making a debut on Ninja Tune's techy sub-label Technicolour, the album Theory of Colours is interesting rather than dynamic. This may seem like damning it with faint praise but its layered analogue gloops and swirls, occasionally interceded by the ebb and flow of throbbing, subterranean kick-drums, doesn't so much carry the listener off as float in on itself. It's approachable enough, late night soundtracking for the avant-stoner, but lacks contagiousness.
Martha Tilston Nomad (Squiggly): Anyone who's hurled themselves into the British festival scene will have come across the Small World Solar Stage, a venue that turns up in the best places (Glastonbury, Secret Garden Party, Bimble Bandala, etc) offering a new agey, folky selection of roots and global flavours. This was where Martha Tilston cut her teeth at the start of her career and still sometimes appears. Her latest album – of too many to count – has a festival campfire-friendly infectiousness and a lyrical ambition to it. It's easy to imagine Sinéad O'Connor covering a song such as "Little Arrow", which has a pointed, heartfelt passion, as well as a catchy tune, but, by the same token, Tilston is equally capable of a laidback narrative folky love song such as "Taxi Light". Comes with an 11.5" x 11.5" photo/info insert.
Mike Dunn DJ Beat That Shhh/Move It Work It (moreaboutmusic): "For anyone who knows their shit, Mike should need no introduction," says the press release, inducing a bunch of journos and bloggers to go Googling then pretending they've been 'avin' it to Mike Dunn since they were twelve years old. However, I'm not falling for that. 99% of you won't have heard of Mike Dunn. I hadn't. He was a Chicago DJ-producer who was around when they were inventing house music in the mid-Eighties. He knew Ron Hardy, a key player in house's development, and undoubtedly went on the journey that Chicago music took at that time. This makes him a person of interest, rather than "a Chicago house music legend" (© dance music hub residentadviser.net). By such standards, Eater and The Lurkers are punk legends. Which they're not. Anyway, to the music, which, in the case of "DJ Beat That Shhh" is funky UK garage-flavoured house that's jiggy and bar-friendly, while "Move It Work It" is an update of classic '88-style Chi-house. On both Dunn chats with cool American authority, making them likeable DJ fodder to which he adds character.
Dingwei Untied (Cooking Vinyl): Dingwei is a megastar in her native China, and has been for a decade-and-a-half. As well as a career in pop, she's written soundtracks to multiple successful films and TV series. Now she wants to explore beyond her country's borders and, with assistance from Suzanne Vega on the trip-hoppy "Gypsy", her latest album was put together in Thailand with a team who, between then, have worked with Kate Bush, Sting, Massive Attack, Sade and others. All in Chinese, apart from an English version of "Gypsy", it's mournful alt-pop rather than shiny major key pop. Think Portishead by way of London Grammar and Roisin Murphy's most recent albums. I'm not finding it more-ish but, then again, I don't much care for London Grammar of Roisin Murphy's recent albums. Comes in gatefold with a cool-looking 2' x 3' Chinese lyric poster.
Stephen Emmer Home Ground (Electric Fairytale): Dutch media heavyweight Stephen Emmer was once a sideman for Eighties alt-pop sorts The Associates and The Lotus Eaters, but his main reputation derives from being a hugely successful player in the world of television music. Three years ago he decided to re-engage with the wider world of popular music, putting out an album of symphonic pop with various high profile singers. He now follows it up with another wherein he channels the spirit of vintage, easy listening soul, featuring singers such as Chaka Khan, Patti Austin and the late soul songwriter Leon Ware. The result is slick as anything, very much the sort of thing that pops up on radio stations with names like Smooth FM and Breeze FM. There's nothing vibrant here but it's partly in aid of the charity War Child so let's move on and wish it all the best.
Various Disco Anthems (Demon): In terms of content, this three disc collection in gatefold is closer in tone to the old Disco Double compilations one finds in charity shops than to The Men in the Glass Booth aficionado boxsets theartsdesk on Vinyl reviewed back in January. Which is to say it contains many of disco's big names – The Jacksons, Village People, Odyssey, Dan Hartman, Earth, Wind & Fire, etc – but the sell is that it's all 12" versions. It could, in other words, have been a treat but the mastering is utterly feeble, presumably taken from digital and shamefully weak, removing every ounce of phatness, making the whole thing a pointless exercise. Shame. A missed opportunity.
We welcome any and all vinyl for review. Please hit thomash.green@theartsdesk.com for a postal address.
A fascinating mixed bag which runs from the bizarre to the brilliant to the best-not
Explore topics
Share this article