Reissue CDs Weekly: Bernard Herrmann |

reviews, news & interviews
Reissue CDs Weekly: Bernard Herrmann
Reissue CDs Weekly: Bernard Herrmann
A bells-and-whistles edition of the Quentin Tarantino-approved soundtrack to 'Twisted Nerve'
Hwyel Bennett as Martin Durnley in the Boulting Brothers' genuinely unsettling 'Twisted Nerve'
"Ladies and gentlemen, in view of the controversy already aroused the producers of this film wish to re-emphasise what is already stated in the film: that there is no established scientific connection between mongolism and psychotic or criminal behaviour". With these opening words, Twisted Nerve instantly defined itself as a film out to attract attention. Despite this questionable exploitation aspect, the genuinely unsettling 1968 work is ripe for reassessment.
Like their predecessor feature The Family Way, Roy and Thomas Boulting's Twisted Nerve starred Roy's then wife Hayley Mills. She played Susan Harper, the object of fascination for co-star Hwyel Bennett's Martin Durnley. Martin has problems at home with his authoritarian father, assumes the childlike persona of Georgie and first stalks, then worms his way in with Susan. He also has a mother fixation and issues with his naked body. His institutionalised brother has Down's syndrome and this, despite the weasely voiceover at the flim's beginning and psuedo-scientific scenes, is presented as related to Martin's behaviour. Soon, Georgie begins killing the women in his orbit and terrorises Susan. With its intensity, misogyny, unwholesomeness, general perversity and echoes of Psycho, Twisted Nerve could have been a minor Hitchcock film.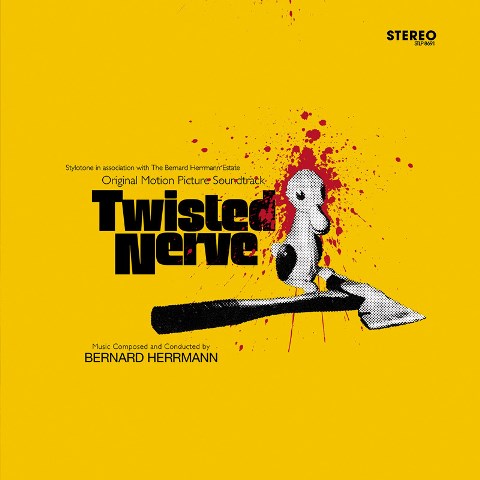 The connection between Twisted Nerve and Hitchcock was further made with its striking Bernard Herrmann-composed score: from 1955 to 1963 he worked with Hitchcock. In 1965, Herrmann and Hitchcock parted ways over the proposed score for Torn Curtain. Herrmann subsequently worked on two films for François Truffaut (including Fahrenheit 451) and then began Twisted Nerve. There was no dedicated contemporaneous soundtrack album, but some of its music was included on a now-rare 1969 album alongside Les Reed's music for Les Bicyclettes de Belsize.
Although Twisted Nerve is a must-see, these days it is best known for Quentin Tarantino having filched part of its score for 2003's Kill Bill. The whistled refrain which attracted Tarantino was integral to Kill Bill and has since become ubiquitous as a ringtone. This new release of all the music recorded for Twisted Nerve – released and previously unreleased – plays heavily on the Tarantino connection with a cover design reflecting the graphics for Kill Bill and sports a four-paragraph note from Tarantino inside its gatefold sleeve.
Herrmann's music, though, needs to be heard without the looming shadow of Kill Bill. The decontextualised whistling refrain is a little over-familiar, but remains incredibly evocative of impeding menace. While the score features some then fairly hip-sounding lounge jazz and arresting cues, the recurrent plays on the main title theme bring home that its refrain is very similar to elements of Miles Davis's Kind of Blue. It posits a deeply fascinating what-if: what if Herrmann had explored this territory for the sake of music alone, rather than tailoring his work for a soundtrack?
The mastering is superb. Listening is like being in the room as recording was taking place. The package itself is over-the-top in its use of formats. There are two versions of this coloured vinyl release: a so-called "blood-spattered" edition (pictured above left) in a yellow sleeve, and a clear vinyl version in a black sleeve. Each supplements the album with a 7-inch EP, all the music on CD, a code for downloading the music, a poster and a certificate signed by Herrmann's widow. Whether the music is really needed in three formats is moot. Buyers do not have the choice of plumping for the one they favour. It's CD, download and vinyl all in one go.
While the Kill Bill-style graphics perhaps distract attention from the film this music was actually composed for, the only real niggle is to do with the absence of a full-length liner note. The short essay from Herrmann's biographer Steve C. Smith scratches the surface. With a package this lavish – and pricey: it sells for around £42 – it would have been good to know the circumstances of Herrmann being commissioned to work on the film, where the music was recorded and who played on it (the guitar playing on the pop version of the main theme sounds like session man Big Jim Sullivan), and also to learn about the archive work on finding the tapes. Nonetheless, this is essential for fans of Herrmann and anyone wanting to hear top-drawer soundtrack music will also need it.
'Twisted Nerve' is a must-see, but these days it is best known for Quentin Tarantino having filched part of its score for 'Kill Bill'
Explore topics
Share this article