Spider-Man: Homecoming review - fresh, funny version of the arachnid avenger |

reviews, news & interviews
Spider-Man: Homecoming review - fresh, funny version of the arachnid avenger
Spider-Man: Homecoming review - fresh, funny version of the arachnid avenger
Tom Holland brings us super-powers with a human face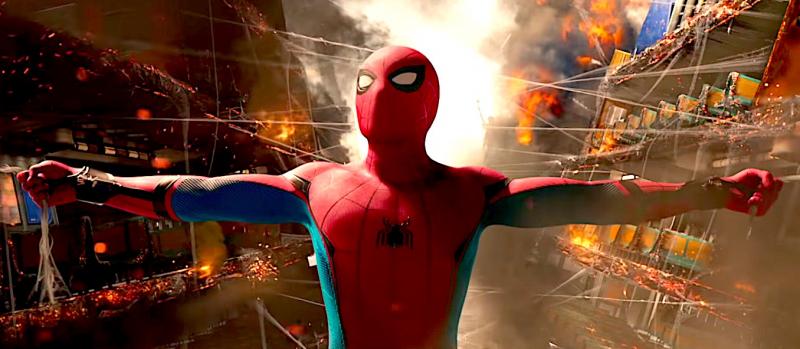 Spider-Man (Tom Holland) takes time off from high school to save the world
First introduced into the burgeoning "Marvel Cinematic Universe" in last year's Captain America: Civil War, Tom Holland's incarnation of Spider-Man is another triumph for this exuberant franchise (even if some might feel a pang for the fine and still-recent pairing of Andrew Garfield and Emma Stone under director Marc Webb's helmsmanship).
What the Marvel flicks have got, and their DC Comics rivals conspicuously haven't, is a capacity for bringing some wit and a lightness of touch to their stories, no matter how much
computerised spectacle
is exploding all around.
Holland, previously on the West End stage as Billy Elliot, was a shrewd pick for the role of Peter Parker, a gauche, orphaned high school student in Queens who has enough on his plate as he struggles with adolescence and the pitfalls of teen romance without having to be the neighbourhood superhero as well. Holland's mix of energy, earnestness and wide-eyed wonder expresses the character perfectly, and the way he becomes splutteringly star-struck when he meets one of the grown-up Avengers (Robert Downey's Tony Stark/Iron Man drops in regularly here as Peter's mentor and protector) is comically endearing. There are some nice satirical moments when an earnest Captain America pops up in morally-improving videos for schoolkids.
Directed by Jon Watts and concocted by a team of eight writers, Homecoming is a sleekly-wrought blend of high-school rom-com and high-octane blockbuster, as Spider-Man finds himself facing off against the despicable Adrian Toomes, colloquially known as Vulture and played with relish by a smirking Michael Keaton. Vulture, a mad inventor gone bad, has found a stash of an unidentified extra-terrestrial substance which he has used to make scary weapons and a spectacular set of super-powered wings with which he zooms through the New York skies.
Since his great adventure with Captain America and his compadres, Spider-Man has been carrying out routine local patrols, not altogether competently (we see him apprehending a woman who's trying to break into her own car, for instance), but he has to up his game when Vulture's underlings rob a bank in his neighbourhood. With their fancy weapons they vaporise most of a city block, including Spider-Man's favourite deli, so obviously there's big trouble in store.
Vulture's evil ambitions know no bounds – he's working his way up to stealing a priceless plane-load of Tony Stark's super-tech gadgetry – but what's especially frustrating for Peter Parker is the way he keeps interrupting his social life. In particular, Peter has a crush on his lissome school-mate Liz (Laura Harrier, pictured above), though he's too agonisingly shy to tell her. Just when he thinks the time might be right, Vulture starts blowing things up again and Peter has to rush off and pull on his Spider-Man outfit. There's also a great shock-reveal moment when Peter finds out who Liz's dad is.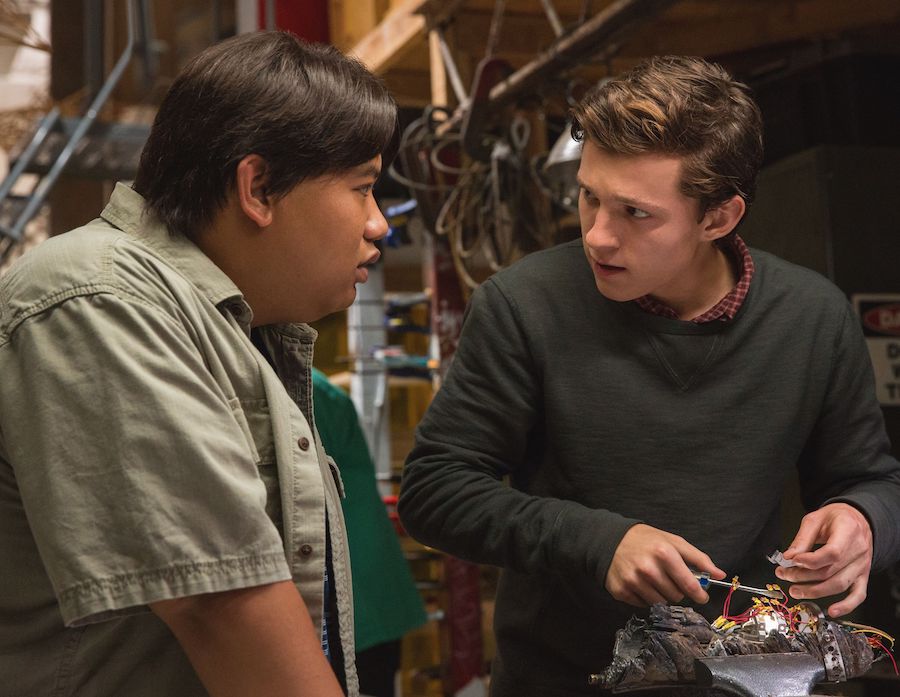 It wouldn't be a Marvel movie without some show-stopping set-pieces, and there are couple of blinders here. When Peter visits Washington with his school buddies to compete in the "Academic Decathlon" competition, he ends up fighting off a vertigo attack as he climbs the outside of the Washington Monument, as the elevator threatens to tumble down its shaft (amusingly, the real-life Monument has been closed because of problems with its elevator). Back in New York, the scene where the Staten Island ferry gets sawn in half is disaster-movie gold dust.
It ends, as all superhero sagas must, in yet another destruction-cataclysm, but what they've done skilfully here is to keep the focus on the human dimension of the characters. Peter's relationship with his trusty Aunt May (Marisa Tomei), who's always there for him even though she has no idea she has a nascent Avenger under her roof, is sympathetically etched, and Peter's interactions with his daft but loyal best buddy Ned (Jacob Batalon, pictured above with Holland) add a shot of slapstick. You'd need to work pretty hard to dislike this movie.