A Handful of Dust, Whitechapel Gallery review - grime does pay |

reviews, news & interviews
A Handful of Dust, Whitechapel Gallery review - grime does pay
A Handful of Dust, Whitechapel Gallery review - grime does pay
From macro to micro, the seduction of dust knows no bounds
Man Ray and Marcel Duchamp, 'Dust Breeding', 1920
Why is dust so fascinating yet, at the same time, so repellent? Maybe the fear of choking to death in a dust storm or being buried alive in fine sand provokes a visceral response to it. My current obsession with dust comes from having builders in my home over the last seven months.
Despite everything being shrouded in dust sheets, a film of corrosive particles has infiltrated every nook and cranny and silently blanketed my world; so I couldn't resist a
Whitechapel Gallery
exhibition devoted to this pervasive nuisance.
The show begins with a photograph by Man Ray taken in Marcel Duchamp's studio of dust lying on the surface of the seminal sculpture known as The Large Glass. Two years later, in 1922, the picture was published in the Surrealist journal Littérature captioned "view from an aeroplane" and has been a source of fascination ever since. The fact that a close-up of dust could pass as an aerial shot of a landscape and, from then on, would appear in books and magazines under various different guises has only added to its mystery.
Not until 1964 was the true identity of this enigmatic image finally established when it appeared under the title Dust Breeding, as though the sculpture were some kind of weird petri dish. Hanging nearby is an overhead shot of bi-planes taking off from an RAF base in Palestine during World War One (pictured above). The similarity between Man Ray's close-up and the aerial shot of a desert aerodrome highlights photography's ability to confound one's sense of scale.
You might think it unlikely that a war photographer would be influenced by an image taken nearly a century earlier; but in 2009 Sophie Ristelhueber decided to shoot the battle-scarred landscape of Kuwait from the air in homage to Man Ray's photograph. Eva Stenram juxtaposes the macro and micro in a series of pictures from 2007 in which cosmic dust merges with its domestic counterpart. Having acquired from NASA the first pictures of the surface of Mars, Stenram transferred the digital images onto colour film negative and left them under her bed to gather dust. In the final prints, the domestic fluff appears to drift like tumbleweed across the surface of the red planet.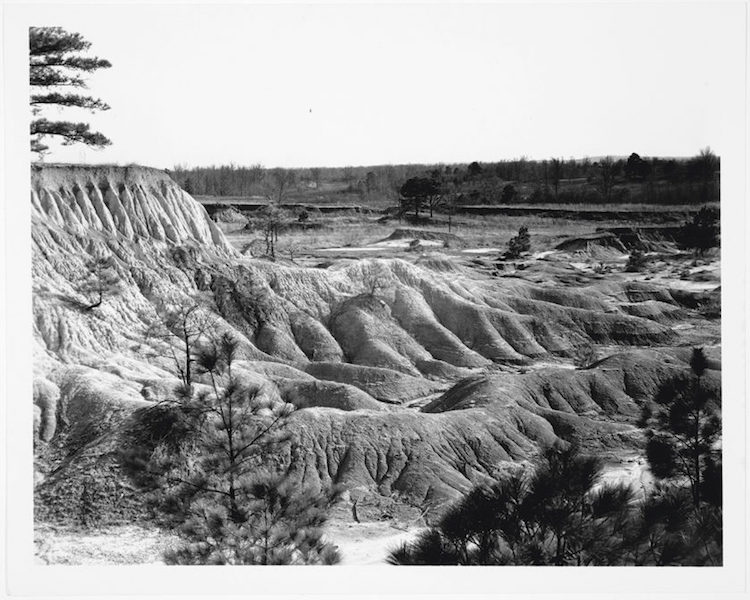 To get a clear picture, Man Ray needed a long exposure so he left the camera shutter open while he and Duchamp went out to eat. His nonchalant approach and mundane subject matter were to inspire many of the Surrealists. In the 1930s, for instance, the Hungarian born artist Brassaï wandered the streets of Paris photographing the graffiti etched into its crumbling walls, so revealing the beauty and pathos of these found images.
The dust storms that stripped the soil from the American plains during the 1930s are captured in a series of dramatic postcards, while photographer Walker Evans recorded the disastrous effects of soil erosion in Mississippi (pictured above right). The inclusion of his photograph of a child's grave, that is little more than a mound of earth, is a timely reminder that we are all reduced to dust.
Photographs taken soon after the atom bombs were dropped on Hiroshima and Nagasaki in 1945 record the devastation of the two cities. Robert Burley recorded the controlled explosions that, in 2007, reduced to dust the Kodak buildings in Rochester, New York (pictured below). Digital technology had replaced celluloid and the factories were obsolete. He describes the event as "sad, sublime and ironic" since many of the spectators – mainly Kodak employees – were using digital cameras to document the historic moment.
At this point the exhibition loses its thread and branches out in various directions. Kirk Palmer's 2006 video of trees being buffeted by high winds has nothing to do with dust. Filmed near Kyoto, one of the targets on which the Americans considered dropping an atom bomb, Murmur encompasses the calm before the storm. My favourite exhibit is the most unlikely – an extract from an American TV programme. In 1967, Bruce Nauman was invited to take part in an experimental project for California's public broadcast channel, KQED. Titled Flour Arrangement it features him manipulating a mound of white flour into a series of short-lived designs while William Allan and Peter Saul make daft comments, such as "That's neat" and "It keeps looking sharp."
A Handful of Dust may sound esoteric, but these grimy surfaces are so seductive in their beauty and variety that I'm convinced you'll be won over. As I write this review, the words are obscured by a film of particles that glint in the sunlight falling across my screen. It must be time to get out my camera; how long an exposure will I need?
To get a clear picture, Man Ray needed a long exposure so he left the camera shutter open while he and Duchamp went out to eat
rating
Share this article