Swans, Asylum, Birmingham |

reviews, news & interviews
Swans, Asylum, Birmingham
Swans, Asylum, Birmingham
Latest line-up prepares to bow out on an almighty high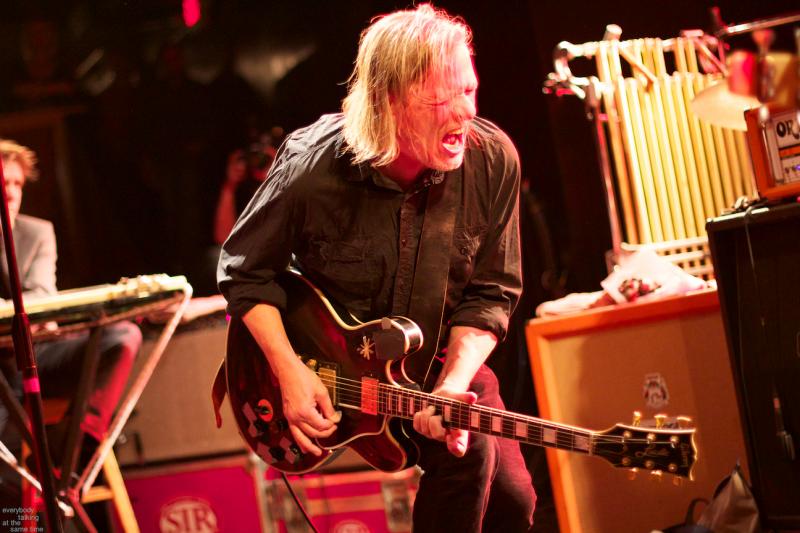 Swans' Michael Gira in full flow
There are not many bands who are obtuse enough to begin a gig with a 45 minute unrecorded song, especially when they are preparing to go their separate ways at the end of the tour and have no plans for further recording. Sonic adventurers Swans, however, have no such qualms. After taking to the stage with a minimum of fuss and looking like Sam Peckinpah's The Wild Bunch gone feral in the backwoods of Twin Peaks, they pick up their instruments and launch into "The Knot".
Slowly building up a head of steam from a woozy and disorientating oceanic drone, the song builds and falls away again until Paul Puleo's drums start beating out a tattoo and the rest of the band jack up the power and take things loudly and forcefully by the scruff of the neck. Meanwhile band leader Michael Gira howls "I pull back my skin!" with his arms wide, summoning up the groove like a shaman and casting it into the audience. It's a fine beginning to what will be a two and a half hour epic celebration of an earthy and primal band who have redefined their sound goodness knows how many times since first forming in the early '80s.
It's a fine epitaph for a band who have never been afraid to go their own way
Moving onto more familiar fare, Gira's gang then grab hold of the more succinct "Screen Shot", from 2014's fine To Be Kind album, with its precise thump and building menace, and then glide into "Cloud Of Forgetting" and "Cloud Of Unknowing" from last year's magnificent The Glowing Man set. Meandering but intimidating, Gira commands the stage like a magus, calling up spirits and ghouls to do his bidding as a forceful mantra builds and builds with a pagan groove and half-heard vocals. Christopher Pravdica beats out the rhythm on the strings of his bass guitar as the drums crash like fireworks before hitting a cacophony and going off on a string of sonic tangents. As the song finally fades away, Gira leans into his microphone and says "God bless you". Over an hour and a half into the proceedings, it's the first time he's spoken to the audience. However, having warmed to us, he then launches into a Zen parable about a man who is in the deepest shit and the sweetest strawberry that he ever tasted.
For the final straight, Swans treat the audience to another unrecorded tune, "The Man Who Refused To Be Unhappy". Like avant-garde biker rock with an insistent apocalyptic groove, it has Gira intoning "I fly now/I am Butterfly!" However, finishing up with a reworking of the title track of The Glowing Man album, Swans finally bid Birmingham farewell as the sonic chaos slowly finds its form in a drawn-out blues that builds and falls away before taking on a vigorous motorik mantle and bludgeoning the speakers with an almighty groove.
It's a fine epitaph for a band who have never been afraid to go their own way, no matter what the fickle hand of fashion and public opinion might try to dictate. Swans will leave a huge sonic void when they do break up at the end of this tour and they will be sorely missed.