DVD/Blu-ray: Where Does a Body End? |

reviews, news & interviews
DVD/Blu-ray: Where Does a Body End?
DVD/Blu-ray: Where Does a Body End?
Post-punk giants Swans' documentary is a fascinating trawl through the band's first 35 years
Tuesday, 15 September 2020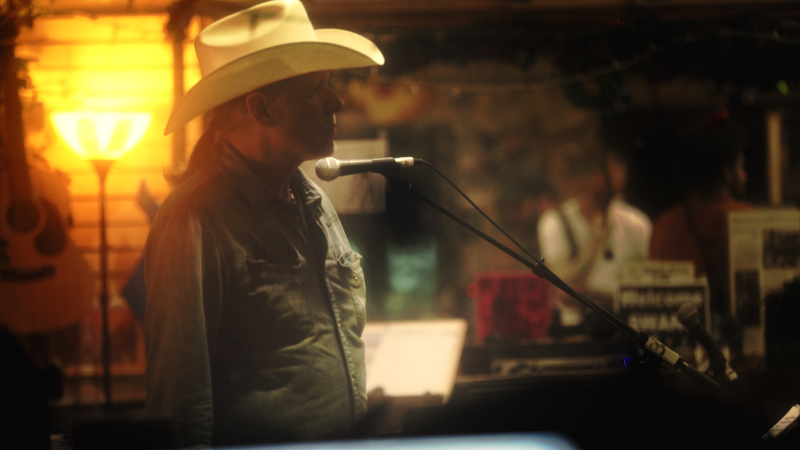 Swans' Michael Gira in the studio
Michael Gira, Swans' band leader and last remaining original member, has a reputation for being an intense and difficult individual who doesn't compromise easily. This is illustrated by the band having been home to some 35 different musicians since its 1982 beginnings in a desolate and dangerous New York City.
However, as one-time drummer Bill Rieflin has said: "Michael is a singular creator and that puts him in a world where there are few members." He is also clearly much respected by many of his former band mates, as many of them turn up as talking heads in Marco Porsia's
documentary
of one of the most original bands to spring from the post-
punk
world.
Asked where the band's name originated, Gira responds, "Swans are majestic, beautiful-looking creatures. With really ugly temperaments", and it is an appropriate name for a group whose confrontational music was initially characterised by slow and grinding guitar noise, pounding drums and morbid and violent lyrics that Gira often barked or shouted. As time has passed, this has thawed somewhat but Swans are still ominous and dark, their music no less potent.
Like some of the band's songs (which can take up whole album sides), Where Does a Body End? is a long film, which clocks in at over two and a half hours (this is doubled with additional footage on the two-disc Blu-ray version) and largely focuses on Gira – with significant coverage of his adventures as a young man before Swans. In fact, guitarist Norman Westberg, who has been in the band almost as long, gets surprisingly little screen time, especially in comparison to others such as Sonic Youth's Thurston Moore and Gira's former partner, foil and Swans' one-time keyboard player and occasional vocalist, Jarboe. However, the documentary doesn't shy away from discussing the power of money, religion and sex in society as influences on the music nor of Gira's former struggle with alcoholism. There is also considerable opportunity to see how Swans' performances have developed over time, with plenty of variously brutal, abrasive, shamanistic and ecstatic concert footage from throughout their career.
Porsia's film similarly shines a light on Swans' connection with their audience throughout their career, and while this relationship is harmonious now, it wasn't always so friendly. In fact, Gira once had a reputation for physically accosting people headbanging at shows and indulging in behaviour which annoyed him. However, musicians such as Blixa Bargeld, Yeah Yeah Yeahs' Karen O and Savages' Jehnny Beth are fulsome in their praise, as is the 13-year-old boy who is interviewed after the band's final show in Brooklyn, before Gira disbanded Swans' last stable line-up in 2017.
Indeed, Where Does a Body End? concludes its coverage of Swans at this point. However, that isn't the end of the story, as they have since released another album, Leaving Meaning. But as the 66-year-old Gira smirks, "Giving up is not an option. What else am I going to do?"
There is considerable opportunity to see how Swans' performances have developed over time, with plenty of variously brutal, abrasive, shamanistic and ecstatic concert footage
rating
Share this article