Ariodante, The English Concert, Bicket, Barbican |

reviews, news & interviews
Ariodante, The English Concert, Bicket, Barbican
Ariodante, The English Concert, Bicket, Barbican
The orchestra was the real hero in this superb concert performance of Handel's opera
Alice Coote as Ariodante
To hear The English Concert playing Handel is to arrive in technicolour Oz after a lifetime of black and white baroque in Kansas.
We're not short on period bands in the UK, but few bring this music into anything like the kind of focus that Harry Bicket and his crack team of musicians achieve, nor demonstrate such love and joy in the process. The solo line-up may have been starry, but the hero of this
Ariodante
was the orchestra.
Even by Handel's standards, the plot of Ariodante is a curious one. A happy beginning and ending frame a central conflict of disturbing darkness (a Much Ado-style conceit of mistaken identities, accusations of impurity and a death that turns out not to be). Coupled with some of the composer's most extended arias – musical soliloquies of rare psychological depth – the result is a work of Shakespearean breadth, whose sudden shifts of mood and tone require careful handling if they are not to seem absurd.
It's almost a relief, then, to see a performance stripped of these, allowing the music's mercurial moods to dart and shift unfettered. No director was credited, but, as usual with the Barbican's operas-in-concert, there was plenty of movement and interaction from performers, singing largely without scores. No one witnessing the predatory seductions and gropings of Sonia Prina's villainous Polinesso (pictured above with Mary Bevan's Dalinda), nor the abject despair of Matthew Brook's King, collapsed to his knees at the thought of his daughter's betrayal, could have felt dramatically short-changed.
With the originally advertised Joyce DiDonato (Ariodante) replaced by Alice Coote, as Joelle Harvey also was as Dalinda by Mary Bevan, the performance became less of a star vehicle and more of an ensemble affair, with some superb singing right across the roles. If Christiane Karg's radiant Ginevra (pictured below with Alice Coote's Ariodante) – nimble and composed in her coloratura, expansive if never risk-takingly bold in her mad scene – was the predictable stand-out, it was American tenor David Portillo (a lyrical David in Glyndebourne's Meistersinger) who was the dark horse. The role of Lurcanio is a fairly thankless collage of pretty arias and incidental emotion, but his sweet-toned simplicity and unexpectedly exciting upper register turned his romantic sub-plot into something altogether more interesting.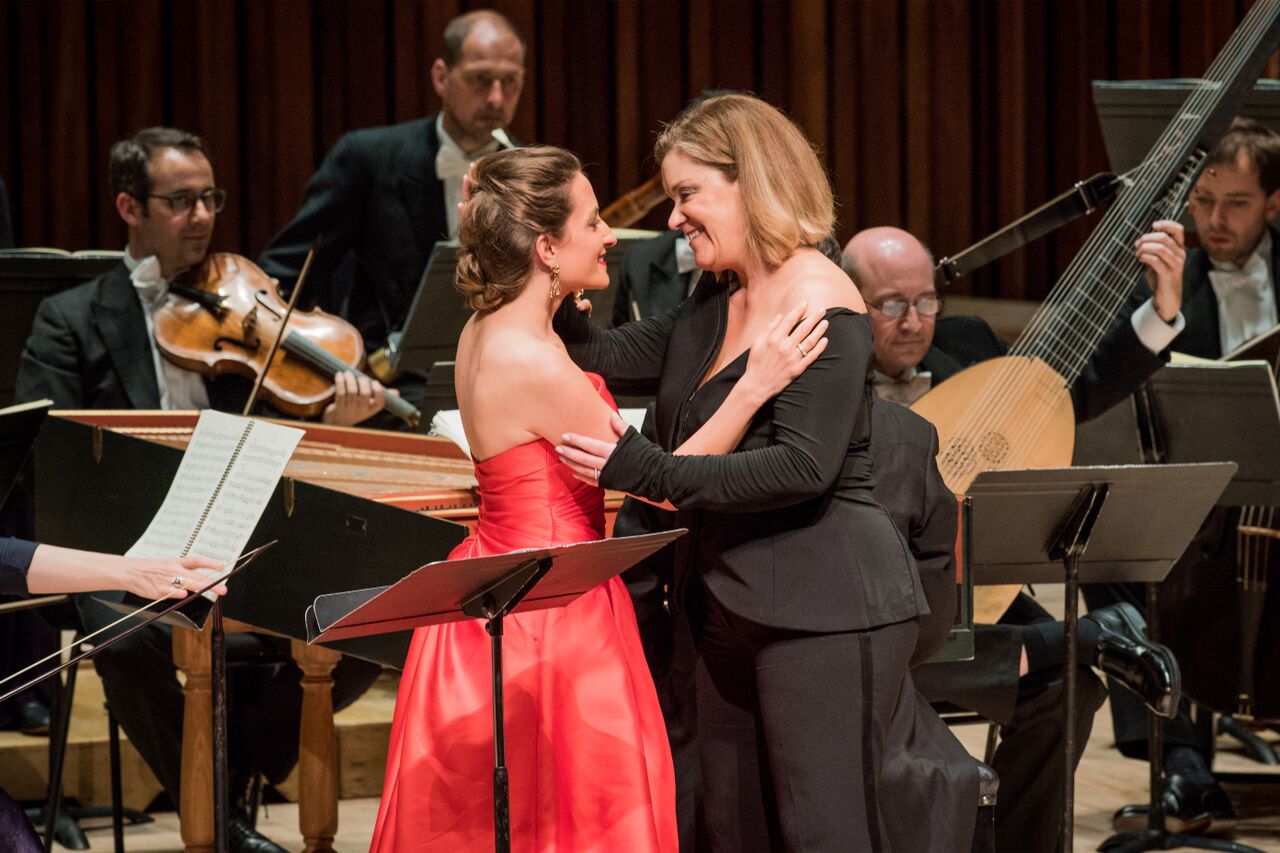 Bevan too made something rich of Dalinda – tempering the golden brightness of Karg's soprano with her own more coppery, covered tone, and Bradley Smith's blink-and-you'll-miss-it Odoardo was a tantalising promise without the fulfilment of an aria.
The opera's two mezzos (not a counter-tenor in sight) were a more mixed bag. Always an assertive performer, Prina now nears caricature in both her voice and stage manner. Playing tricky semiquaver passages for laughs only works so many times, and what was once heroic coloratura now has an oddly hollowed-out quality – the energy remains, but none of the tone. Coote's voice, by contrast, is in great shape. The visual ticks and tricks of her performance won't be to all tastes, but it's an unorthodox delivery that she makes work, evening out the surging, gulping frenzy of "Cieca notte" for a "Scherza infida" whose anguish was all the more powerful for its absolute control. "Dopo notte" too was kept unusually muted – an aria of rejoicing that trod the fine line between real joy and bewilderment.
But for all the excitement of the voices, it's the instruments I find myself coming back to. Alberto Grazzi's bassoon – a baroque saxophone, crooning in sympathy with Coote's nightclub ballad of a "Scherza infida"; the two horns (Ursula Paludan Monberg, Martin Lawrence) bringing not just the brash festal brilliance but also moments of ear-defying delicacy in their contributions; and Bicket's own characterful continuo playing: accompaniment which elevated it to dramatic dialogue.