The Good Fight review - 'flawless writing and acting' |

reviews, news & interviews
The Good Fight review - 'flawless writing and acting'
The Good Fight review - 'flawless writing and acting'
Legal drama spin-off is as superlative as its precursor
Left to right: Marissa, Maia, Lucca, Barbara, Adrian and Diane
If Robert King and Michelle King, creators of The Good Wife, took the Joss Whedon line on sequels – "They are inevitably awful" – then we would not have The Good Fight (More4) gracing our screens. But, thankfully, this sequel (actually, more a spin-off) is far from awful – it's very, very good.
You could say this is
Frasier
(born out of
Cheers
) rather than
Joey
(
Friends
).
The Kings decided on a new USP for the legal drama set in Chicago – three women in the lead roles, rather than The Good Wife's one, Alicia Florrick (Juliana Margulies) – keeping some of the favourite characters from the mother ship, and then adding a slew more. The last they achieved by moving Christine Baranski's Diane Lockhart into a new law firm after her old friend and financial adviser Henry Rindell (Paul Guilfoyle) cleaned out her retirement fund (or did he?).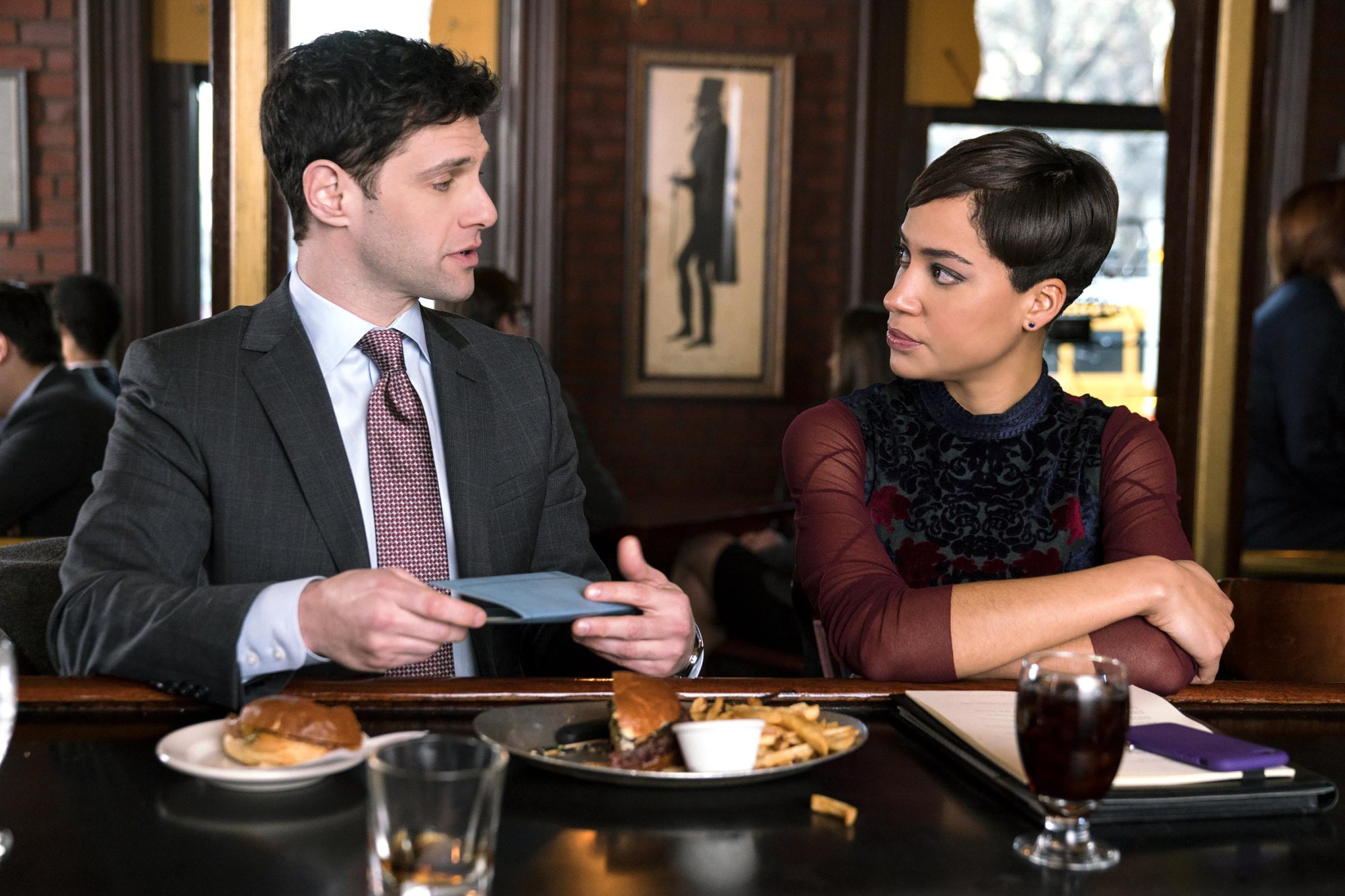 The writers have woven old and new together brilliantly while moving the story on, and one can forgive them for the occasional useful coincidence. Diane's goddaughter Maia (Game of Thrones' Rose Leslie) is a newly qualified lawyer who happens to be the daughter of the crooked Rindell, and their new workplace – a mostly African-American law firm, led by Adrian Boseman (Delroy Lindo) and Barbara Kolstad (Erica Tazel) – also houses Diane's former colleague Lucca Quinn, while Diane quickly hired Marissa Gold (Eli's daughter from The Good Wife) as her assistant.
But the writers have repaid viewers' loyalty: there's a pleasing (and nicely knowing) touch in Lucca and fellow lawyer Colin Morello (Justin Bartha, both pictured above) providing the equivalent of the Alicia-Will love interest, and in the first few weeks we saw them lock horns but not yet lips, their idea of flirting talking over the finer points of prosecutorial law while sharing a quick burger between court appearances.
In last night's episode, "Stoppable: Requiem for an Airdate", Lucca and Colin did at last end up in bed, but their conversation before and after suggested that their relationship won't be plain sailing; Lucca and Adrian fought and won a freedom of speech case on a fine point of media law; and a chance meeting with Chumhum's owner (a mainstay of later Good Wife series) brought Diane the financial breathing space she needed.
Another returnee was kooky but effective lawyer Elsbeth Tascioni (Carrie Preston), representing the firm against underhand state attorney Mike Kresteva (Matthew Perry, being nicely seedy), while elsewhere Maia realised she really can't trust anyone – not even her parents. More than enough storylines to be going on with – and the on-point Donald Trump tweet was the cherry on top.
The writing, acting and direction are flawless, and the exposition as fluent and economical as we have learned to expect from quality US drama. Of course, the wheels of justice appear to work super-fast in Chicago's courts but in other respects The Good Fight obeys the rules of long-form drama, tackling a case each week while drawing out several strands to be knotted at a later stage. It pays to be vigilant – for a tiny detail in episode one may again come into play only in later seasons.
This was episode five of 10, but a second series has already been commissioned and I hope, like its predecessor, The Good Fight will run for many more.
The writers have woven old and new together brilliantly while moving the story on
rating
Share this article