The Hatton Garden Job review - extraordinarily dull |

reviews, news & interviews
The Hatton Garden Job review - extraordinarily dull
The Hatton Garden Job review - extraordinarily dull
Derivative account of the most outrageous burglary in history is neck-deep in cliché
Bad job: Larry Lamb, David Calder and Phil Daniels in 'The Hatton Garden Job'
There have been plenty of films glamourising diamond geezers who live on the wrong side of the law. Some of them don't even star Danny Dyer. In the history of British film, rhyming slang plus dodgy morals equals box office. Perhaps there is even a special source of European funding ring-fenced for low-budget films about cockney gangsters. The true story of the old lags who pulled off the biggest heist in burgling history was always destined to be dramatised. Someone probably tried to option it as soon as the news broke. The result is The Hatton Garden Job, directed by Ronnie Thompson.
A quick story recap. Two years ago four men broke into the underground vault of the Hatton Garden Safe Deposit Company and made off with diamonds and cash to the value of an estimated £14 million, possibly much more. It wasn't just the scale of the job. It was also the fact that three of the robbers, who were caught within a month, were pensioners. Only one of them got away, a mysterious figure known only as "Basil" who has never been located let alone charged.
It's from his fictionalised point of view that the narrative unfolds with generous dollops of knowing voiceover. Played by Matthew Goode with his usual blue-eyed swagger, he emerges from three years in prison fired up by a desire to pull off the big one, and sets about assembling his accomplices, who after statutory reluctance sign up. "Mental?" crows one. "It's monumental." In charge is a wheezing old con with a weak bladder called Brian Reader (Larry Lamb). Terry Perkins (David Calder), Danny Jones (Phil Daniels) and sozzled driver Kenny Collins (Clive Russell) make up the party. They set about planning - we are spared the months of meticulous gruntwork it actually required - and in due course alight on the Easter weekend to ill-get their gains. They call the quarry "tom". "Tomfoolery, jewellery," explains Goode. "The old timers love their word games." At least someone does.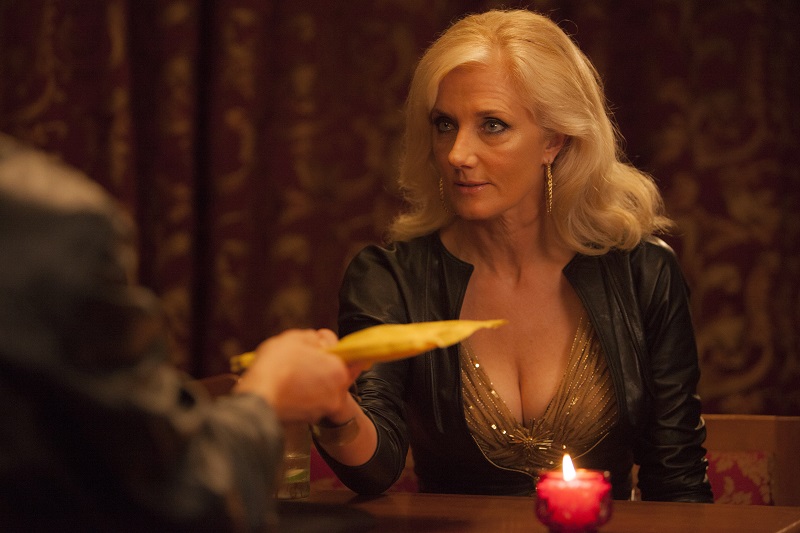 Thompson has managed to lure a cast who can relied upon to say the lines and not bump into the furniture, but his script somehow contrives to stumble into every British gangster cliché while syringing the last ounce of life out of every scene. The actors telecommunicate their own overpowering boredom through the lens. They break in to the accompaniment of an amazingly stillborn piece of noodly music on the soundtrack. When they start boring a hole through the wall of the safe deposit chamber, it can be taken as a visual metaphor. It takes almost literally forever. Even the sequence in which they amass their stash of cash and stones is extraordinarily dull. The prize for the most lurid performance goes to Joely Richardson (pictured above) as a Hungarian drug baroness with a cartoon Slavic accent who speaks even more slowly than everyone else. But she can be excused: the script gives her no room for manoeuvre.
It's not quite a shame. There's nothing redemptive in the story of some comedy codgers who were crafty enough to pull off the job but not enough to know how to fence their takings or evade capture. Collins even drove back to the scene of the crime in his own car, the plonker. Often in bank raid movies you find yourself rooting for the miscreants. Not here. On his voiceover Goode argues that his kind rob bankers not banks, as if that's a good thing. From start to finish the whole project is dramatically and ethically bankrupt.
Overleaf: watch the trailer to The Hatton Garden Job