Reissue CDs Weekly: Chuck Berry |

reviews, news & interviews
Reissue CDs Weekly: Chuck Berry
Reissue CDs Weekly: Chuck Berry
Fabulous collection shows how one man's music helped change the world
Chuck Berry in 1957. With a talent like his, he had every right to look happy.
When a skiffle group called The Quarry Men played live in 1959, their repertoire included covers of Chuck Berry's "Johnny B. Goode" and "Sweet Little Sixteen". The folk-based skiffle was becoming rock. In 1960, when the same band became The Beatles, they added Berry's "Carol" and "Little Queenie" to their set.
For their first radio broadcast, on 8 March 1962, the Fabs played his "Memphis Tennessee". On 30 July 1963, they taped Berry's "Roll Over Beethoven" for what would be their second album, With The Beatles. Their final live show, in San Francisco on 29 August 1966 opened with a scrappy run-through of his "Rock 'n' Roll Music". Chuck Berry was never far from The Beatles.
Likewise, The Rolling Stones. Even though they cut their teeth as ostensible blues buffs, they tackled Berry's "Come On" for the top side of their debut single in 1963. In America, in the same year, The Beach Boys rewrote "Sweet Little Sixteen" as "Surfin' USA" to score their first national hit. While it's undeniable Chuck Berry's music was integral to the cultural shifts of the 1960s, Charles Edward Anderson Berry (born 1926) was an unlikely influence on youth culture. In 1955, when he made his first record, he was 30 – old enough to be marked as a square by those covering his songs in the early 1960s. Yet the era's hippest, most pace-setting bands were in thrall to him.
The hugely enjoyable, thoroughly annotated and well-considered new compilation Rock and Roll Music! The Songs of Chuck Berry celebrates this important songwriter and musician through his cover versions but not entirely with what might be expected. The 24 tracks include British R&B ruffians The Pretty Things' version of "Oh Baby Doll". It also compiles Carlos Santana's 1983 version of "Havana Moon". Elvis is here too, with his masterful 1968 iteration of "Too Much Monkey Business".
Rock and Roll Music! confirms the endless appeal of Berry's songs. He meant them to be such. Although black, his adroit lyrics addressed the concerns of white America, its youth and their preoccupations. "It's got a backbeat, you can't lose it" he sang on "Rock 'n' Roll Music". Eddie Cochran – another hot lyricist – came close to Berry's smartness, but inserting references to modern jazz and classical music into songs during the Fifties that were not parodies was original and inspired. "Roll Over Beethoven and tell Tchaikovsky the news". Indeed. Just look to the lyrics of 1964's "You Never Can Tell" (John Prine's louche 1975 version is heard here) and its tale of the teenage wedding should there be any doubt about Berry's facility with words.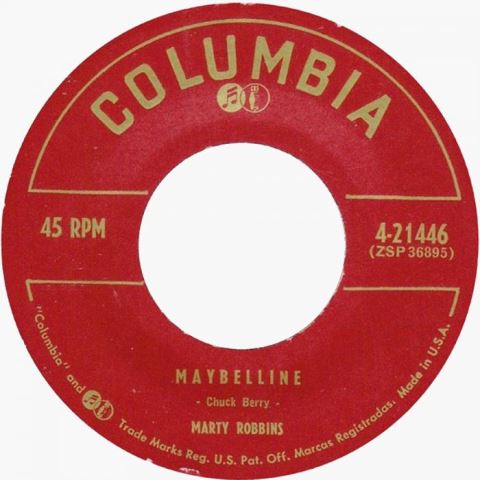 His toe-tapping, tune-filled and often hard-edged music was amazing too. It was this which attracted bands wanting to get their audience's feet moving. Country and a southern-states lilt were core and on Rock and Roll Music! Sleepy La Beef plays up these sides of "You Can't Catch Me".
Beyond stressing the importance of Berry to rock and pop in the round, Rock and Roll Music! includes the earliest known American and British cover versions of his songs. In America, Marty Robbins was first on board. His swinging 1955 take of "Maybelline" hit the country charts while Berry's original was still atop the R&B listings. In the UK, the original of "Down Bound Train" had been issued as a B-side in May 1956. Extraordinarily, on the 25th of the same month it was covered by Ken Colyer's Skiffle Group. Before The Quarry Men got there, skiffle was already integrating rock.
After this, the world was never the same again. The fabulous Rock and Roll Music! The Songs of Chuck Berry shows how it happened.
Chuck Berry's music was integral to the cultural shifts of the 1960s but he was old enough to be marked as a square
Share this article