The Halcyon, Series 1 Finale, ITV |

reviews, news & interviews
The Halcyon, Series 1 Finale, ITV
The Halcyon, Series 1 Finale, ITV
In which some scores are settled and the Luftwaffe takes a hand
Tuesday, 21 February 2017
An absolute cad: Lady Hamilton (Olivia Williams) with the despicable Lucian D'Abberville (Charles Edwards)
A screaming comes across the sky. It has happened before, but there is nothing to compare it to now…
A screaming comes across the sky. It has happened before, but there is nothing to compare it to now…
One of the many ironies of Gravity's Rainbow, Thomas Pynchon's massive novel partly set in 1940s London, is that what follows these opening lines (760 pages in the original edition) actually occurs in the blink of an eye: the time it takes for the falling bomb to hit the sitting ducks in a picturehouse audience. Viewers of The Halcyon have known a bomb explodes at a party to celebrate the luxury hotel's 50th year in November 1940 ever since the first episode eight weeks ago. Tonight we learned who, among the staff and guests, survived the blast and who bit the dust.
Those who occupy the rooms and haunt the corridors of the swanky establishment, upstairs and down, soon proved to be a motley crew. As it happens, the London School of Economics building at 32 Lincoln's Inn Fields used for the exterior shots is next door to the Hunterian Museum where all manner of natural (and unnatural) curiosities can be found.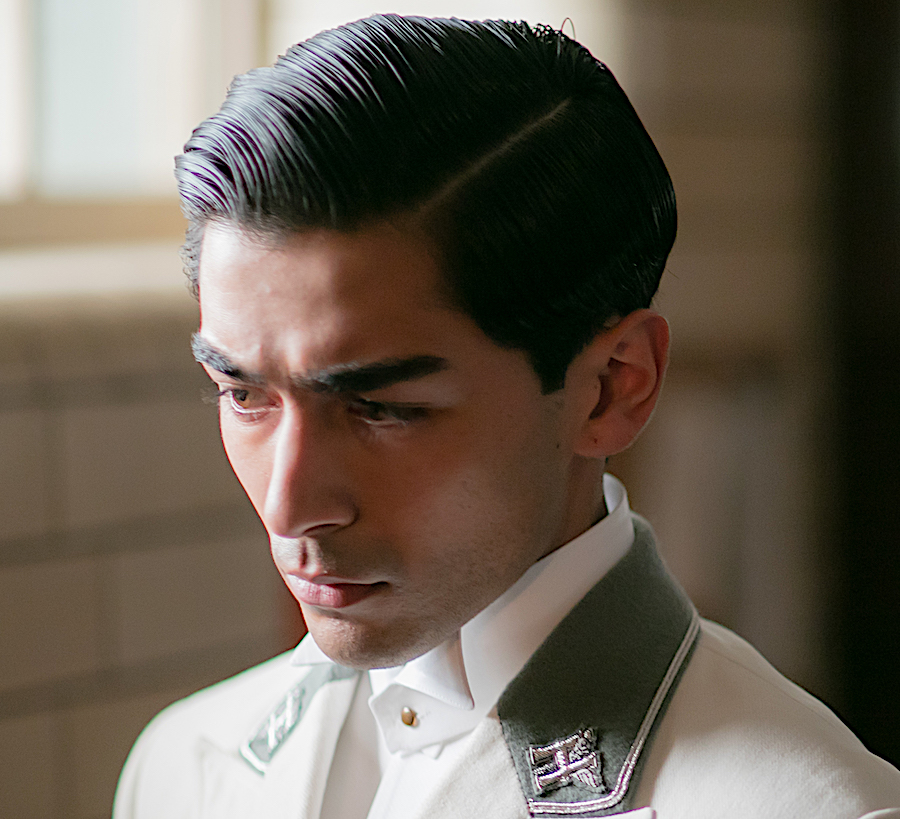 The main focus of this final episode (written by Jack Lothian, his fourth for the series) was Lucian D'Abberville, a human reptile brilliantly played by Charles Edwards. A Nazi spy – who is not only knocking off Lady Hamilton (Olivia Williams), the owner of the hotel, but also blackmailing her youngest son Toby (Edward Bluemel) into stealing government secrets in return for his silence about Toby's illegal affair with a winsome cocktail waiter (Akshay Kumar, pictured above) – D'Abberville never stops smiling as he tightens the screws.
Richard Garland, the hotel manager, having promised Toby he'd deal with D'Abberville, meets with a bit of a facer when the blackguard attempts to blackmail him too. In the Great War Garland, played by Steven Mackintosh as a softly-spoken, well-connected sycophant, killed an officer who was about to shoot his cowardly chum. As if to prove no good deed goes unpunished, his ungrateful chum is now threatening to betray Garland to the authorities. However, a handily placed obelisk ensures D'Abberville gets his comeuppance.
If you don't wish to know who wields the unlikely weapon skip this paragraph… Olivia Williams always makes a magnificent bitch. During this series she has gone from being a wrathful widow, starved of affection, to a vengeful mother, humiliated by her love of one man (D'Abberville) and humbled by the help of another she hates: Garland who covered up her husband's many infidelities. She adds a touch of class to a series that often flirts with the tropes of soap yet somehow never quite succumbs to sensation.
Across the board the performances were rather better than the scripts deserved. Nico Rogner was touching as the angry refugee chef Max Klein; Ewan Mitchell has been a revelation as the ill-starred bell-boy Billy Taylor – and Liz White, his toothsome telephonist mum, provided the only real surprise in the finale. Finally, Swansea boyo Matt Ryan made a surprisingly good Yank as reporter Joel O'Hara, ensuring Garland's daughter Emma (Hermione Corfield) had a manly alternative suitor to wimpy fly-boy Freddie Hamilton (Jamie Blackley). She picked the wrong guy.
With the art deco designs, slinky frocks and swing from the band of Sonny Sullivan (Sope Dirisu), The Halcyon rapidly became a guilty pleasure on miserable Monday evenings. It may be tosh, but it's first-class tosh. And as Sonny's Cockney songbird Betsey Day, Kara Tointon (pictured left) gave it her all – which is just as well as she won't be back. The bloody bomb has seen to that. Sonny and Betsey's interracial affair made a moving counterpoint to Toby and Adil's same-sex relationship. Then the golden confetti at the party turned into raining bricks.
A return visit to the hotel would be most welcome. Zen, the Italian detective series starring Rufus Sewell, was also made by Left Bank Pictures. It had everything going for it, but somehow didn't work. There isn't anything original about The Halcyon (apart from the excellent titles and theme music), but in spite of this it works. Perhaps it's the fairy dust.