Fidelio, LPO, Jurowski, RFH |

reviews, news & interviews
Fidelio, LPO, Jurowski, RFH
Fidelio, LPO, Jurowski, RFH
A misguided staging obscured the power of this fine performance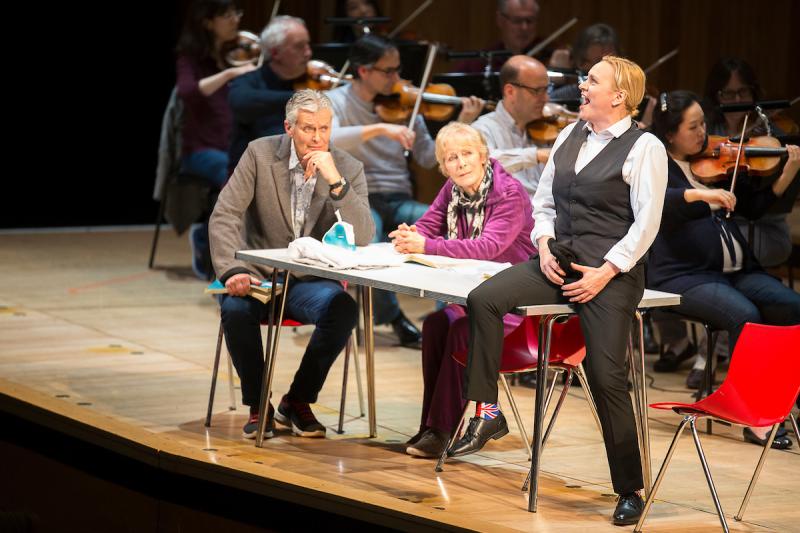 Narrators Helen Ryan and Simon Williams put Leonore (Anja Kampe) on the psychiatrist's couch
Juxtaposition is a powerful thing.
Just one day after
Donald Trump
was sworn in as the 45
th
president of the USA and mere hours after women across the world marched in unprecedented numbers to safeguard freedom and champion democracy, the
Southbank Centre
launched its year-long
Belief and Beyond Belief
festival with a performance of
Fidelio
–
Beethoven
's blazing operatic hymn to freedom, hope and humanity. The score says it all, wrenches you each time with its dogged optimism in the face of despair and cruelty, its persistent faith. So why director Daniel Slater felt the need to gloss it with a series of gauche, quasi-philosophical dialogues is anyone's guess.
In a triumph of concept over content, Slater's semi-staging opened with the orchestra in mufti, tea urns, props tables and costume racks strewn distractingly across the stage. We were witnessing a "rehearsal" of Fidelio, rather than Fidelio itself, complete with two actors (Helen Ryan and Simon Williams) who replaced the opera's original dialogue with a series of meta-theatrical interventions, wandering through the action and delivering a commentary with aspirations of profundity ("Fear is passive; hope is active", "Why do good people follow bad orders?").
Poorly rehearsed (cues were smudged, microphones problematic, lines forgotten) and poorly conceived (apparently Pizarro – another dictator in the mould of Napoleon, Stalin and Hussein – just wants to be loved after his unhappy childhood, poor lamb), this staging risked undermining everything that Vladimir Jurowski, the LPO and a fine cast were trying so hard to achieve. Thank goodness after the interval we were allowed to graduate to a "real performance", and with everyone back in concert dress and extraneous clutter cleared away, things began to flow, propelled forwards by a ferociously brilliant, high-wire performance of Leonore No3 from the orchestra.
Making the theatrical misfire all the more galling was the thrilling quality of much of the music-making. Anja Kampe's Leonore (pictured above with Robert Dean Smith) pulsed with urgency and fervour, radiant through "O namenlose Freude", though working audibly hard elsewhere at the top of her range. As Florestan, Robert Dean Smith matched her intensity, balancing raw power with some heart-stopping legato. Sofia Fomina's Marzelline gilded each ensemble with her bright soprano, sweetly earnest in her dealings with "Fidelio", and Kristinn Sigmundsson's generous bass anchored everything as an unusually sympathetic Rocco.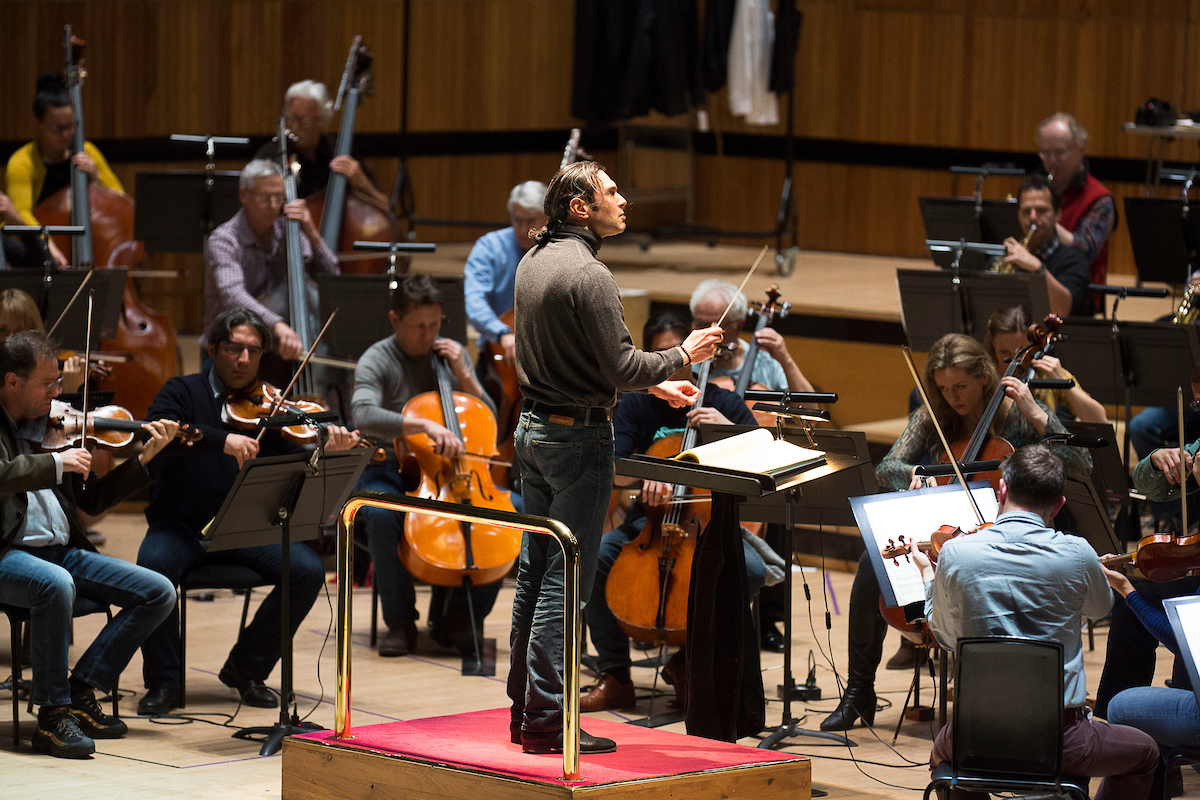 Though clearly under-rehearsed, the LPO gave a thrilling performance under Jurowski (pictured above), nine times out of 10 turning risk into reward. The woodwind playing in Act II was particularly lovely, the flute's soft promise of hope singing sweetly out above the orchestral texture, and the collective energy of the Leonore overture made you long for a straight concert performance with nothing to distract from the music's eloquence. London Voices made a superb chorus, bringing what should have been an unequivocal triumph of an evening to an ecstatic close.
Truths are hard to come by these days, and we should nurture those we have. Silence the pseudish chatter of this production and you had Beethoven's powerful statement about hope and humankind. What a shame we could barely hear it over the dramatic din.
Making the theatrical misfire all the more galling was the thrilling quality of the music-making
rating
Explore topics
Share this article