War in the Sunshine, Estorick Collection |

reviews, news & interviews
War in the Sunshine, Estorick Collection
War in the Sunshine, Estorick Collection
Rediscovered paintings and photographs show wartorn Italy through British eyes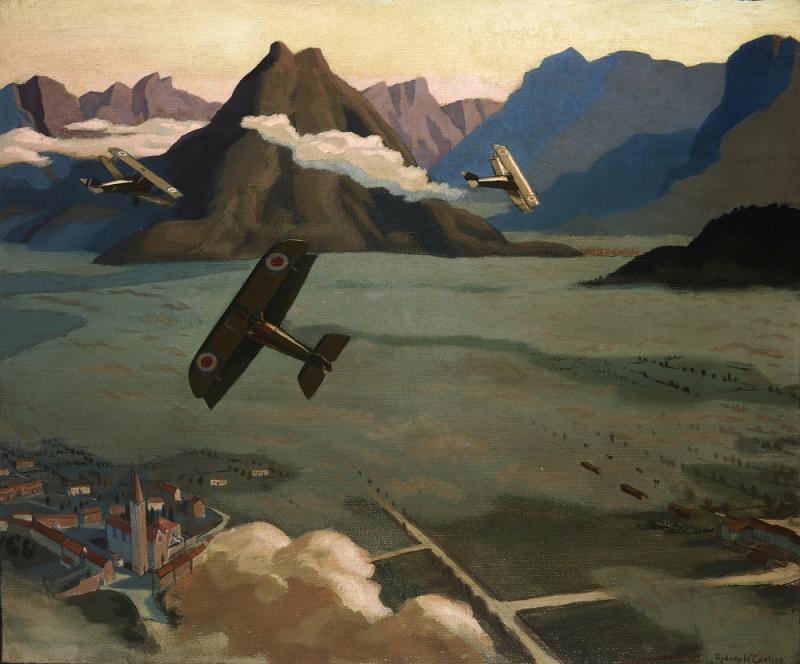 Sydney Carline: 'British Scouts Leaving their Aerodrome on Patrol over the Asiago Plateau', Italy, 1918
North London's much loved Estorick Collection is reopening its doors after a five-month spruce up. The Georgian listed building that houses a 120-piece collection of modern Italian art now boasts a new glass conservatory, opened out entrance hall and "daylight-enhanced" gallery spaces. It all bodes well, even if the reliance on a period of prolonged British sunshine to complete the effect feels a touch optimistic right now. Here's hoping.
The Collection's return is marked by a temporary exhibition surveying a seldom highlighted episode from World War One. From 1917-18, thousands of British troops were dispatched to Italy to join the resistance against advancing Austro-Hungarian forces. It was a vital intervention, but one that's still relatively unknown. Here works by three Brits, painter Sydney Carline and photographers Ernest Brooks and William Joseph Brunell, offer an eye-opening record of conflict in mountainous terrain that must have felt so very far away from the flatlands of Flanders or the trenches of France. (Pictured below: Men of the Royal Engineers watch as their clothes are washed in a stream by Italian peasant women, November-December 1917, courtesy: Imperal War Museum)
Sydney Carline first served his country as a pilot. He had already flown on secret reconnaissance missions in Italy in 1918 before being appointed an official war artist. His primary role was to record the heroic deeds of the newly formed RAF and their jewel in the crown – the Sopwith Camel. Military higher-ups must have been delighted with showpiece paintings like British Scouts leaving their Aerodrome on Patrol, 1918 (main picture).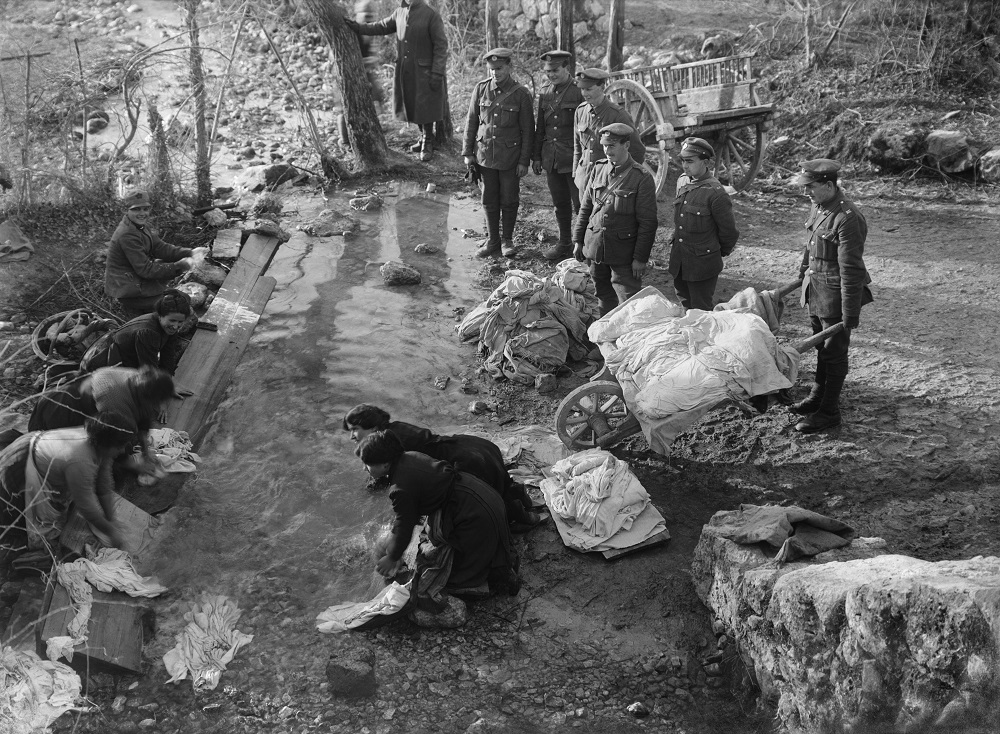 The reality was that aircraft like these were perilously rickety, but in Carline's large canvases clusters of them soar with ease above the clouds. Carline makes full use of the stunning Italian mountains as a dramatic backdrop to his carefully staged scenes of aerial theatre. Pink and yellow sun rays catch a distant bi-plane wing as it veers away towards the horizon. It's hard to think of a better advert for the Air Force's new tech than these masterclasses in military visual hagiography. They wouldn't be out of place on a billboard promoting Farnborough Air Show.
Half the size but with infinite times the raw artistic power is a show-stopping depiction of a Sopwith Camel patrol attacking an Austrian aerodrome near the provincial Italian town of Sacile (pictured below right) – a raid that the artist himself took part in. Gone is the serenity of calm above the clouds and refined painterly finish. We're plunged right into the action of an airstrike at full throttle. Just a few swift brush strokes define a plane swooping low, another pulls up out of billowing smoke from a burning building. Lines of trees so often a feature of an Italian pastoral idyll here tear through the scene with a sweeping destructive energy. Their distinctive tawny yellow colour here makes them look more like exploding bombs than part of the natural landscape. With paint on wooden board alone, Carline recreates a sequence of aerial warfare as visceral and immersive as any in Apocalypse Now.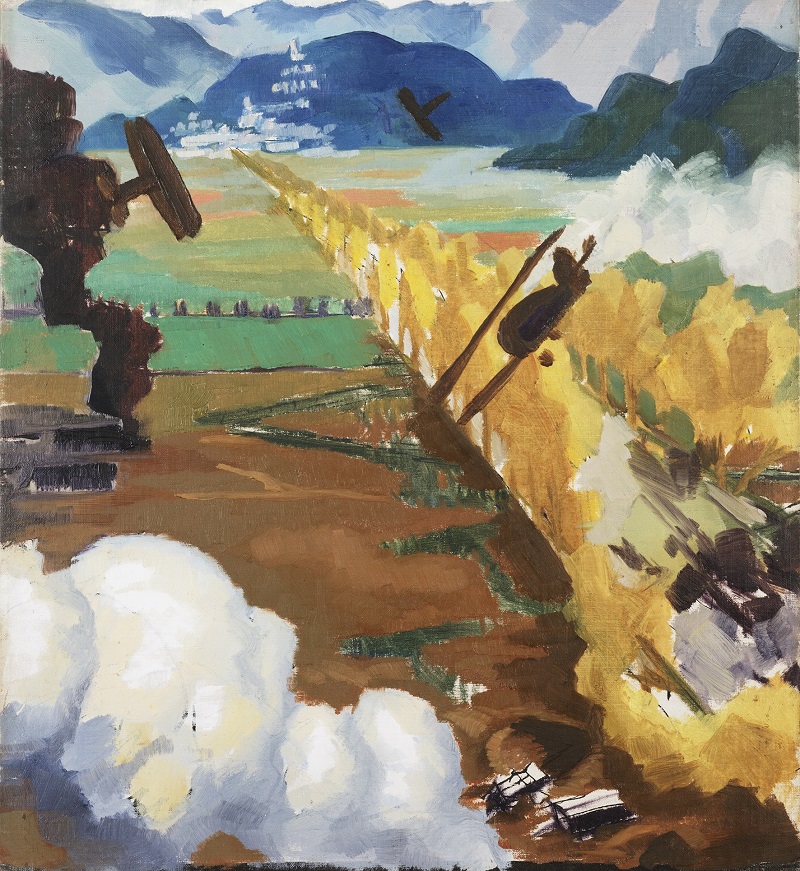 Also on display are studies of air attacks sketched out frenetically in pencil or pen. There's a sense Carline is constantly playing around with which angles and views best capture this new way of seeing the world and a mode of combat still in its infancy. Carline reportedly tried dashing off drawings from the cockpit while flying the plane himself with his knees, or making watercolours from the rear observer's seat only to find that the water froze. He eventually settled on a balance of safety and immediacy, getting down his impressions within half an hour of landing.
Away from the thick of battle Carline was clearly captivated by the beauty of a strange land he had never been to before. One watercolour of a sunset over the Italian alps glowing with warm Turneresque reds and yellows has a vibrancy that feels like it was painted by somebody experiencing it for the first time.
Like Carline, British photographer Ernest Brooks was a former soldier. He was one of the first to be offered an official position as a British military war photographer, well known for his tough, even reckless attitude on the front line. A wall of his photographs show a diligent thoroughness for following life for the Tommies in the Italian mountains, with plenty of troops marching down hillsides and portraits of commanding officers. Brooks reportedly didn't have much truck with the locals. His images of Italians often depict them dutifully carrying out subservient duties, such as women washing clothes or plucking chickens for British troops.
Brooks also had a penchant for showing off the Sopwith Camel. Rows of them get a photograph all to themselves. Hanging just above the photos in this gallery is a practically full-scale sculpture of a bi-plane made by contemporary artist Keith Roberts, constructed out of cardboard, thin parcel paper and bamboo lashed together with string. Its size may be imposing as it looms overs us, but the fact it looks like it might all fall apart in a strong gust of wind makes it a fitting tribute to the Great War's most famous aircraft.
In contrast, William Brunell was a civilian who had little clue about military life before heading out to the Italian front. There's an outsider's curiosity about his photographs which include carefully composed images of ruined village buildings and soldiers posing in the landscape. One shot of Italian troops and British officers altogether in in a snowy forest has all the hallmarks of a Christmas family snap – until you see the honking great field gun barrel they're leaning on. Brunell is deeply inquisitive about the lives of the residents. His photographs of women serving in the British army are far from a perfunctory record; they are remarkably sensitive portraits with a deliberate intention of capturing personality and character in a single shot (pictured left: William Joseph Brunell, British sentry and Italian peasant woman, November 1918).
This show certainly makes for a fascinating document of an overlooked part of British involvement in the Great War, but it's the range of ideas for capturing a new type of conflict from artists in unfamiliar territory that stays with you. To even out the pulse rate it's a good idea to head upstairs for a look around the permanent collection, and in particular an entire room's worth of drawings by the Bolognese master of still life, Giorgio Morandi.
Carline reportedly tried dashing off drawings from the cockpit while flying the plane himself with his knees
rating
Share this article