'Before punk, there was Rauschenberg' |

reviews, news & interviews
'Before punk, there was Rauschenberg'
'Before punk, there was Rauschenberg'
As a major retrospective opens at Tate Modern, musician and producer Justin Adams reflects on his lifelong love of an American great
Tuesday, 29 November 2016
Robert Rauschenberg, 'Triathlon (Scenario)' 2005
In this cut and paste world, we have become used to a multiplicity of images: screens, words and pictures from across the globe and across history flicker through our field of vision, competing for our attention with the natural world, the urban environment and our own memories, thoughts and dreams. The artist who most successfully began to express this new vision of the world was Robert Rauschenberg.
In my teens in the Seventies, I was drawn to the bright colours of Pop Art in opposition to the murky palettes of the Old Masters. But Lichtenstein and Warhol's cool attractiveness seemed in the end to offer a critique of the modern world without much of a solution: "Isn't mass production soulless?" seemed to be the core message behind Warhol's electric chairs, dollar bills and Coke bottles (pictured below: Andy Warhol, Green Coca-Cola Bottles, 1962).
I discovered Rauschenberg through reproductions in books around the same time that punk rock hit. The prog rock album covers of Emerson, Lake & Palmer and Yes had depicted detailed kitschy fantasy worlds, but now the Pistols and the Clash were using collaged newspaper and silkscreened images of tower blocks, celebrating the grit of the city. Images of Rauschenberg's work that predated punk by almost 20 years seemed to chime perfectly – raw and handmade, I loved the fact that there was no attempt to prettify. His assemblages captured the exuberance of urban life where images come at you from all sides and piles of rubbish or car tyres co-exist with reproductions of Rubens or stuffed animals. Energy, irreverence, grime and a joy in the cheap and disposable were all common to punk and Rauschenberg.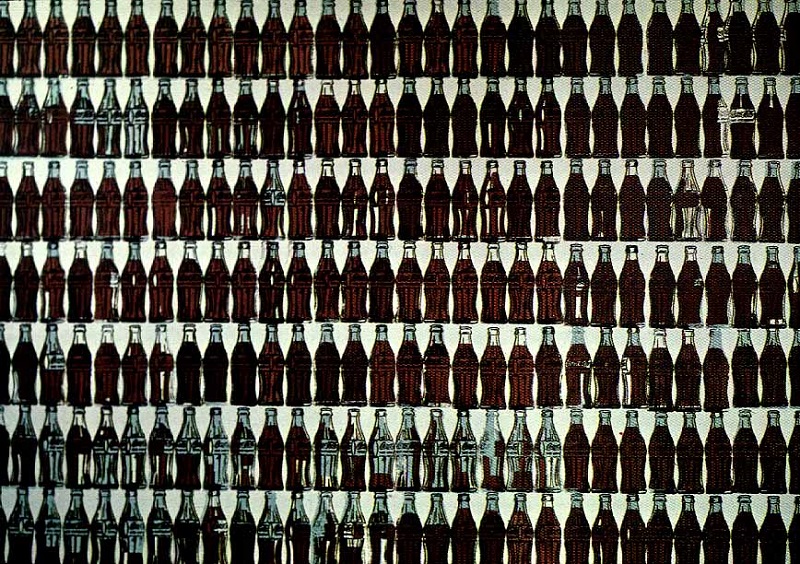 Teenage years are formative and, as I've been on the road around the States and in Europe, I've always been on the lookout for Rauschenberg's work. I've seen pieces in Stockholm, Los Angeles, New York and Cologne, and I keep finding new resonances. An early piece, called Mother of God, 1950, in the San Francisco Museum of Modern Art, gives a clue that while Rauschenberg revelled in the everyday, his intentions were profound. Pages of grid-like maps are arranged and cut to form a large white circle or void in the centre of the piece. The intersecting lines of the map are like the pathways of the brain, suggesting logic and human activity, while the centre is a Zen-like void – the Mother of God.
It is a contemplative piece, as transcendent as a Rothko, but with an inclusion of the everyday, the real modern world. In his later work Rauschenberg's messages become much more elusive and harder to define, but here he recalls Ginsberg in Footnote to Howl seeing transcendence in the materialistic buzz of the 20th-century American City.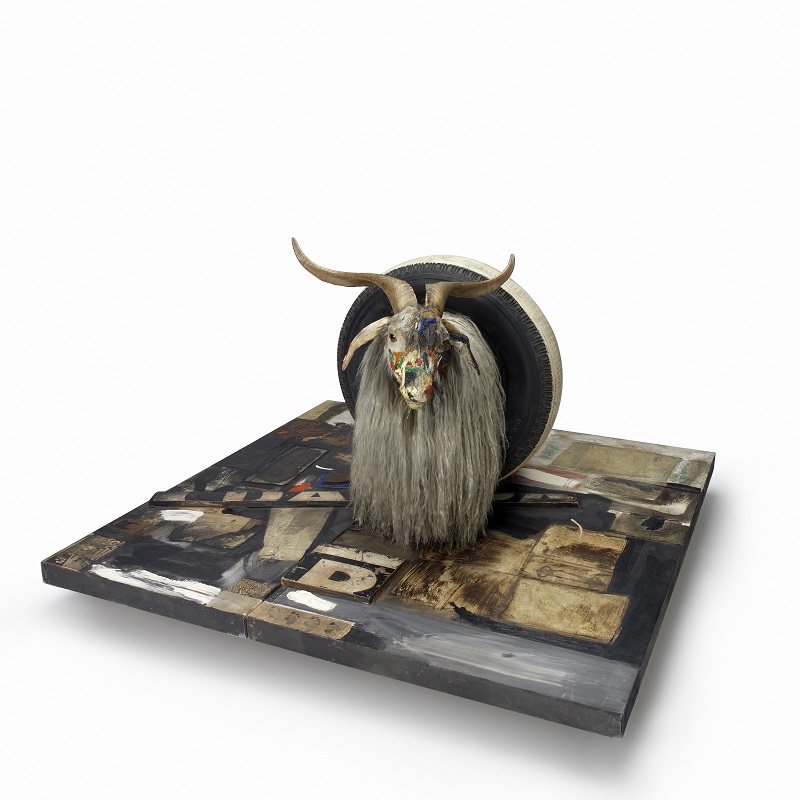 I have a print of an untitled Rauschenberg at home. Living with it, I have come to see it as a kind of icon, a veneration of life forces, whose grid-like pattern of images is like a medieval altarpiece for the modern world. A spaceman, his backpack like an angel's wings, suggests man's aspiration, a shot of the Empire State building looking downtown shows New York, the inspirational city of the Fifties and Sixties – progressive and strong. An image of lit windows at night speaks of home and family, while a blurred camel in the Sahara is full of movement and the wild openness of the desert. Its juxtapositions defy any logic or direct interpretation: they are connected by line and colour, always fresh and spontaneous, and never losing their mystery.
Rauschenberg is rightly associated with New York, specifically Downtown in the Fifties and Sixties where he was part of a scene that included Jasper Johns, John Cage and Merce Cunningham. But earlier this year I met a Louisiana musician/artist/photographer called Dickie Landry who worked with Rauschenberg, as well Phillip Glass, Steve Reich and many others in New York in the Sixties. Dickie's link with Rauschenberg was as a fellow Southerner in NYC and they became friends.
Rauschenberg was born in Port Arthur, on the Texas/Louisiana border, and according to Dickie he loved to dance and party: "When did you ever see a photo of Warhol smiling?" he asked. Rauschenberg's art is infused with the loose funkiness of the South, where the meeting of European, African and Native American cultures was the spark for so much great American music and art. Perhaps his assemblages are a form of patchwork quilt, the quintessential American folk art, reusing materials to form personal memory maps of beauty and meaning (pictured above left: Monogram, 1955-1959).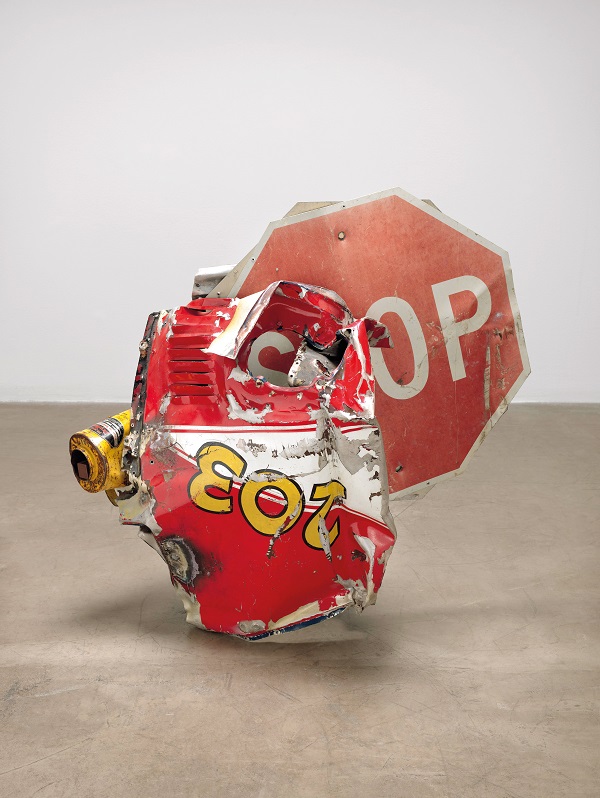 Coming to Rauschenberg through punk he seemed ahead of his time, but in the 21st century again he seems prescient. Digital technology allows us to easily assemble found images: in the same way that the musical collages of Sgt Pepper or Lee Perry's dub masterpieces seemed to look forward to sampling technology, Rauschenberg's work, with its magpie bricolage, looked ahead to the borderless non-hierarchical world of Google images, and created poetry from a universe of imagery.
Famously he announced his intention to work "between art and life". Looking at his work we see the world around us with a new vision: texture, contrast and random collisions between materials and images become fascinating everywhere you look (pictured right: Stop Side Early Winter Glut, 1987). His original impulse to photograph every square foot of the United States was impossible, but we can understand the desire: it's an almost pantheistic way of looking at the world. Cézanne said of Monet: "only an eye, but my God, what an eye"; Rauschenberg recorded the world as he saw it, and my God, what a way to see it.
GREAT POP ART RETROSPECTIVES
Allen Jones, Royal Academy. A brilliant painter derailed by an unfortunate obsession
Andy Warhol: The Portfolios, Dulwich Picture Gallery. An exhibition of still lifes which are anything but still
Ed Ruscha: Fifty Years of Painting, Hayward Gallery. First British retrospective for a modern master
Lichtenstein: A Retrospective, Tate Modern. The heartbeat of Pop Art is given the art-historical credit as he deserves (pictured above, Lichtenstein's Masterpiece, 1962)
Patrick Caulfield, Tate Britain. A late 20th-century great emerges into the light
Pauline Boty: Pop Artist and Woman, Pallant House Gallery. The paintings are wonderful, but the curator does a huge disservice to this forgotten artist
Richard Hamilton, Tate Modern /ICA. At last, the British 'father of Pop art' gets the retrospective he deserves
Images of Rauschenberg's work that predated punk by almost 20 years seemed to chime perfectly
Share this article