LFF 2016: Elle/Paterson |

reviews, news & interviews
LFF 2016: Elle/Paterson
LFF 2016: Elle/Paterson
Verhoeven, Jarmusch and a double-dose of Huppert, as the London Film Festival continues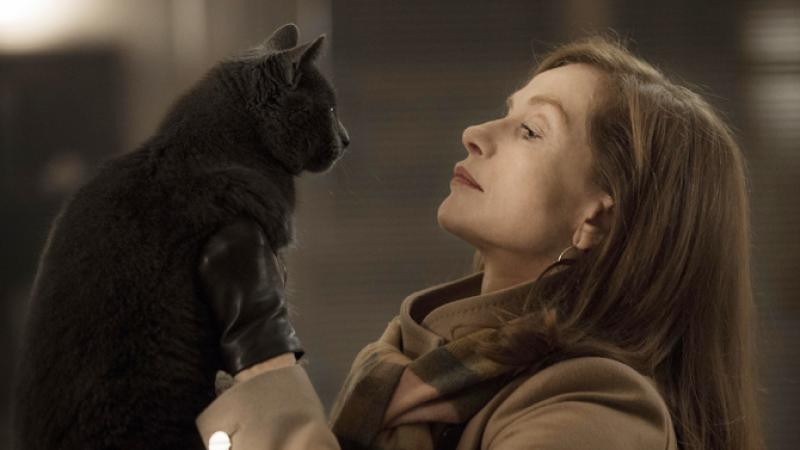 A woman's best friend: Michele (Isabelle Huppert) in a rare conformist moment
Paul Verhoeven directing Isabelle Huppert as a woman seemingly unfazed by a violent rape sounds a recipe for outrage. Elle (★★★★) , though, provokes in subtle, lingering, sometimes comic ways. The rape of Michele (Huppert) mostly happens off-screen during the opening credits, though the ski-masked intruder's violence in her plush, gated Paris house will be replayed as memory and fantasy.
It's what happens next that lurches right off the rails from the leering salaciousness, traumatised horror or rape revenge cinema usually gives us. Michele cleans up, and gets on with her day. She isn't the rapist's victim.
Michele isn't really so blasé – she sweeps up clumsily, surely in shock. But her reaction to being raped is merely one facet of a woman who just doesn't care what people think. Whether barking with laughter at her mother (partial to "un petit Botox") announcing marriage to a gigolo toyboy, or kicking a bin into position to give an office hand-job to her best friend's husband, Michele is powerfully shameless. Verhoeven brings the gloss of his Hollywood phase making cruder provocations such as Basic Instinct, and an ironic intelligence which keeps the ground shifting under our feet, as Michele makes the rapist's place in her life dizzyingly perverse. Huppert's cool refinement covers a huge range of behaviour without fuss, in what even for her is an iconoclastic, revolutionary role. There are psychological gaps left to fill in, mysteries this character is big enough to fill. Funny and tense, it's a film that grows in the mind.
Jim Jarmusch's Paterson (★★★★★) pushes none of Elle's hot buttons, but is as rich in its own quiet way. Adam Driver proves his tremendous versatility as Paterson, a bus driver-poet in the New Jersey town which shares his name. His girlfriend, Laura (Golshifteh Farahani, pictured below with Driver), is a lively dreamer, flitting from cupcakes to country singing in her desire to create. She's a tiring but loving comfort as Paterson drags himself with incrementally growing reluctance through the working week. Their closeness and kindness to each other are shown with rare conviction.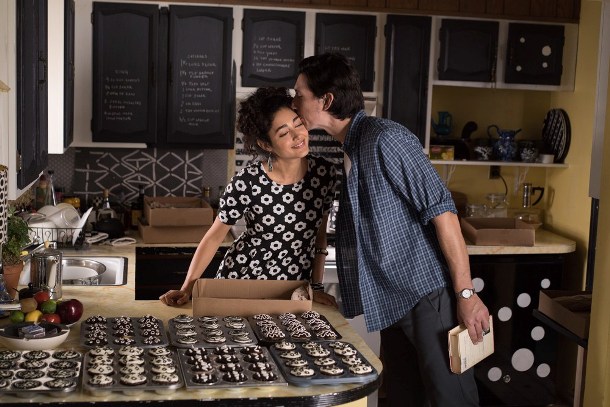 The poems Paterson writes on his breaks are also crucial to a man of passive, generous restraint (a photo from Driver's own past as a Marine suggests why he's this way). His bus-driving during a lovely, sunny week lets him overhear conversations that make him smile. The bar the couple's malevolent pet bulldog drags him to each evening, meanwhile, is an ideal one, with a paternal owner who's banned TV, stocks a great jukebox, and pins all the cultural heroes from this supposed backwater on the wall. Jarmusch slips in all the dry running gags and eccentric touches you'd expect, while little happens beyond a man going to work, with his private poetry, loved one and a nightly beer to look forward to. This is a sublime film about the democratic consolation of art, and of one another.
Watch list
Souvenir – Huppert won't get nearly as much attention for her second film of the Festival, as a singer who came second to Abba at Eurovision, lured out of an anonymous retirement spent robotically adding garnish at a pâté factory by a besotted, 21-year-old boxer who becomes her lover and manager. But her performance as Liliane is just as enjoyably fine. It's a breezy romcom, full of gauzy romance, wish-fulfilment, a great faux-Eurovision soundtrack by Pink Martini, and a May-December romance that reverses genders to little comment. Huppert is deadpan funny like Buster Keaton, and still deep and true. (★★★)
Una – Benedict Andrews' film of a David Harrower play stars Rooney Mara and Ben Mendelsohn, pictured right, and investigates sexual abuse with wrong-footing precision. Its sense of threat is constant, from the huge, looming canyons of Mendelsohn's warehouse workplace to the reversals of power between its ruined pair, linked forever by a relationship when Mara's character was 13. Andrews weds theatrical intimacy to brooding cinematic scale, as both leads go all-out. Una understands both of them rather than explicitly condemning, giving nuance and tension to its final judgement. (★★★★)
Huppert covers a huge range of behaviour, in what even for her is an iconoclastic, revolutionary role
Explore topics
Share this article