Westworld, Sky Atlantic
Westworld, Sky Atlantic
Boy, have they got a vacation for you
Wednesday, 05 October 2016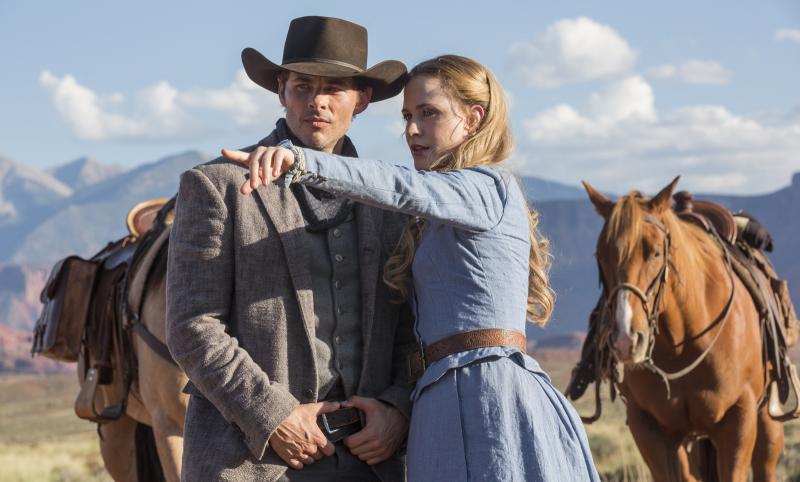 Droids in love: Dolores (Evan Rachel Wood) and Teddy Flood (James Marsden)
Michael Crichton's 1973 movie Westworld became a paradigm of fears about technology running amok and turning violently against its human creators. HBO's new series, executive produced by JJ Abrams and written by Jonathan Nolan and Lisa Joy, looks as if it's aiming to explore the ghosts in the machinery, and take us to a Blade Runner-ish place where the boundary between the human and the man-made starts to dissolve.
But this was only episode one, so let's not get ahead of ourselves. If you know the film, you'll recognise the set-up. Westworld is a futuristic holiday resort, where vacationers can interact with the android inhabitants (known as "hosts") of a fully-realised town from the Old West (Utah or Arizona, judging by the majestic buttes rearing up from the desert floor and filmed in soaring panoramic high-def). Thus, you can go to the saloon for a drink or a punch-up, have your way with the working girls under the eagle eye of madam Maeve (Thandie Newton), or get involved in a full-scale gunfight, knowing that the 'droids can never harm you but you can blow as many holes as you like in them.
The date isn't specified, but judging by references in the dialogue to the fact that Westworld hasn't suffered a technical failure in 30 years and that mankind has apparently banished disease altogether ("we've managed to slip evolution's leash," as Westworld's creator Dr Robert Ford puts it), we're a few decades into the future. Robotics and artificial intelligence have advanced to a stage where the 'bots are indistinguishable from humans, and believe themselves to be real people living their lives on the old frontier. However, they're evidently unaware that every morning they start all over again, Groundhog Day-style, though their programming permits various alternative outcomes to their daily activities (pictured above right, Anthony Hopkins as Dr Ford).
But it seems the designers are getting too clever for their own good. Dr Ford's latest upgrades have not only endowed the hosts with subtly expressive gestures known as "reveries", but also seem to have introduced mysterious technical glitches. The local sheriff looked as if he'd had a stroke before conking out altogether, while a couple of local desperadoes went on a demented killing spree, mysteriously deluging their victims with jugs of milk.
More disturbing was the strange case of rancher Peter Abernathy (Louis Herthum). To the consternation of his radiant daughter Dolores (Evan Rachel Wood), he not only failed to give his usual morning greeting, but then fell into a doomy reverie – "hell is empty, all the devils are here..." Quizzed by Dr Ford, he showed signs of existential angst and a lust for revenge, certainly not desirable traits in an obedient android. This is ringing alarm bells with the Westworld boffins and management, including head programmer Bernard Lowe (Jeffrey Wright) and operations director Theresa Cullen, played by Borgen's Sidse Babett Knudsen (making a valiant stab at an American accent). Cullen is the link between the Westworld resort and its corporate owners, who, she hints, have wider concerns than mere technically-enhanced tourism.
Much can happen in the ensuing nine episodes (indeed, plans for five series have already been laid), but already the spectre of moral hazard is making itself felt. You could argue that the childish excitement displayed by one middle-aged guest when he discovered the joys of shooting a dangerous outlaw in the head might be a form of catharsis, displacing the desire to kill real people, but much darker overtones surround Ed Harris's Man in Black (pictured left). A regular Westworld visitor, he displays the characteristics of a bloodthirsty psychopath as he prowls about picking lethal fights with the locals (he even bloodily scalped the hapless old gambler, Kissy). In a smart twist on the old Westworld movie, Harris looks as if he's playing the Yul Brynner role of the killer robot-gunman, except he's switched sides and is now one of the visitors. Johnny Cash's "Ain't No Grave (Gonna Hold This Body Down)" made an impeccably macabre closing song.
Episode 1 of Westworld is available to view on Now TV