Edinburgh Festival 2016: Così fan tutte, Pekka Kuusisto, Gurrelieder |

reviews, news & interviews
Edinburgh Festival 2016: Così fan tutte, Pekka Kuusisto, Gurrelieder
Edinburgh Festival 2016: Così fan tutte, Pekka Kuusisto, Gurrelieder
Explicit opera and a choral blockbuster among the closing highlights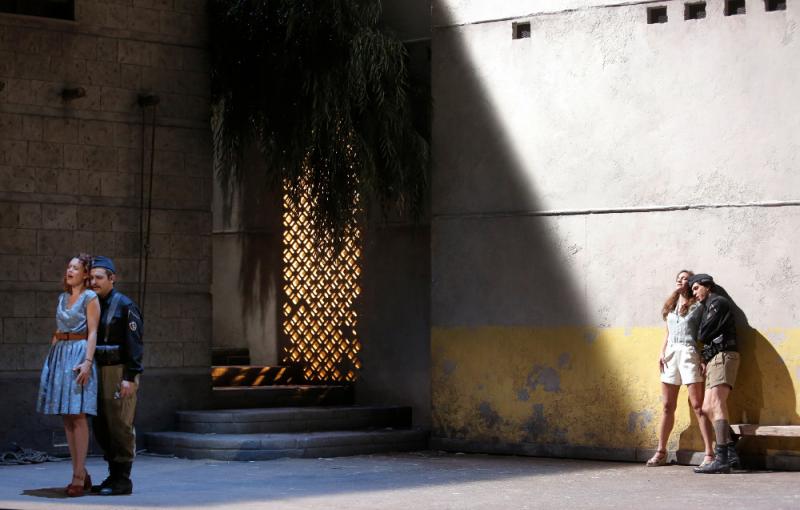 Darkness and light: tough themes under the spotlight in Mozart's 'Cosi fan tutte'
It began with opera – Cecilia Bartoli's pretty much universally adored Norma from Salzburg. And the Edinburgh International Festival ended with opera, too – Mozart's Così fan tutte, in a co-production with the Aix-en-Provence Festival. Like Norma, it was an updating to more modern times – but one that in this case prompted the International Festival to send out a letter warning of the production's explicit adult content.
In the end, though, they needn't have worried too much. Director Christophe Honoré – a respected writer and film-maker in his native France, even if little known this side of the Channel – set his simmering production in Mussolini's Africa, with the supposedly departing Ferrando and Guglielmo returning to test the fidelity of each other's fiancées disguised not as Albanians, but blacked up as Ascari, Eritrean mercenaries who sold their services to the fascist forces. It was a neatly subversive conceit that not only brought the opera's cruelty right to the surface, providing a dark counterweight to its frothy humour, but also based its unsettling brutality on issues derived entirely from the opera's own problematic subject matter.
But if anything, it didn't go far enough. Honoré set the bar high in kicking his show off, not with Mozart's overture, but with a 1930s African calypso song recounting Mussolini's rape of the country, while simultaneously showing the literal rape of a local woman by a bored soldier. By the interval, however, the tone had swerved bafflingly into knock-about farce, and Honoré complicated an already convoluted narrative still further in Act 2 when Fiordiligi seemed to discover the true identity of her disguised suitor, throwing up all kinds of questions about the mock marriage towards the end. There were some exquisitely discomfiting touches – the blacked-up men extolling their physical virtues like slaves at an auction, for instance, or the women taking out their sexual fantasies on a African servant. But it was as if in setting up his conceit, Honoré stepped back from truly exploring the actions of a group of bored, privileged settlers in a world where they can get away with anything.
Performances were strong across the board, however, with Rod Gilfrey taking evident delight as Don Alfonso, mastermind of the whole wicked game, and Sandrine Piau in sparkling form vocally as Despina, even if her role in proceedings was never entirely clear. The quartet of lovers – Kate Lindsey and Lenneke Ruiten as Dorabella and Fiordiligi; Joel Prieto and Nahuel di Pierro as Ferrando and Guglielmo – were alternately poised and passionate, swaggering and insecure. In the pit, young French conductor Jérémie Rhorer drew wonderfully lithe, transparent, shapely playing from the Freiburg Baroque Orchestra, in a tender, affectionate account of the score that contrasted tellingly with the violence and abuse being meted out on the stage.
Across in the Usher Hall, there were several notable orchestral concerts in the International Festival's final week. Finnish violinist Pekka Kuusisto (pictured above) already set tongues wagging at his BBC Proms performance a couple of weeks back with a surprising stand-up routine/audience-participation encore. He pulled off a similar stunt at his Edinburgh International Festival concert in quite a lengthy post-performance speech, but one with a very different intent.
He referred first to the recent problems of his backing band for the evening, the Minnesota Orchestra, locked out of its home prompting the resignation of music director Osmo Vänskä, which was now back on the road and touring overseas. But he went on to draw telling parallels with 19th century Swedish and Finnish migrants who wrote the touching folk tune he later played, poignantly titled "I've Sold My Home", after fleeing disastrous harvests back home for the hope of a new life – in exactly the kind of place the Minnesota Orchestra itself comes from. And then he extended things even further by bringing in the EIF's own festival slogan, "Welcome, world", currently emblazoned on luminous yellow banners all over the city, commenting that, in terms of the millions currently displaced by poverty and conflict around the globe, "We're not quite there yet." It was unexpected, highly intelligent, and it pricked more than a few consciences in the well-heeled Festival audience.
And it came after Kuusisto's superb performance of the Sibelius Violin Concerto. It's the piece with which he first made his mark, winning the Sibelius Violin Competition with it back in 1995, and he clearly knows it inside out, from a glacial opening through to unapologetic fireworks in a sprightly finale. It was an open, generous, searching performance, far from the safe Romantic warhorse the Concerto can be in the wrong hands, and one in which Kuusisto maintained eye contact with the audience virtually throughout – he scanned the Usher Hall as he was playing, delivery his exquisite playing seemingly personally to individual audience members. His compatriot Osmo Vänskä conjured up a richly textured backdrop from the Minnesota players, sometimes fascinatingly unblended, with rasping horns and soloistic woodwind against the sonic gleam of the strings.
It was an exceptionally powerful account that stressed the work's sometimes austere modernism, and Vänskä followed it with a blistering Beethoven Fifth clearly intended to show just what an electrifying bunch his Minnesota band is. Although blissfully unhindered by any period considerations, it was broad and big-boned, alive with detail and bristling with energy, with Vänskä launching himself bodily off the podium in the closing bars to summon still more power from the orchestra. If we needed confirmation of just what exceptional performers Vänskä and the Minnesotans are, this was just the concert to deliver it.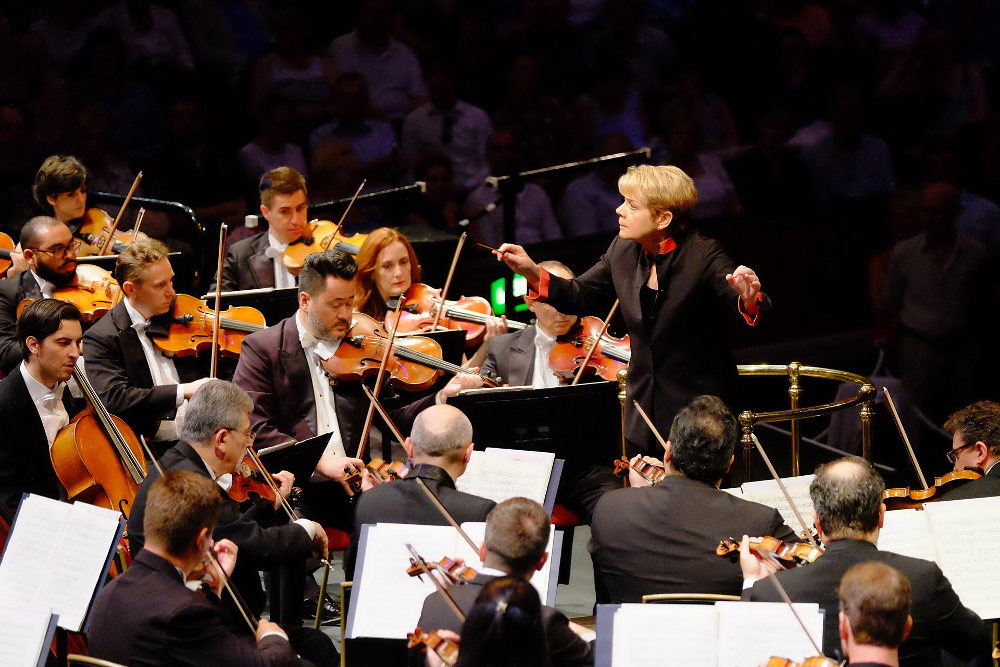 There was plenty of Latin vitality on display the previous evening – and not just from the São Paolo Symphony Orchestra and the ever-charismatic Marin Alsop (pictured above at her BBC Proms performance witth the orchestra, by Chris Christodoulou), vibrant though their performances were. Even the Edinburgh Festival Chorus got in on the act, jigging along to Villa-Lobos's madcap Chôros No. 10 (Rasga o coração), whose chaotic opening of parping trombones and flute bird-calls soon transmogrifies into what's basically a Brazilian pop song. It was a surprisingly relaxed performance, but tight and funky in the Chorus's pseudo-Inca vocal noises, and it built to a resplendent climax. Best of all, orchestra and chorus alike seemed to be having a lot of fun.
Beforehand, there was more funk, this time of an ecclesiastical nature, in the Chichester Psalms by Alsop's mentor Leonard Bernstein. It was a thoroughly dramatic, high-contrast account from Alsop, from bustling syncopations to a truly spellbinding ending, the Chorus singing barely audibly but with astonishing focus. After the interval, the São Paolo orchestra seemed like a different band altogether in a craggy, belligerent Shostakovich Fifth. With its austere opening movement and relentless, bludgeoning string octaves at its too-good-to-be-true climax, there was no doubt about Alsop's vision of the Symphony as a bleak cry of despair. It took a couple of effervescent encores to return us to the feed-good fun of the concert's first half.
The Edinburgh Festival Chorus was back on stage again – in an expanded incarnation this time – for the International Festival's closing concert. It also happened to be the very final concert from Donald Runnicles (pictured above) as chief conductor of the BBC Scottish Symphony Orchestra, so there was plenty of emotional weight riding on the evening already, before adding in Runnicles' choice of repertoire for his parting gig – Schoenberg's Gurrelieder. But, like Antonio Pappano who kicked off the EIF's Usher Hall concerts with the Orchestra dell'Accademia Nazionale di Santa Cecilia this year, Runnicles is a man of the theatre through and through, and despite the work's gargantuan, two-hour length, and its disparate musical styles and forces, he shaped it all into a thoroughly compelling drama, gripping from start to finish.
His Waldemar – tenor Simon O'Neill – had just the right strength and bristling vocal character to pierce through Schoenberg's dense orchestral textures (although there was still the odd balance issue), and Anja Kampe made a wonderfully golden-toned, soft-edged Tove. Scottish bass-baritone Iain Paterson felt like luxury casting in his few lines as the Peasant, and Thomas Quasthoff, almost hidden behind the enormous orchestra's 12 percussion players, gave a closing recitation that felt rather stentorian but nevertheless propelled the massive cantata towards a resplendent conclusion.
Throughout it all, Runnicles balanced sumptuous orchestral textures – which, with a hugely swollen BBC SSO almost bursting off the Usher Hall stage, sounded convincingly three-dimensional – with a sure sense of the work's developing drama and the transcendental love story at its heart. It's been an exceptional year all round for classical music at the International Festival, but Runnicles' Gurrelieder felt truly overwhelming.
Jérémie Rhorer conducted a tender, affectionate account of the score that contrasted tellingly with the violence and abuse being revealed on the stage
Explore topics
Share this article