Edinburgh Festival: Boulez celebration, Andreas Ottensamer, Stephen Hough |

reviews, news & interviews
Edinburgh Festival: Boulez celebration, Andreas Ottensamer, Stephen Hough
Edinburgh Festival: Boulez celebration, Andreas Ottensamer, Stephen Hough
An affectionate homage to the great composer-conductor and bracing chamber recitals
Matthias Pintscher: fastidious but powerful in a celebration of Pierre Boulez's connections with the Edinburgh International Festival
Remarkably, Pierre Boulez made his first appearance at the Edinburgh International Festival way back in 1948, at only the Festival's second ever outing, in charge of music for director Jean-Louis Barrault's production of Hamlet. He remained a regular visitor across the decades, and following his death in January, the EIF's Pierre Boulez: A Festival Celebration was a late but clearly necessary addition to the Festival's already bulging classical programme.
And the EIF had exceptional forces to draw on for it, from just across the other side of the country. The BBC Scottish Symphony Orchestra has proven itself a crack band when it comes to contemporary music, and on the podium was the Orchestra's artist-in-association Matthias Pintscher, himself a Boulez protégé, and currently at the helm of Boulez's own Ensemble Intercontemporain in Paris.
The stage was crowded to overflowing by the enormous forces - multiple harps, percussion, piano, celeste, banks of strings and wind
The concert was to be as much a celebration as a tribute, Pintscher was at pains to stress beforehand, and was also intended to mark the great man's achievements in the round – hence the inclusion of Berg's Three Pieces for Orchestra, the final piece Boulez conducted before his death, and Debussy's La mer, in the programme at his first EIF concert as conductor, back in 1965.
So there was plenty riding on the evening – and it didn't disappoint. Pintscher can be quite a fastidious conductor, but his Berg Three Pieces was as dense and turbulent as it was sharply etched. He summoned velvety textures and sweeping Mahlerian suppleness in the first movement, but there was an elemental energy to it, too, and his closing funeral march, although quite light on its feet, seethed with colour and richness. His La mer, too, balanced meticulous detail with a compelling emotional sweep, and the BBC SSO gave an exquisitely balanced account, paced to beguiling effect in an exquisite central scherzo, and ultimately profoundly moving as Pintscher summoned an all-engulfing sun to close the stormy finale.
But it was in the two works by Boulez himself that Pintscher really came into his own. The stage was crowded to overflowing by the enormous forces – multiple harps, percussion, piano, celeste, banks of strings and wind – required for "Don" from Pli selon pli. And again, with a few Boulez-like angular chops of his hands, Pintscher led a performance that was as febrile and voluptuous as it was analytical. And it felt like a masterstroke to close with the focused restraint of Boulez's Mémoriale, written in memory of Ensemble Intercontemporain flautist Lawrence Beauregard but here serving as a homage to its own composer, in a respectful performance by BBC SSO principal flautist Charlotte Ashton and an ensemble drawn from the Orchestra's ranks.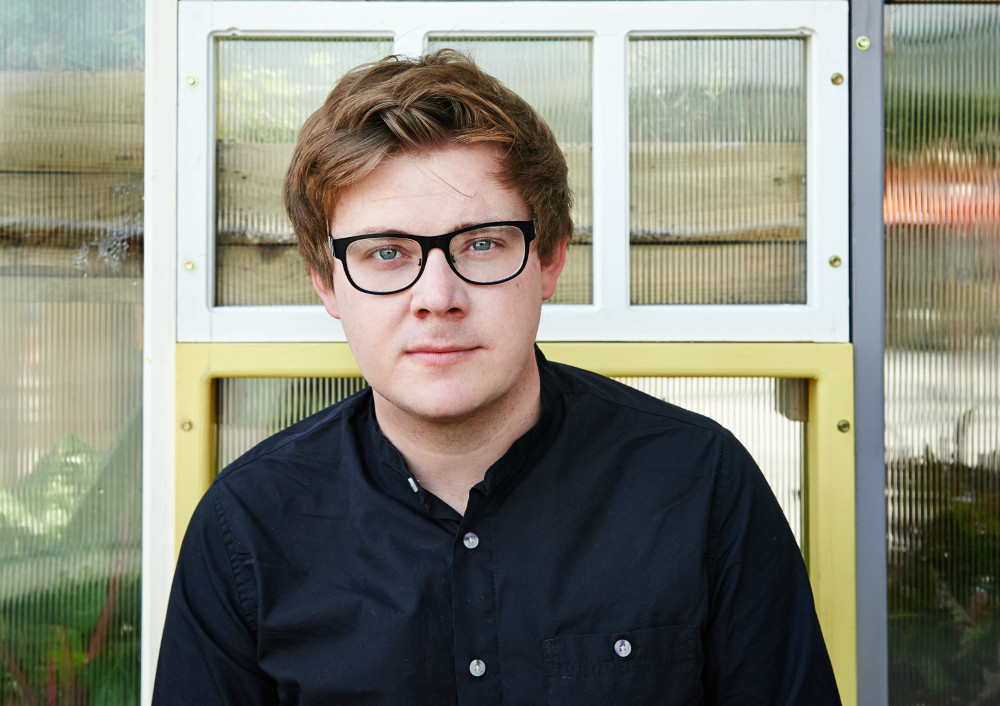 It had been quite a day for new music: earlier that morning, across town in the Queen's Hall, had come a fascinating if rather over-long concert of homages and homages-to-homages from a trio of Mark Simpson (pictured above), Antoine Tamestit and Pierre-Laurent Aimard. It all orbited around Schumann, with György Kurtág paying homage to him, and other composers in turn paying homage to Kurtág – but what sounds overly complicated in fact came across strongly in a sequence of music high on fantasy and with its heart firmly on its sleeve. Clarinettist and composer Simpson's own Hommage à Kurtág was getting its first performance, and it was a thrillingly volatile work, by turns fiery and cool, with a remarkable ear for sonority and not a note out of place. Full of invention though it was, Marco Stroppa's similarly titled Hommage à Gy. K. felt simply over-long, especially for 11am – although it did play mischieviously with expectations in requiring a different stage arrangement for each of its seven movements, most memorably with Simpson peeping out from behind Aimard's piano lid in the second. Aside from those antics, however, violist Tamestit and Aimard gave supple, appropriately vivid accounts of Schumann's fairytale Märchenerzählungen and Märchenbilder, tender, intense and deeply felt.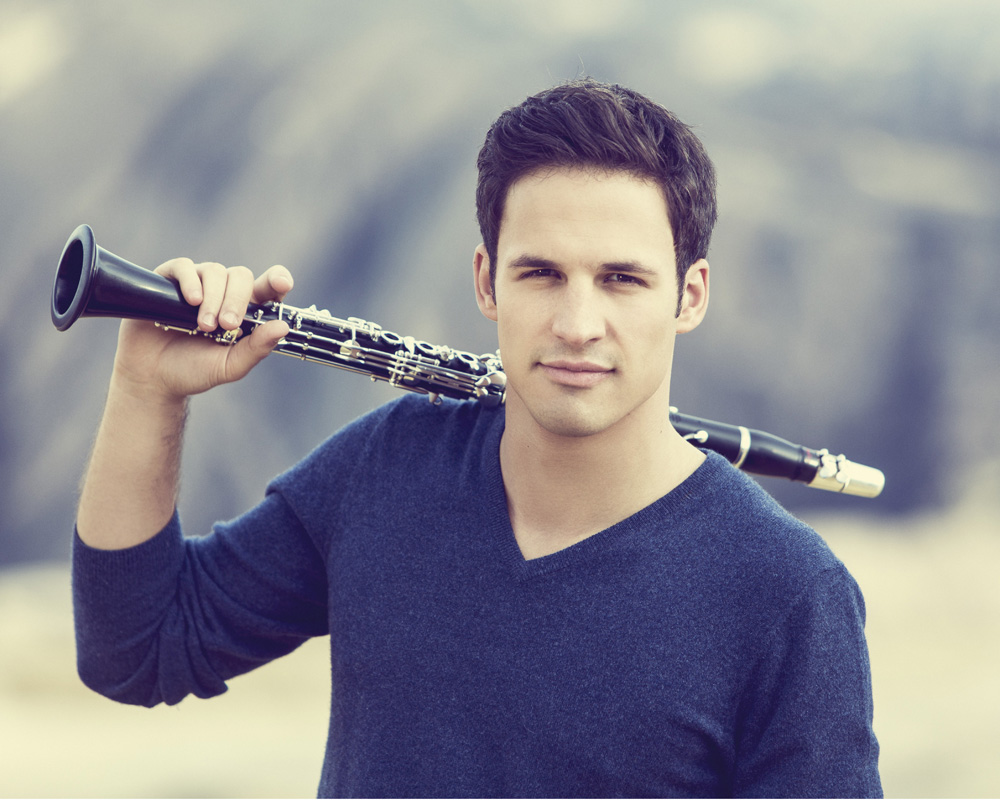 A few days later at the Queen's Hall came an unforgettable concert from Austrian clarinettist Andreas Ottensamer (pictured above) – principal at the Berlin Phil – and the Hungarian Kelemen Quartet. The programme couldn't have been simpler – the clarinet quintets of Mozart and Brahms – but the performances were simply breathtaking, full of expressive freedom in the Mozart, and turning the autumnal Brahms Quintet into something truly desolate. Through it all, Ottensamer's gloriously smooth clarinet sound made an ideal match for the Kelemen players' characterful, soloistic playing – and they came together spectacularly in a thoroughly Magyar encore of a bracing Hungarian dance by Leo Weiner.
Pianist Stephen Hough (pictured below) unveiled his own Third Piano Sonata, named Trinitas, to Edinburgh audiences in a typically intelligent recital a couple of days later. He gave the premiere in London last October, but nevertheless it felt like a special occasion – and his idiosyncratic mix of warped 12-note serialism, jazzy rhythms and hymn-tune quotations was as provocative as it was satisfying. There was a distinct whiff of the transcendental elsewhere in his recital, too – especially in a stormy Franck Prélude, Choral et Fugue, and in a Liszt selection that looked well beyond the pianistic pyrotechnics to sublime expression.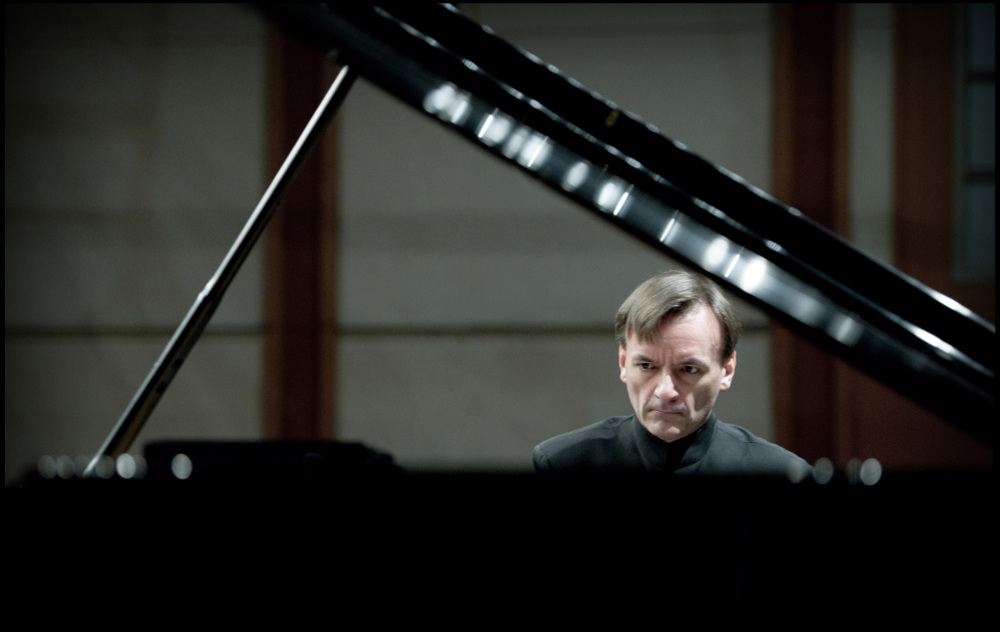 So far the EIF's classical programme has felt like a succession of thoroughly individual concerts, each with its own distinctive artists, and distinct identity and aims. And there's plenty more to come before the International Festival draws to a close on 29 Aug – including French writer and film maker Christophe Honoré's provocative Così fan tutte that set tongues wagging at its unveiling in Aix and has Edinburgh eyebrows raised in anticipation. Watch this space.