Ripper Street, Series 4, BBC Two |

reviews, news & interviews
Ripper Street, Series 4, BBC Two
Ripper Street, Series 4, BBC Two
A slow start back in Whitechapel: London busy before Jubilee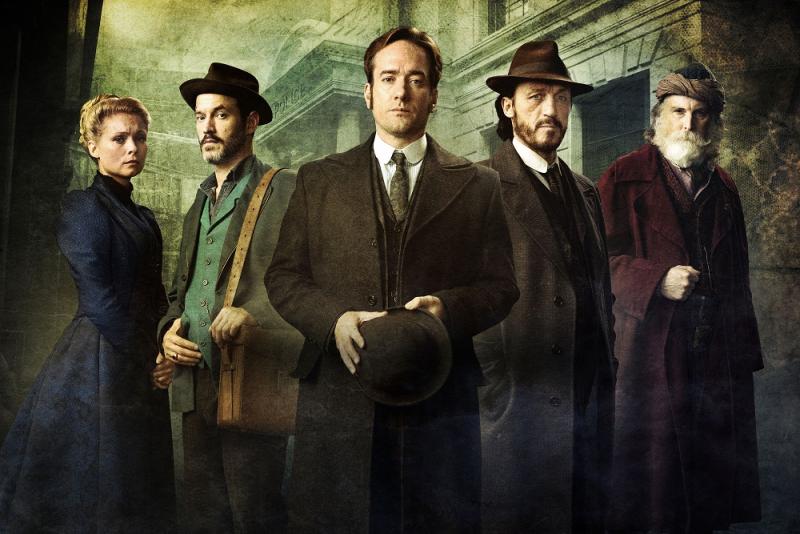 Friends reunited: from left, Long Susan (MyAnna Buring), Homer Jackson (Adam Rothenberg), Edmund Reid (Matthew Macfadyen), Bennet Drake (Jerome Flynn), Croker (David Threlfall)
H Division has a new home in Whitechapel that basks in the white heat of the technological revolution. The police station not only has a telephone but a "microreader" that allows the user to check thousands of miniaturised card indexes. Alas, a wry smile is all the viewer is likely to get from this opening episode of the fourth season. Nothing happens until the last ten minutes.
When it was originally broadcast on Amazon Prime, Ripper Street 4 began with a two-hour episode. Terrestrial viewers on BBC Two have to make do with 60 minutes of scene-setting, throat-clearing and explanation. Three years have passed since we found ourselves in these parts last. Detective Inspector Bennet Drake (Jerome Flynn) is now the go-to-guy in E1. His former boss Edmund Reid (Matthew Macfadyen) has retired to Hampton-on-Sea to study tidal patterns. The latter's adolescent daughter Matilda (Anna Burnett, pictured below right) tells dreadful lies and, bunking off to London with a friend, just happens to witness – through a ground-floor window – an energetic bout of cunnilingus. At least someone is having fun.
Drake's wife Rose (Charlene McKenna) is frustrated by her failure to have a baby. Long Susan (MyAnna Buring) is banged up in Newgate – her spacious, candlelit cell would not look out of place in House & Garden – and due to go to the gallows. Her surgeon husband, Captain Homer Jackson (Adam Rothenberg, an American actor with a British smile), pretends to be as drunk as ever while secretly saving every penny to pay her legal fees. She, on the other hand, would rather trust in bribery to escape the noose.
Elsewhere London is preparing for the diamond jubilee of Queen Victoria. Hyde Park is full of extravagantly uniformed Bengal Lancers. Not everyone is happy about the common (white) man being excluded from the procession: a meeting of the Muslim Patriotic League is broken up by cudgel-waving, masked men (a poor pay-off after 50 minutes of waiting for something to happen). This stab at "relevance" smacks of desperation.
Where is the energy, wit and style that created so many fans?
So, this nominally being a crime drama, where's the body? In the Thames, that's where. A lawyer – born in India, educated at Balliol – has had his throat cut. He washes up in the Western Docks where the men, of course, are on strike, David Threlfall is polishing his Cockney accent as a dodgy lighterman, and the Victorian air is crystal clear.
The Whitechapel Golem, aka Isaac Bloom, a supposed rabbi-killer, spends his days scribbling Kabbalistic gibberish on the walls of his cell. Might his conviction be unsafe? Might Drake have made a mistake? Finally, finally, Reid blows the dust off his bowler hat (literally), and heads back to the Big Smoke.
The seven-minute trailer on iPlayer depicts the series as a western with all guns blazing in the cobbled streets of the East End. Consequently this opening episode can only come as a huge disappointment. Where are the larger than life characters? Where is the energy, wit and style that created so many fans? Twiddling with word order doesn't automatically lend credibility to such lines as: Who is it commands here? Where is it you go?
It seems they haven't a clue.
The seven-minute trailer on iPlayer depicts the series as a western with all guns blazing in the cobbled streets of the East End
rating
Share this article