Reissue CDs Weekly: Jerry Ross |

reviews, news & interviews
Reissue CDs Weekly: Jerry Ross
Reissue CDs Weekly: Jerry Ross
Stylish celebration of Philadelphia's musical mover and shaker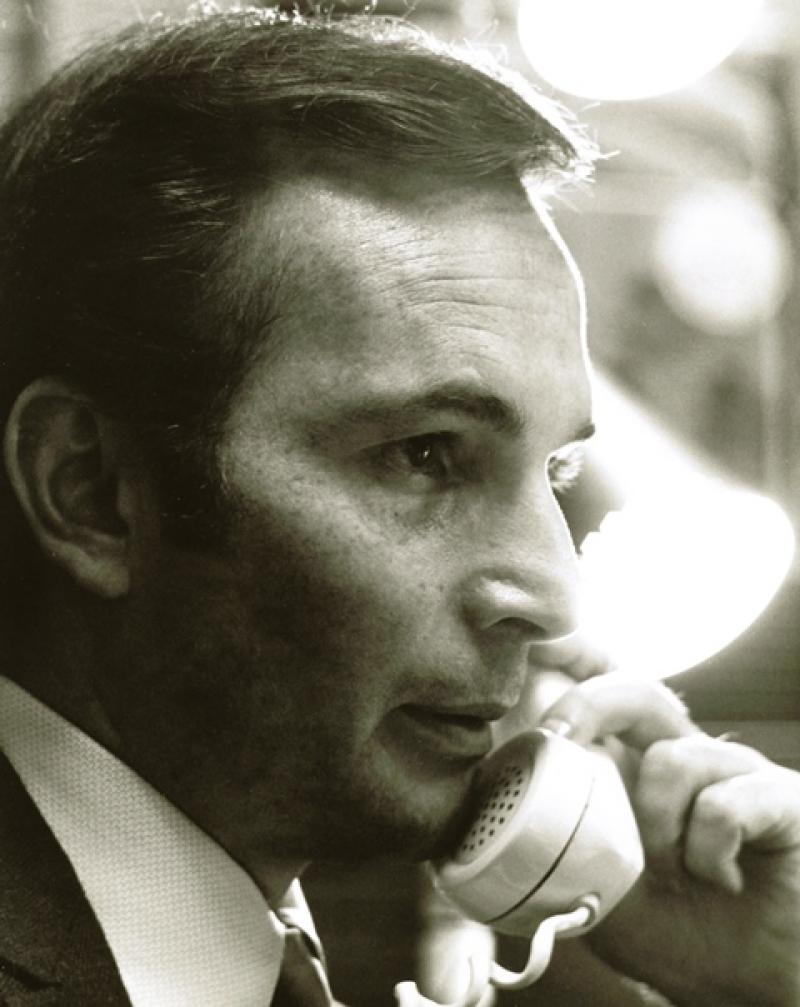 Jerry Ross holds the fort in 1968
A two-bar flurry of guitar lays the table for a skip-along beat, handclaps, and an arrangement and melody akin to Martha and the Vandellas' March 1964 single "In my Lonely Room". This though was not a Motown production and did not tell the story of a girl so distraught at her boyfriend's dalliances that all she could do was take to her lonely room and cry. On "The 81", Candy & the Kisses sang of a dance craze for anyone "tired of doing the monkey, tired of doing the swing."
Despite being a knock-off of the Detroit sound, the irresistible "The 81" did not sound like a Motown record. It seamlessly married girl-group dynamics to a clean-lined dance floor sensibility which – despite the trio being black – suggested the evolving blue-eyed soul style. It only reached 51 on the US charts but the immortality of Candy & the Kisses' sole almost-hit was ensured by its sheer panache and verve. It's still a floor filler.
"The 81" was produced and co-written by the Philadelphia-based Jerry Ross, a backroom figure celebrated on the splendid 24-track compilation Some Kinda Magic - The Songs of Jerry Ross. In the late 1950s, Philadelphia was musically buzzing as the home of the nationally broadcast American Bandstand. Ross was one of the show's announcers. There was a significant music business presence in the city: the Swan and Cameo-Parkway labels were based there. Local doo wop and straight pop flavours gave way to soul, and Gamble and Huff developed what would become dubbed The Philadelphia Sound. Ross had written "The 81" with Kenny Gamble.
If Ross (now 83) had only worked with Jay & the Techniques, Bobby Hebb and "98.6" hit-maker Keith (all three are heard here), his reputation would have been assured. But as Some Kinda Magic more-than amply shows, he was a one-man music business whirlwind who never stopped. A producer and songwriter, he was also an arranger, had run an independent promotion company, founded his own labels Heritage and Colossus, and worked for Cameo-Parkway, Columbia and Mercury Records. His productions were licensed to ABC Paramount and RCA.
The attractively packaged and well-annotated Some Kinda Magic tracks the story from 1964 to 1971 and is stuffed with top-notch gems making the case for Ross as one of America's musical greats. Take Chubby Checker's "You Better Believe it Baby", a 1964 B-side written by Ross, Gamble and Checker himself. Again, Motown is in there with a Marvin Gaye swing but this mid-tempo finger-clicker has a directness which could never have come from Detroit. Charlie Gracie's garage-soul nugget "He'll Never Love You Like I do" (1965) has a roughness showing that Ross tailored his sound to the artist and the song rather than employing a one-size fits all approach.
But Ross was not publicly seen as integral to his labels or his artists like Motown's Berry Gordy or Philadelphia International's Gamble and Huff. Although less lauded, he was just as important to American pop. The music does the talking, and the fantastic Some Kinda Magic - The Songs of Jerry Ross shouts his significance loud and clear.
'Some Kinda Magic' more-than amply shows that Jerry Ross was a one-man music business whirlwind
Share this article