Reissue CDs Weekly: Bitori, Space Echo |

reviews, news & interviews
Reissue CDs Weekly: Bitori, Space Echo
Reissue CDs Weekly: Bitori, Space Echo
An eye-opening look at the Cape Verde's fusion of West African and Brazilian musical styles
The Cape Verdean sonic auteur Américo Brito demonstrates his high-kicking love of karate in 1979
Since achieving international success in the final years of the 1980s, the late Cesária Évora has dominated much of globe's perception of music from the Cape Verde (officially Cabo Verde). This fascinating pair of releases reveal other aspects which may not have caused similar world-wide waves. Crucially, they're hugely enjoyable.
Space Echo collects 15 tracks by 14 different performers. It's subtitled "The Mystery Behind the Cosmic Sound of Cabo Verde Finally Revealed". The Legend of Funaná is a reissue of a 1997 album by accordion player Bitori, born Victor Taveres. It's also subtitled: "The Forbidden Music of the Cape Verde Islands".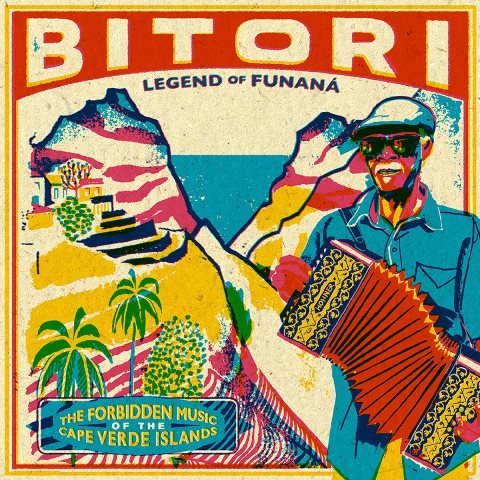 Just as Évora first attracted attention by recording in France, both albums are either completely or in-part creations of the Cape Verdean diaspora. Bitori's album was recorded in The Netherlands, while tracks on Space Echo were recorded there and in Portugal. With a population of just below a half-million, the islands can obviously support a limited amount of music's related infrastructure so performers looked abroad to countries with links to where they were born. The Cape Verde became independent from Portugal in 1975 and it's no surprise much of this music sounds like that of another former Portuguese dominion, Brazil.
Bitori's Legend of Funaná is, indeed, an album of funaná music, a rural style which due to its often pro-independence lyrics was not actively banned but discouraged under Portuguese rule. At its most basic, funaná is, as the liner notes of Space Echo put it, "played with a simple but effective binary beat obtained by the scraping of a knife on an iron bar, called a ferrinho, and an accordion." Bitori's suitably minimalist reading renders it a cousin of zydeco which has taken on the Bo Diddley or Brazilian baião beats. Legend of Funaná is raw, with the rhythm given added drive by an elastic bass guitar. Vocalist Chando Graciosa is declamatory but still carries the melodies. This needs to be heard amongst a wired audience in a small bar.
In contrast, as a compilation, Space Echo is not unedited aural reportage. The compilers chose their 15 selections from a potential 1000 tracks. Groove and the presence of a synth seem to be the overriding factors behind what's heard, which is mainly from 1980 to 1983. All but two of the performers compiled are interviewed for the booklet and the potted biographies give a strong flavour of the interconnections between the tracks and the efforts which went into recording. A silly introductory chunk of made-up text on the synthesiser arriving in the islands as part of the cargo of an off-course ship in 1968 irritates. Viz: "the children who came into contact with the instruments found on the ship inherited prodigious capabilities to understand music and learn instruments with astonishing ease." An patronising distraction.
Misstep aside, Space Echo is an eye opener, even with its focus towards the dance floor. The opening cut, Antonio Sanches' "Pinta Manta", has the rattling funaná rhythm, one-finger synth lines and, yes, a declamatory vocal. At the same time, it sounds both Brazilian and Senegalese. Up next, Dionisio Maio's "Dia Ja Manche" rolling high-life rhythm underpins call-and-response vocals akin to early Jorge Ben songs. Best of all are Tchiss Lopes' "Mundo D'Margura" (coloured with high life, zydeco and the ever-present Brazilian flavour) and Américo Brito's fantastic "Sintado Na Pracinha", the smoothest melding of the Brazilian and West African flavours.
While it's undeniable that what sounds Brazilian has part-Portuguese roots, nothing on these albums feels southern European. Heard out of the blue, Space Echo and Legend of Funaná would confuse. They sound West African. They also sound Brazilian. It's probable no one from the Cape Verde deliberately chose to make this musical synthesis – that's a result of history. But it's a fusion which needs to be heard.
Bitori's minimalist funaná renders it a cousin of zydeco which has taken on the Bo Diddley beat
Share this article