Sónar Barcelona 2016 |

reviews, news & interviews
Sónar Barcelona 2016
Sónar Barcelona 2016
A glimpse of what Europe's cosmopolitanism can really mean in Barcelona
Croydon gangsta rap from Section Boyz
A few beers down, in the middle of a crowd listening to music you love, you tend not to think of the latest news story as your highest priority. But Britain's relationship to Europe weighs heavy on the mind these days, and when the news of the violent attack on Jo Cox started filtering through as we danced under the Catalan sun on Thursday afternoon, it threw the nature of Sónar festival into relief.
Unlike a lot of international music events, which can often be little more than monocultural awaydays for Brits and/or Germans seeking hedonism in the sun, Sónar is both proudly reflective of its setting (the crowd is about half Spanish/Catalan) and happily internationalist (the remainder of the audience, plus the acts on stage, are cosmopolitan to say the least). Surrounded by the cavalcade of happily coexisting difference at the festival, the vicious realities of Little England-ism seemed all the more horrific – and at the same time, the value of what we were doing seemed far more real. The cognitive dissonance was intense.
As we've pointed out before, Sónar is an extraordinarily civilised event, in very European ways. Both daytime and nighttime venues are essentially municipal conference centres, but the buildings themselves have the architectural charm that makes Barcelona what it is, encouraging smooth circulation of people, and the organisation is somehow simultaneously slick and laidback.
This year entry was easier than ever, with digital wristbands not only allowing entry but acting as mini credit cards, replacing the clumsy old paper drinks ticket system and providing an extra protection against the city's many pickpockets. Queues and bottlenecks at bars and going into arenas were next to non-existent for 90% of the time, and security was clearly present but light-touch in a way that is almost unthinkable at a British event of similar size. As elsewhere in Barcleona, the sweet waft of weed was omnipresent, and many of the crowd were clearly 'having a lovely time' as the euphemism goes – but I never saw casualties nor intimidation.
From abstract audiovisual art to all the outright joyous disco music you could want, it all coexistedThat crowd was extremely mixed, in terms of class, gender, sexuality, subculture, and (to a lesser degree) race. And the programme reflected that. There were intensely involved panels, discussions and demos in the Sonar +D – I was involved in two, about the nature of radio, and the influence of the USA on the dance music world post the "EDM" explosion, but they covered everything from virtual reality to sustainable energy – as well as heavy representation of UK grime and rap.
From abstract audiovisual art – like a series of pieces to celebrate the 20th anniversary of German label Raster-Noton, an intervention in the Mies Van Der Rohe Pavilion over the road by Tristan Perich using an array of tiny speakers, and a stunning large scale surround-sound and animation work by British duo Semiconductor based on data from tectonic movement – to all the outright joyous disco music you could want, and a fairly hefty helping of Spanish dancehall and British jungle, it all coexisted in the same space, and made sense together.
The skill of Sónar's programming is that none of this seems tokenistic. There was almost always the sense that what had been programmed was there because it was the best of its kind, and this provided not only some brilliant thrills but some extraordinary juxtapositions. The best of these dizzying clashes came on Saturday afternoon, when I came out from watching Raster-Noton boss Carsten Nicolai aka Alva Noto (pictured top) deliver an hour of brutal, razor-sharp electro beats, rather like a weaponised Kraftwerk, with hyper-detailed strobing visual accompaniment in a pitch-dark auditorium, to see South African "Shangaan Electro" wizard Nozinja (pictured above right) and his impossibly energetic singer and dancer deliver a performance in literal and figurative technicolour, full of cascades of fierce joy and hilarity.
In this context, new senses of what performance should be about emerged. Twice I was bowled over by singers I'd not been excited before: first by John Grant, then by Anohni (formerly Antony & The Johnsons). The former, scathingly funny, looking like a gun-nut backwoodsman and bringing hope to the more pot-bellied and stylistically challenged of us that charisma is still possible, delivered a high-energy set of indie-punk-glam rock with fierce synthesizer action which won over giddy ravers as much as rock fans.
It required a strong nerve not to feel crushed by the sensations The latter, hooded and robed, with two keyboard players and huge video screens playing a variety of lived-in faces lipsyncing to the songs, revealed herself as one of the great performers and singers of our time, full of raw power, in drastic contrast to the sometimes querulous and fey approach of her earliest stage appearances as Antony. Along with the now stadium-sized sub-bass balladry of James Blake, and the dark charisma of Skepta, it felt like this was part of a radical rewiring of what the individual vocalist as superstar could be.
And none of this was escapism. Though the audiences were often delirious with enjoyment, the aforementioned are all singers/rappers/writers with an unflinching eye for life's pain. And the electronic music dealt in similar darkness: when Kode 9 played his Nothing album to a packed hall (cheers erupting for the disembodied voice of his late collaborator Spaceape), or WARP artist Oneohtrix Point Never brought his blend of occult black metal bombast, glitchy electronica and icily clean Eighties TV soundtrack music to the same hall, it required a strong nerve not to feel crushed by the sensations. Occasionally, inevitably, there was a mismatch of content and context: Croydon gangsta rap crew Section Boyz (main picture) put in a valiant show but seemed nonplussed that an early evening audience of happily zoned-out ravers on the third day of a festival couldn't match the moshpit energy of their home crowds.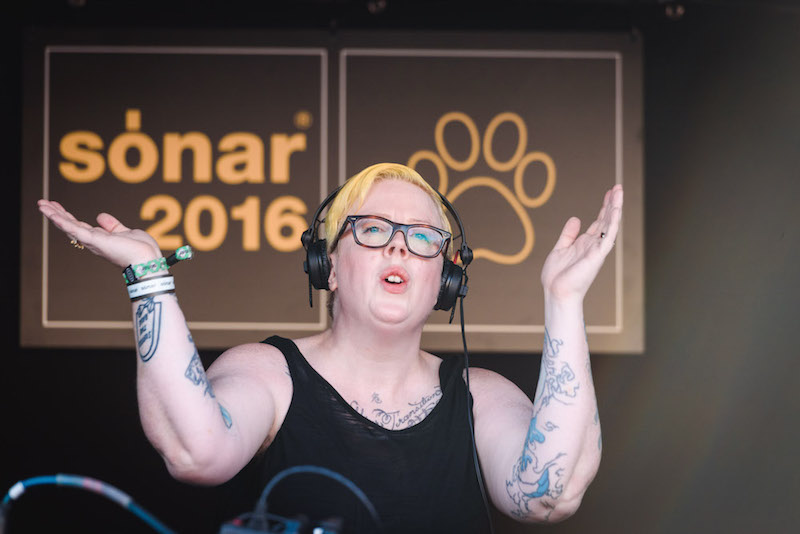 Sometimes it was just fun, though. Neither Jean Michelle Jarre nor New Order provided anything in the way of surprises, but both filled the absolutely vast main arena of the nighttime events with ease and a sense of drama. Straight-ahead house music got some great representation in an outdoor set by rising Chicagoan star The Black Madonna (pictured above right: not actually black, not actually Madonna), and a live set by Detroit veteran "Mad" Mike Banks of Underground Resistance who made up for lacking some of the rhythmic originality of his early work by turbocharging it with gospel energy, a live saxophonist and two keyboardists busting out sheer soul power.
But perhaps best of all was a new development in the "Sónar by Night" mega-rave. One stage, which previously had been swamped within a massive hall, was now curtained off by an oval of gigantic red drapes, creating a kind of nightclub-within-an-arena, in which DJs Kieran "Four Tet" Hebden on the Friday night and Laurent Garnier on the Saturday played seven-hour long sets.
Hebden's in particular was a masterclass in the DJ's art. From a standing start playing weighty dub and experimental sounds, into house and disco and beyond, every track was individually great, but each was blended into a greater whole, and that whole radiated the inclusiveness that club culture has always been built around. And the people reacted in kind: I can't remember when I last saw so many people so wildly, hilariously happy, in so many individual ways.
But again, this wasn't escape. I hadn't forgotten the horrors unfolding at home. It just, like so much at the festival, fired me up with a sense that we have at our fingertips the ability to create something better than petty-minded, fearful nativism and exclusionary politics. Forgive me if this is gauche, but the internationalism, the tolerance, and the joyful embrace of modernity that Sónar at its best represents is something worth believing in.
Though the audiences were often delirious with enjoyment, these were all artists with an unflinching eye for life's pain
rating
Explore topics
Share this article