Sónar 2011: Day 3 and Round-up |

reviews, news & interviews
Sónar 2011: Day 3 and Round-up
Sónar 2011: Day 3 and Round-up
A dizzying array of talent rounds off a weekend in Barcelona
David 'Ram Jam' Rodigan, with no-longer-bemused Spaniards
This is where the delirium kicks in. Tired but happy, the attendees started the third day of Sónar festival slightly boggled by how to pick and choose from the strange delights on offer. Saturday was when the true musical variety of the festival was displayed: straight-up hip hop to eye-popping South African tribal dance displays, balmy ambient revivalism to apocalyptic techno, heartbroken electronica to deranged prog rock: it was all on offer...
If day one was a warm-up, and day two when the energy levels peaked, this was where we just got swept along in the sheer diversity of the festival... starting with some reggae. A DJ set by David Rodigan truly has to be seen and heard to be believed but the faces of the Spaniards in the audience said it all. At first utterly baffled by the sight of a 60-year-old bald, bespectacled white man hollering at the top of his voice as he started and stopped a series of reggae records seemingly arbitrarily, one by one the smiles spread across their faces as they grasped exactly how much artistry and joy there was to what he was doing.
Radio and sound-system veteran Rodigan is a strange combination of performer, DJ, teacher and revivalist preacher, demonstrating the history and variety of Jamaican and British "bass culture" from bluebeat and ska all the way through to dubstep and dancehall with a fervour that is impossible not to be infected by. Part of his current popularity is thanks to his mentoring of young artists via the Red Bull Music Academy and informally, and even his DJ sets include lengthy history lessons. For someone to explain why sounds are great and what they mean as they play them should in theory disrupt the flow of a DJ set, but Rodigan has all the vocal power, vigour and belief of the great reggae dancehall deejays, and his set created the best party mood imaginable from start to end.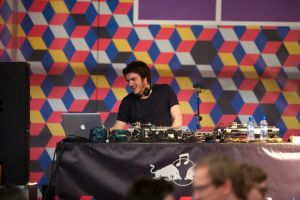 From there the daytime events became a whirl of contrasting sounds. From watching reformed early-1990s duo Global Communication perform a set of utterly dreamy, weightless ambient music, swelling with sci-fi soundtrack chords, I headed outside into the blazing sunshine to see Eminem protégé Yellawolf plus backing scratch DJ deliver as tight a set of party hip hop as I've seen in a good long while.
Going from that back into a darkened room where Barcelona's own production duo Downliners Sekt were unfolding heartrendingly deep and strange electronic narratives with rich layers and discombobulating rhythm signatures ratcheted up the glorious cognitive dissonance even further. Likewise did Mancunian DJ/producer Illum Sphere (pictured right) who combined obscure sounds from across decades, drawing sonic and conceptual links across eras and continents in one of the most fabulously unpredictable sets of the weekend.
Back out in the main outdoor arena, Shangaan Electro tangled together the sublime and the ridiculous, the avant-garde and the party soundtrack, into one Technicolor spectacle. A gigantically rotund DJ and his collection of dancers dressed as clowns in jumpsuits with false bellies danced until their feet were blurs to South African Shangaan tribal music mixed with hyperspeed techno. After all this, the haunted, disjointed Gothic electronica of Hype Williams, performing masked and illuminated by psychedelic strobes, seemed downright sane (and, delivered with crisp clarity, even more affecting than their tape-hiss and distortion-shrouded recordings).
Watch a clip of Shangaan Electro at Sónar 2011
Out at the night-time Sónar by Night mega rave, we were equally spoiled for choice. Californian loonball Gaslamp Killer and Portuguese-Angolan party monsters Buraka Som Systema delivered the same types of set they had at the Taste of Sónar event in London, only on a far, far grander scale. Some of the finest pure techno of the weekend was played by Surgeon, Jackmaster and the unsung Italian master of the genre, Lory D. Mary Anne Hobbs's demonstration of the variety of current bass music had 15,000 people's rapt attention at 4am (pictured below).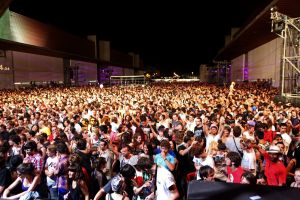 Shackleton's set was apocalyptic, yet strangely comforting as ever, but showed a major move forwards with rich chords and rippling melodies beginning to rise up from his trademark percussion, bass and echoes. And perhaps best of all, the duo of Africa Hitech showed that the most jagged and disjointed of grime and electro rhythms could work as populist dance music – when underpinned by monumental bass notes and embellished with Steve Spacek's soaring, gospelly soul voice.
Is Sónar, as was suggested to me on the Thursday, a return to the values of the early days of dance music in Ibiza? Well, no – it is a move forward from them. It is a way of expanding and showcasing the appeal of underground music to tens of thousands of people at a time, without becoming the kind of lowest-common-denominator cattle-herding exercise that mainstream dance, as epitomised by Ibiza, seems to have become since the mid-1990s. Sónar demonstrates that with high enough production values and attention to detail, gleeful hedonism and musical connoisseurship can go together like hand in glove. Never mind comparisons with the old days: this is how festivals were always meant to be in the 21st century.
Rodigan has all the vocal power, vigour and belief of the great reggae dancehall deejays
Explore topics
Share this article