Peaky Blinders, Series 3, BBC Two |

reviews, news & interviews
Peaky Blinders, Series 3, BBC Two
Peaky Blinders, Series 3, BBC Two
Further down the road to perdition with Tommy Shelby and family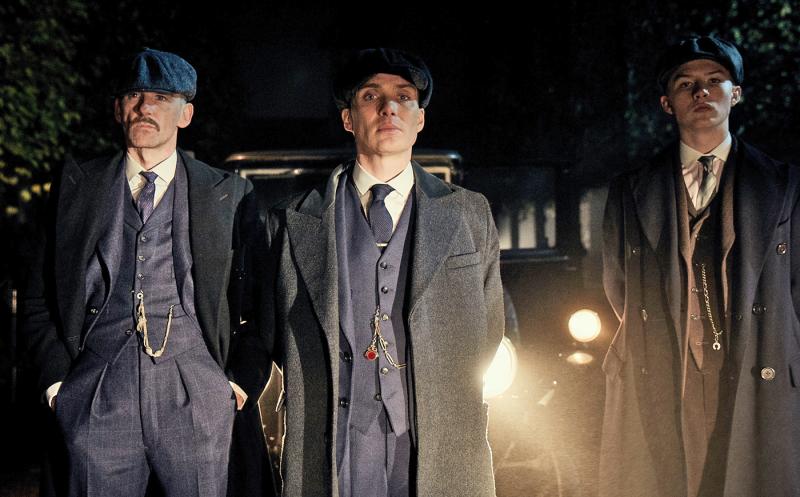 A triad of Shelbys: (from left) Arthur (Paul Anderson), Tommy (Cillian Murphy) and Finn (Harry Kirton)
Sometimes compared to Boardwalk Empire or The Wire, and raved over by the likes of Brad Pitt, Snoop Dogg and even Jose Mourinho, Peaky Blinders opened its third series by becoming positively Godfather-esque. Writer Steven Knight whisked us away from the satanic mills of Birmingham to Tommy Shelby's sprawling Warwickshire mansion, where the Peakies supremo was trying to celebrate his unexpected wedding to Grace.
It was a fraught gathering of clans, set in a tenebrous anti-Downton. The extended Shelby brood, which teems with brothers and cousins and aunts like dynastic knotweed, is never more than a couple of drinks away from an outbreak of ultraviolence, when they're not upstairs indulging in sex and drugs with posh girls looking for cheap thrills. The fact that Grace comes from an Army family, many of whom turned up in crimson cavalry uniforms, guaranteed that there would be friction. "It's full of gypsies and blacks," snorted one appalled officer, surveying the party's ruffianly clientele (pictured below, Annabelle Wallis as Grace with Richard Dillane as General Curran).
In the event, this amounted to little more than a bout of drunken fisticuffs in the garden. Much more concerning for Tommy, as he considered his strategic options for the increasingly lucrative yet ever-more-hazardous family business, was his ongoing deal to sell weapons to the White Russians, in their struggle (this being the early Twenties) against the Bolsheviks. For all Tommy's ruthless displays of command and control of his gang, he knows he's powerless to break the grip of the apparatus of the British state and the shadowy manipulations of Winston Churchill, who have coerced him into the Russian deal. A flashback to Tommy's terrifying escape from a gangland execution a couple of years earlier rammed the point home.
It's a long way from the Peaky Blinders' origins as a bunch of bookies and race-track spivs, and these fictional Peakies apparently bear scant resemblance to their real-life namesakes (who existed about 30 years earlier than the time-frame depicted here), but the series is fuelled by its distinctively lurid tone and rollicking pace. The use of jarringly ahistorical rock music (including Nick Cave's "Red Right Hand" and Radiohead's "You and Whose Army") lends the proceedings an overheated, Guy Ritchie-like flavour, as Cillian Murphy imbues Tommy with a robotic menace which reaches chilly tentacles through the TV screen. His atavistic attachment to his family, right or wrong, gives him his remorseless inner propulsion. Aunt Polly (Helen McCrory, pictured below, who looks as if she's been marinated in vinegar) is a lady emphatically not for turning, while Tommy's war-damaged brother Arthur (Paul Anderson), afflicted with a disturbing Adolf Hitler haircut, is a whole bunch of collateral damage waiting to happen.
It was Arthur who brought us the homicide du jour, when he was tasked with taking out a Communist spy trying to scupper the arms plot. There was a glimmer of wit when a police officer (on the Shelby payroll, inevitably) brought the Russian Royalist envoy to Tommy's stately pile. "The Grand Duchess Tatiana Petrovna from Tbilisi, Georgia," he announced grandly, before introducing her to "the Shelby brothers, Small Heath, Birmingham."
We irised out as the Shelbys returned to the stygian dystopia of downtown Birmingham, where they stash their wads of illicit cash in a huge vault. "And you're willing to gamble it all on one robbery," said Polly. "I'm a gambling man, Pol," said Tommy. How long can crime continue to pay?