Botticelli Reimagined, Victoria & Albert Museum |

reviews, news & interviews
Botticelli Reimagined, Victoria & Albert Museum
Botticelli Reimagined, Victoria & Albert Museum
Was the Renaissance master a pioneer of brand identity?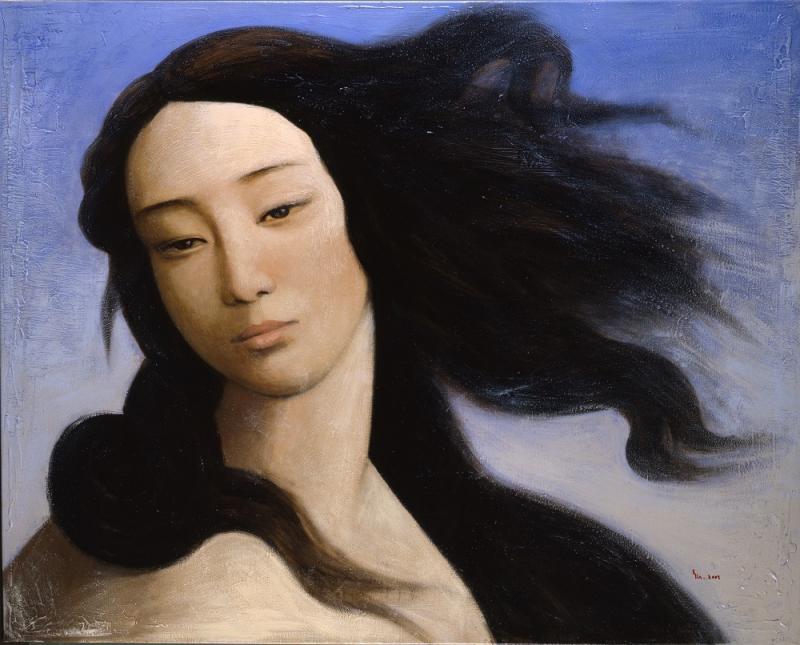 Yin Xin, Venus after Botticelli, 2008
A gallery chock-full of Botticellian lips and tits is no place to start disputing the central premise of this show, that the Florentine artist's paintings are woven into the fabric of our collective visual consciousness. From tuppenny ha'penny statuettes to a Dolce & Gabbana trouser suit printed with fragments of the Birth of Venus, Botticelli's most famous paintings, whether in spirit, pastiche or frank reproduction, are everywhere.
And if Ursula Andress emerging from the sea in
Dr No
is the most effortless of knowing references to Botticelli's great painting, French performance artist ORLAN's fixation with it surely implies some fundamental, universal resonance.
Evidence of the extent to which Botticelli's Venus has become naturalised into our visual lexicon is no more compelling than in Rineke Dijkstra's Beach Portraits, 1992. There are no warm Mediterranean waters here, or sultry breezes to push Venus to shore, but the contrapposto sway of the body, the windblown hair and the melancholy gaze are unmistakable and yet, we are told, entirely accidental.
We only need the slightest of cues to recognise the reference: in Alain Jacquet's Camouflage Botticelli paintings from the early 1960s, it is the hair streaming out to one side that makes the allusion clear, even when Venus's shell has been subsumed into the branding of Shell oil.
It's a powerful testament to the emblematic quality of Botticelli's work, his early training as a goldsmith's apprentice generally credited with nurturing his unmistakable linear style and mastery of disegno. Certainly, the ease with which Botticelli's Birth of Venus can be reduced to a motif is an important element of its success (main picture: Yin Xin, Venus after Botticelli, 2008). And then there is the face: disarmingly modern, it slips all the more easily into advertising imagery, film and fashion. The alarming contortions involved in creating such an alluring outline go entirely unmentioned; whether our easy acceptance of the unnaturally stretched neck and oddly-attached arms is evidence of Botticelli's artistry or our warped expectations for female beauty is a moot point.
To claim that Botticelli's most famous goddesses are ubiquitous just because he created a sort of ultimate pin-up is to do him a disservice, but the reasons for their exceptional hold on us remain elusive and are never fully examined here. The absence of Primavera, 1477-82, and the Birth of Venus, 1482-5, neither of which will ever again leave the Uffizi, leave us unable to analyse these superlative paintings in any meaningful way.
Nevertheless, Botticelli's images have always been eminently reproducible, not just latterly, but by the artist himself, his workshop and his followers (pictured above right: David LaChapelle, Rebirth of Venus, 2009). Dedicated to Botticelli's art in his own time, the final part of the exhibition shows, as the curators put it, the "variety of ways in which a painting can be 'by' Botticelli", highlighting the problematic tendency, prevalent in connoisseurship of the 19th and early 20th centuries, to favour the notion of the single, autonomous master.
Early efforts to define the distinguishing characteristics of an artist's hand in a systematic way struggled to take full account of the workshop system of the Renaissance, which in Botticelli's case was large and extremely busy. From multiple iterations of a Virgin and Child, instantly recognisable as Botticellian but painted variously by his workshop, or even by artists with little or no connection to the master himself, we can see how Botticelli's images have consistently been reused and repurposed.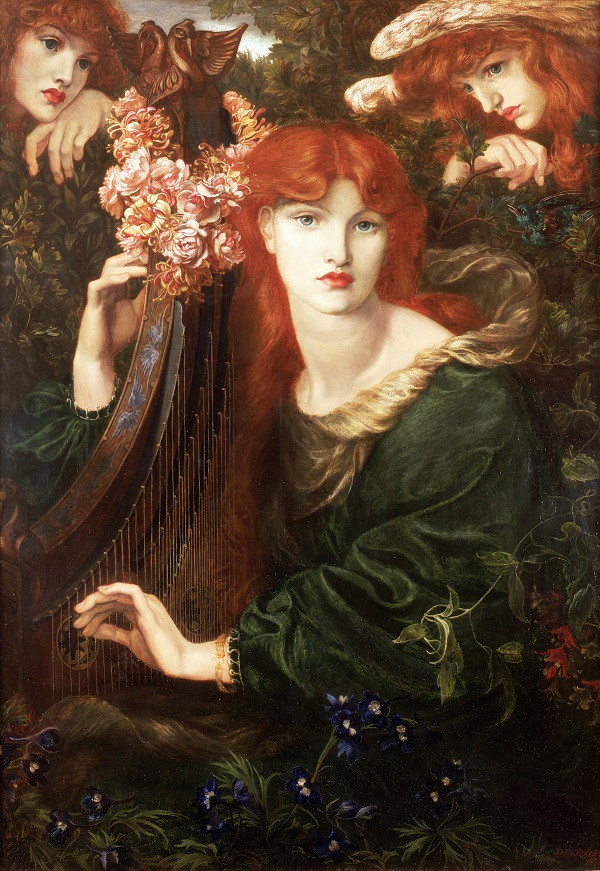 Picking our way through a bombardment of derivative imagery, some good but much not so, it's worth remembering just how recently Botticelli was rediscovered. While Raphael, Michelangelo and Leonardo have enjoyed sustained and undimmed reputations, Botticelli's fame was already on the wane by the time of his death, and he disappeared into complete obscurity until the 19th century.
It's hard to imagine how the history of art looked without him, and the middle portion of this exhibition is dedicated to the rehabilitation of Botticelli's reputation not just by connoisseurs and collectors, but by Pre-Raphaelite painters like Dante Gabriel Rossetti and Edward Burne-Jones, whose aesthetic values chimed with Botticelli's lush draperies, gorgeous women and quasi-pagan iconography (pictured left: Dante Gabriel Rossetti, La Ghirlandata, 1873).
The emphasis is on the assimilation and influence of Botticelli's imagery in 19th-century art, but a more interesting current runs alongside the principal theme. Copying was an important aspect of the study of art in the 19th century and not just for artists. Good copies were an essential tool for the nascent discipline of art history, and were a cornerstone of the collections on display in the new public museums and galleries, like the V&A itself and its famous Cast Courts.
Naturally, Botticelli's revival in the 19th and early 20th centuries offered tempting opportunities for forgers. Easy to miss here, but worth seeing for its folkloric value alone, is the Madonna of the Veil, once thought to be by Botticelli and now known to have been produced in the 1920s by Italian forger Umberto Giunti. Botticelli's women are celebrated for their timeless beauty, but the wonderful irony is that this forgery was discovered when the eagle-eyed Kenneth Clark recognised the carefully preened eyebrows and rosebud lips as entirely 20th century and incriminatingly reminiscent of the film star Jean Harlow.
Botticelli's images have consistently been reused and repurposed
rating
Explore topics
Share this article