Best of 2015: Theatre |

reviews, news & interviews
Best of 2015: Theatre
Best of 2015: Theatre
The Court rallied, Imelda sang out, and some centuries-old titles got reminted anew
Tuesday, 29 December 2015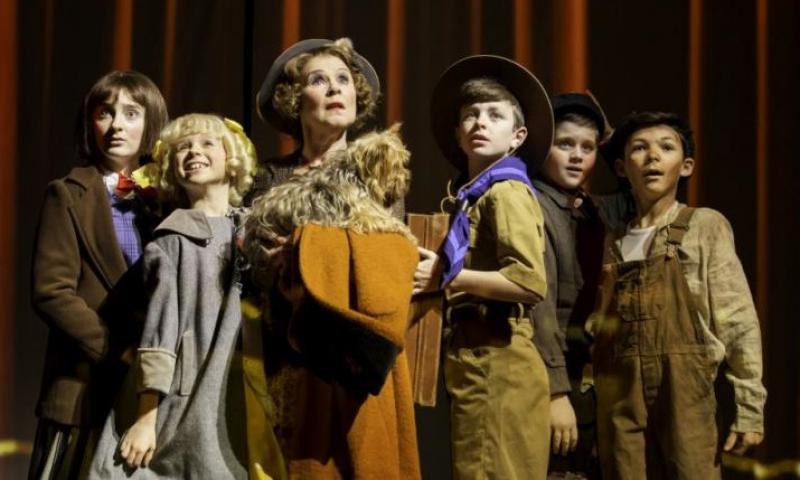 One for the ages: Imelda Staunton (centre) as Momma Rose in 'Gypsy'
Say what you will about London theatre during 2015, and by my reckoning it was a pretty fine year, there certainly was a lot of it. I can't recall a year that brought with it a comparable volume of openings, not least during September and December, this year's pre-Christmas slate of major press nights roughly double the same time period in 2014. And as proof that people were actually attending the stuff on offer, empirical evidence as ever was the best guide.
One late-November Saturday on my way to an evening show, I counted six House Full signs while weaving through the West End, and for a wildly diverse array of work ranging from a Broadway musical transplant (
Kinky Boots
) to an impishly ailing Mark Rylance (
Farinelli and the King
) and on to a beloved funny lady (
Dawn French
's latest), with other sellouts claiming their share of the public, as well.
And, frankly, any year in which Aeschylus's Oresteia could of all unlikely titles achieve an extended West End run seems worth celebration. So, herewith and in no particular order are 10 nights that I look back on in several cases with something approaching wonder, even as we look ahead to 2016.
1. Beyond Caring, National Theatre / Temporary Theatre
"The mass of men lead lives of quiet desperation," or so Thoreau famously wrote, a truism that was confirmed anew by writer-director Alexander Zeldin's beyond-beautiful play, first seen in 2014 at the Yard Theatre in Hackney before taking up a National Theatre perch in the spring. Telling of three women employed on the night shift in a sausage factory, the play, devised in collaboration with its cast of five, folded the political into the personal so seamlessly that you could scarcely tell where anger left off and empathy took over. The production had a haunting effect on playgoers, one of whom fainted at the performance I attended. No matter: the show went on just as life itself does.
2. Eventide, Arcola Theatre
The fast-rising playwright Barney Norris met with a prolonged success (and an award or two) on the occasion of his debut play Visitors, but this sophomore effort was, if anything, even more gently telling in its depiction of the Forsterian need to connect as here centred around the comings and goings of three people in a Hampshire pub. Somewhat akin in both theme and affect to Patrick Marber's return to the playwriting fold during 2015 with The Red Lion, the director Alice Hamilton's properly unforced staging located genuine poetry in the quotidian and elicited a performance to treasure from James Doherty as a jokester of a publican in thrall to drink and quietly waiting his turn to re-enter life's dance.
3. Four Minutes Twelve Seconds, Trafalgar Studios 2
Boys will be boys, but what happens when they cross the line and even their most doting parents no longer can excuse their actions? This question was among the multiple quagmires addressed by James Fritz's staggeringly fine play, which burst the confines of the Hampstead's studio theatre downstairs, transferring for a limited West End run at the Trafalgar as The Wasp did after it (and Firebird will early next year). Cunningly telling of shifting alliances and allegiances without ever bringing 17-year-old Jack on to the stage, the play instead constructed a Rashomon-style moral maze out of facts that turned out to be as subject to debate as the apparent strength of Jack's parents' marriage, as it started to fray under duress. Anna Ledwich directed with a firm eye for ethical and psychological slippage, and Jonathan McGuinness (pictured above, photo by Ikin Yum) headed an ace cast.
4. Gypsy, Savoy Theatre
Musicals, it seemed, were comparatively thin on the ground this year, especially new musicals and especially new British musicals, a category in which the overrated Bend It Like Beckham commandeered kudos seemingly by default. All the more reason, then, to savour Jonathan Kent's Chichester Festival Theatre production of Gypsy as a reminder of the heights to which the form can aspire, though even then Imelda Staunton's rabid embrace of the daunting part of Momma Rose existed a league apart. It's often said with some exaggeration that someone or other's performance constituted the stuff of legend. No hyperbole on that front here: this was one for the memory banks and, luckily, for BBC Four, which aired it earlier this week.
5. Hangmen, Royal Court Jerwood Theatre Downstairs + Wyndham's Theatre
It's not every night that one can feel an audience smiling as one, but that was the palpable effect on the matinee crowd amongst whom I first caught Martin McDonagh's first London premiere in over a decade. (In between, he opened the disappointing A Behanding in Spokane on Broadway: a play as yet unseen in Britain.) And guess what: when Matthew Dunster's superlative production transferred to the West End, the corresponding giddiness was even more evident. For that response, credit a cast, headed by Johnny Flynn and David Morrissey, alive to every nuance of this author's none-too-pleasant landscape which nonetheless co-exists with a clear-eyed compassion – think, for starters, of the play's finally beneficent take on the misbegotten young Shirley – that makes one hope we don't have to wait 12 years for his next play.
6. Husbands & Sons, National Theatre / Dorfman
The National displayed something of a fetish for textual filleting this year, between the Bristol Old Vic's Jane Eyre, a play whose narrative techniques directly recall the heyday of Nicholas Nickleby, and this ravishing distillation by Ben Power of three DH Lawrence plays: A Collier's Friday Night, The Widowing of Mrs Holroyd, and The Daughter-in-Law. And while the action in Marianne Elliott's superlative production was often mimed, there was no mistaking the depth of feeling that emanated from a stage alive with activity in the mining village of Eastwood, Lawrence's hometown, in 1911. The poster for the play showed a begrimed Anne-Marie Duff (pictured above), who previously illuminated Elliott's feral take on Shaw's Saint Joan, but in truth this was ensemble acting at its absolute best: a theatrical symphony with Elliott the inestimable conductor.
7. Man and Superman, National Theatre / Lyttelton
Can work onscreen transform your work onstage? That was one way of thinking of the newly playful Ralph Fiennes, who in the aftermath of his delirious star turn in The Grand Budapest Hotel took hold of the director Simon Godwin's delicious revival of Shaw's rarely staged play like a rhetorically gifted kid handed the most amazing verbal toolbox. And play Fiennes did, relishing the language and firing up every ripe Shavian passage as if language were itself the ultimate aphrodisiac. One might have wished for a warmer sparring partner than Indira Varma, but the production and Fiennes silenced all doubts, reminding us in the process of the invaluable resuscitation that the National has performed on Shaw over the past few years.
8. Medea, Gate Theatre
"She plays Medea later this week," the antic Pseudolus chirrups in the opening number of A Funny Thing Happened on the Way to the Forum, but those Stephen Sondheim lyrics written in jest seemed to speak to the frequency of Euripides's tale of infanticide as performed in three successive productions in the capital within 15 months. Of that sequence, surely the least-heralded and also the most surprising was this restaging for west London's tiny Gate of Australian director Anne-Louise Sarks's Sydney version, which dared to tell this grievous narrative from the point of the view of Medea's doomed, short-lived sons. Revising the text with writer Kate Mulvany so as to render Medea herself a supporting role and get rid of all the other adults entirely, Sarks allowed an unforgettable glimpse into the young victims' view of the older generation's ferocious vendetta: 70 minutes have rarely seemed swifter or more searing.
9. Oresteia, Almeida Theatre + Trafalgar Studios
More Greeks, more violence, and longer, Robert Icke's revisionist approach to three of the oldest plays ever written as presented under their common moniker was the sort of directorial calling-card that put one in mind of a young Stephen Daldry, when he suddenly leapt into the broader consciousness with An Inspector Calls at the National Theatre in 1992. Icke was at every turn true to the spirit of Aeschylus's searching inquiry into vengeance, retribution, and domestic and civil realpolitik, but everything about the look and the sound of the production felt fresh, and I shan't soon forget the sight of a piercing Lia Williams (Klytemnestra) dragging the imposing Angus Wright (Agamemnon) across the stage: the sort or exercise regime they don't offer at Fitness First.
10. Violence and Son, Royal Court Jerwood Theatre Upstairs
The Royal Court had a notably fine year (we'll pass over The Twits, a strong candidate for flat-out dud of 2015), nowhere more so than in their studio space upstairs, which challenged audiences across a spectrum of work ranging from Michael Wynne's bracing, NHS-themed Who Cares – necessary viewing and not just during an election – to Mia Chung's current, and thrillingly kaleidoscopic, You for Me for You. But Violence and Son from Welsh writer Gary Owen was especially transfixing in its portrait of a volatile father (Jason Hughes, superb) and his Doctor Who-loving teenage son (David Moorst, pictured above with Morfydd Clark, photo by Helen Maybanks) with whom he is landed, much to the displeasure of both parties. Edgily funny in parts but finally harrowing, the play was inseparable from Hamish Pirie's exact and exacting production, and newcomer Moorst later emerged victorious at the Evening Standard Theatre Awards as a fresh talent who has something about him of a young Eddie Redmayne. And, in this play, a way with a lippy rejoinder that was second to none.
A newly playful Ralph Fiennes took hold of Shaw's rarely staged play like a rhetorically gifted kid handed the most amazing verbal toolbox
Explore topics
Share this article