Madonna - Rebel Heart Tour, The O2 |

reviews, news & interviews
Madonna - Rebel Heart Tour, The O2
Madonna - Rebel Heart Tour, The O2
Sensational energy and stage drama overcome mixed material
Wednesday, 02 December 2015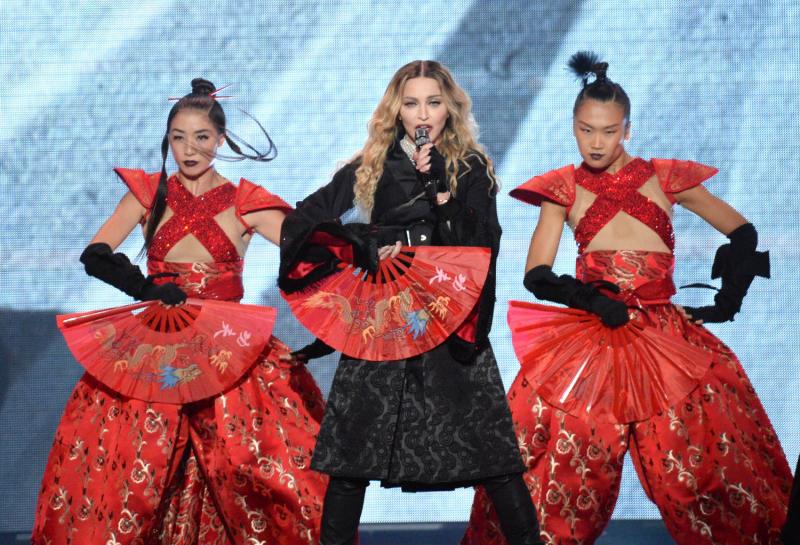 'Bitch I'm Madonna'
Last night Rebel Heart began to make sense. For over two hours, performing from the album, her back catalogue, and a couple of well-chosen covers, Madonna sustained both a diversity and intensity in her approach to singing about love and sex that probably no-one else could match. We all knew she could sing "Material Girl" or "Like A Prayer" till the lid came off the O2.
When she followed those with Edith Piaf, sung to the ukelele, and held nearly 20,000 people in rapt silence, she gave us a much better idea of what makes her rebel heart beat.
The first 40 minutes was a barrage of the new album's spikiest songs, opening with "Iconic", and "Bitch I'm Madonna", performed with the chorus dressed as slightly camp reenactment Crusaders (pictured below). Chance The Rapper and Mike Tyson, who feature on the recorded version of "Iconic", couldn't be with us, unfortunately, though it didn't prevent both songs tripping over their own bassline, and making much more impact on the eardrums than the heart. The situation wasn't improved by a fuzzy sound quality that boomed and rattled like the stereo in a pimped-up Ford Fiesta.
The gymnastics are more startling than the blasphemy
What the sound quality lacked was more than made up by spectacular staging and choreography. There was a long, crucifix-shaped thrust stage, that took Madonna to the middle of the arena (the "head of the penis", as she described it), and gave her the opportunity to connect more personally with her fans. (At one point she seemed to be kneeling down by the edge so that they could stroke her hair.) The screen behind the main stage was vast, and the video montages were spectacular, though they also had the de-humanising effect of making the performers seem tiny and remote. Bigger isn't always better.
One of the slickest songs dramatically, "Holy Water" had incredible acrobatics from both Madonna and the "nuns" in wimple and g-string, one of whom gripped a vertical dancing pole with only her thighs, while Madonna stood on her stomach. (No doubt about her pelvic floor.) The routine ended with Madonna lying on her back, legs open, on a mock-altar, singing "Yeezus loves my pussy best". While this kind of thing was properly shocking when Madonna started doing it in the 1980s, you can't imagine Pope Francis (with his own album to promote, after all) doing much more than smile in amusement. Today, the gymnastics are more startling than the blasphemy.
There was more engaging choreography in "Body Shop", with a backdrop of 1950s diner and garage, and one of the album's more sensitive lyrics, comparing the repair of a car with the disintegrating human body. Most effective, though, were the routines that took place on the thrust. The best, "HeartBreakCity", featured just Madonna and one male singer on a spiral staircase in the centre of the arena, ending with him pushed from the top into an invisible landing pit behind.
Though she seemed – understandably – to forget at times where this whirligig of a show was going next, Madonna's energy never flagged. There was something very touching about her rendition of "La vie en rose", unaccompanied apart from her own ukelele, perched on a console in the centre of the stage. Where "Bitch I'm Madonna" had made the arena feel huge, this song, and "Diamonds Are a Girl's Best Friend", shrank the hall, and gave the big tent that rarest of performing qualities, intimacy. If Madonna is staking her pitch for posterity, she's aiming high with Edith Piaf and Marilyn Monroe. It worked, though.
The new album is still something of a blunderbuss
As the show progressed, the routines became less shrill and more fun, the costumes and choreography evolving into ever-wackier forms. "La Isla Bonita", "Into the Groove", and "Who's That Girl" tumbled over one another in a flurry of maracas, rose silk gowns, and increasingly, as the show progressed, more chat with the audience. Madonna was a warm, effective improviser, always staying half in-role, but revealing enough of herself to connect emotionally.
Where the New York show had Amy Schumer, London had Graham Norton, though not in an advertised supporting role, but a surprise cameo. Madonna did a kind of limbo dance through his legs, then they shared some banana-themed banter – as innuendo-merchants, it would be difficult to find a better pair – then he had his bottom spanked and was gone. The show ended with a string of sure-fire hits, and as she vanished, on a trapeze, through the curtain to the closing bars of "Holiday", she had surely quelled all talk of declining superstar powers.
The new album is still something of a blunderbuss, Madonna's traditional knack of taking an underground movement mainstream feeling a bit late to the party this time (a rap with Mike Tyson?), crass rather than provocative ("Holy Water", etc) and unfocused, containing a bit of everything, musically, in the hope that something might work out. Yet as a live show, it was a sensuous portrait of everything from gaudy gross-out to tender confessional. To fit all of that into a single show, crammed with colour, melody and action, more than 30 years into a career, is extraordinary, and begins to tell us what a rebel heart might be.
The Rebel Heart Tour continues at O2 Arena tonight, with dates in Birmingham, Manchester and Glasgow later in the month