Madonna, Hyde Park |

reviews, news & interviews
Madonna, Hyde Park
Madonna, Hyde Park
The MDNA tour finds Madge disastrously sapping the joy out of even her most triumphant choruses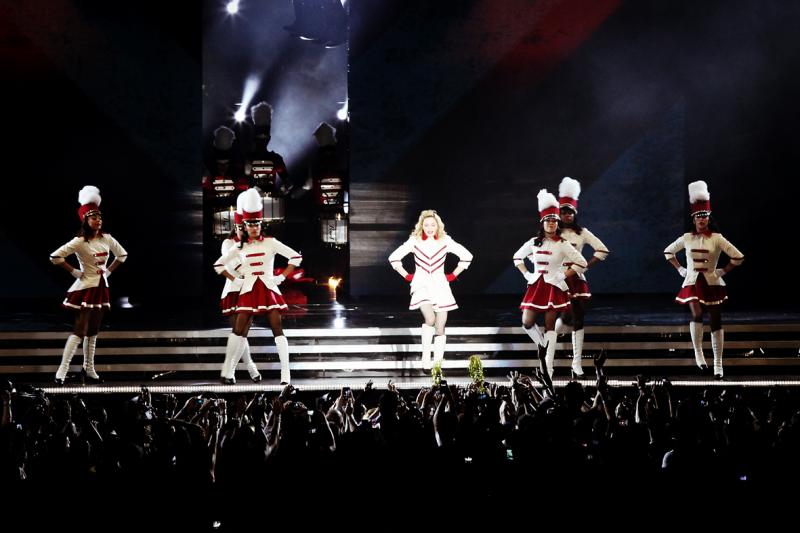 No concept: Madonna doesn't entertain 65,000 troops in Hyde Park
Madonna earned her place in the pop elite many years ago, and there are many reasons for this, which needn't be reduced into a list. Certainly though, a big reason will be the obvious - how much better her fans' lives are with her songs in them.
And 65,000 of them turned up in Hyde Park to see the spectacle and dance to the hits. Her latest album
MDNA
may be a weak, disengaged affair with singles that have failed to chart well, but with a back catalogue like no other, there was a huge expectation that its best moments may be reinvigorated for the live setting - or at least swarmed with familiar highs.
The biggest surprise was that the MDNA tour felt even more disconnected from the fans than the album. The joy was sapped out of even her most triumphant choruses, with Madonna being dragged around in the lower regions of the stage, hidden out of sight rather than forward-facing, presenting and communicating her music. The presence in the set list of largely untreasured album tracks such as "Candy Shop" felt disrespectful; sure, Madonna's in control, but whoever thought this would have worked made a decision out of touch with the fans.
It all felt like a huge gathering of fans watching a rarities DVD
"Like A Virgin" was reworked with Abel Korzeniowski's "Evgeni's Waltz", a piece on the soundtrack to her flop film W.E. - there was no post-song applause as the chorus drifted away incomprehensibly and a dancer pulled tighter on Madonna's corset strings. The ABBA sample on "Hung Up" was similarly stripped, and the song was devoid of punch. "Gang Bang", from the new album, was presented more as an extended video than something that might work for a live show of this scale. It featured Madonna contorting on a bed, laden with a gun while huge extravagant projections lit the screen with blood-like splatterings every time she pointed it at her lover. This absence of concept would have worked had the song been strong, but unfortunately it was the template for much of the set.
While the set list was never going to please every fan, this approach lacked a consistent concept to underpin its staunch disregard of the big hitters. Largely, it all felt like a huge gathering of fans watching a rarities DVD: there was a dry lack of atmosphere and connection. An obscure rework of "Open Your Heart" reduced a cheerful song to sinister background noise.

Only untouched versions of "Vogue", "Human Nature" and "Like a Prayer" saved this show from being an utter disaster. On "Like a Prayer" the audience danced as if it was the first time they'd connected with music. Two hours passed like a black hole, attention never capitulating even for the multi-budget set. The set-closer "Celebration" (a modest song exclusive to her greatest hits collection of the same name) said it all. Rather than bowing out on "Like a Prayer", she chose an unfamiliar chorus which just underlined the sense of disconnection. Is an acoustic album the next sorry step?
A fan near the front films 'Like a Virgin' in Tel Aviv on the MDNA tour