U2, O2 Arena |

reviews, news & interviews
U2, O2 Arena
U2, O2 Arena
Veteran quartet deliver object lesson in live presentation
Listen up! Bono practises megaphone diplomacy
Some artists you'd only ever want to see in a club or a theatre, but if ever there was a group who belonged naturally in stadiums and arenas, it's U2. They have a history of elaborate stage productions, and for this tour, focusing on last year's album Songs of Innocence, they've shown the opposition a clean pair of heels with a remarkable show based around a wall of screens that stretches out towards the back of the auditorium.
It's a kind of rock'n'roll IMAX, projecting giant blow-ups of the band in action or dazzling panoramas of imagery to illustrate the songs. Particular attention has been lavished on a chunk of the Songs of Innocence material, which opened with "Iris (Hold Me Close)", Bono's ode to his late mother and which was illustrated with home movies of his parents' wedding as the singer advanced down a catwalk into the midst of it. "Cedarwood Road" triggered an animated film of the street, and the house, in Dublin where he grew up, the nostalgic theme continuing through the touching "Song for Someone".
A non-stop barrage of most of the songs you'd ever want to hear
Then the going got rougher. For "Sunday Bloody Sunday", a controversial piece back in the day, the band trooped out down the long central gangway like a marching band, with Larry Mullen playing the snare drum hung round his neck. Then they were into "Raised by Wolves", a recollection of the murderous 1974 car bomb attacks in Dublin. A graphic depicting a car about to explode gave way to photos of the victims, info-bites about how the perpetrators were never caught, and a banner saying "Justice for the Forgotten".
You might question whether you go to a rock show for a seminar on history and politics, or for that matter to be bombarded with audio-visual leaflets promoting Bono's assorted good causes (AIDS, poverty, starvation and the refugee crisis all got a mention during the show, with plugs for Amnesty International and (RED), Bono's AIDS-fighting charity). It began to look like a trade fair for relief agencies, and there was even a soundbite from Stephen Hawking telling us "we must become global citizens". But U2 have been doing this a long time, so if you don't know them by know, you probably won't be at these shows anyway.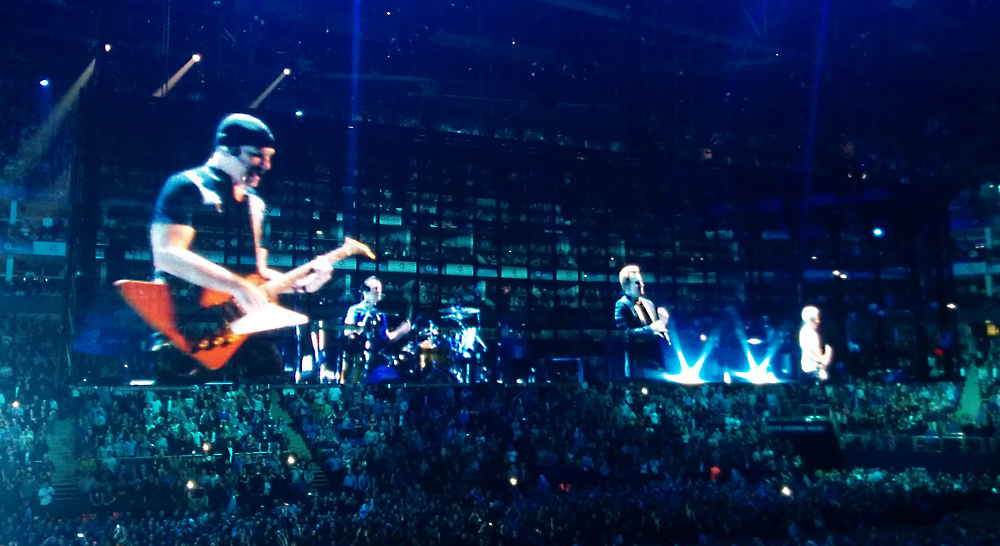 What the band still do spectacularly well is pull you inside U2-world for the evening. It's a bit like Steve Jobs's "reality distortion field", where the universe is remade the way they want it to be for (in this case) two and a half hours. And it works, not least because they delivered a non-stop barrage of most of the songs you'd ever want to hear. An early surprise was a jog through "Gloria" (from 1981), a late one a nifty version of "Bad", which they once played at Live Aid. Edge's thrilling guitar-skirl in "I Will Follow", from their debut album, hasn't lost any of its spine-tingling power. "Even Better Than the Real Thing" throbbed urgently, while "Elevation" and "Beautiful Day" reminded you that, for all the high-concept stuff, they've always had a sure grasp on how to concoct a hit single. Or even a hit single with a message, as in "Pride". For "Mysterious Ways", Bono pulled a rather beautiful girl from Sarajevo out of the crowd to move in a mysterious way and film them with a smartphone, apparently not realising she'd already done this on a previous night.
Old dogs, new tricks. They'd revamped "The Fly" as a piece of ambient techno, and used it as a soundtrack for a virtual Berlin Wall stretching down the auditorium, daubed with slogans and graffiti. "Bullet the Blue Sky" had been re-fashioned as a self-contained mini-drama, Bono delivering a monologue about whether age and success had erased the radical feistiness of his youth. Screen images of street protests ended with a menacing shot of a line of riot police advancing towards us.
It transpired that the end had been contained in the beginning. They'd opened the show by playing Patti Smith's "People Have the Power" over the PA, and they closed it by pulling the real Patti Smith (pictured above by Samy Smith) on stage to sing the song live. "I believe everything we dream can come to pass through our union," go the lyrics. In rock'n'roll, nothing is impossible.
U2 play the O2 Arena Friday 30 October and 2/3 November, Glasgow SSE Hydro 6/7 November, Belfast SSE Arena 18/19 November and Dublin 3Arena 23/24/27/28 November