Doctor Foster, Series Finale, BBC One |

reviews, news & interviews
Doctor Foster, Series Finale, BBC One
Doctor Foster, Series Finale, BBC One
Gripping melodrama reaches its conclusion
Thursday, 08 October 2015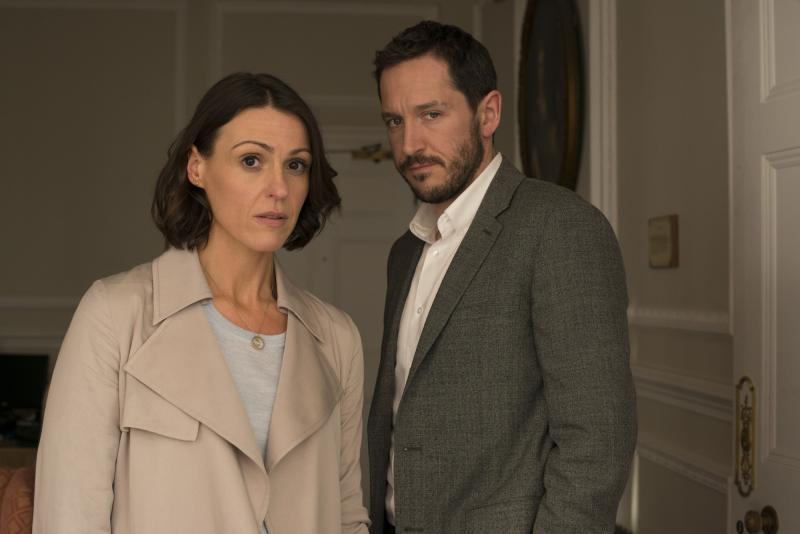 Suranne Jones and Bertie Carvel were terrific as Gemma and Simon Foster
Revenge dramas are such a guilty pleasure - there's a vicarious thrill in watching a baddie being taken down in a way that we might wish to, but never would, in real life. And boy, but did Gemma take down cheating husband Simon in the closing episode of Mike Bartlett's Doctor Foster. Senior GP Gemma and hip property developer Simon's perfect life, with their perfect house and their perfect son was, of course, anything but - and finally it all came crashing down.
Waiting for Gemma to exact her revenge on Simon over his relationship with their friends Susie and Chris's daughter, Kate (a wonderfully petulant Jodie Comer, pictured below), young enough to be his own daughter, has been a pleasingly slow burn, with plot twist after plot twist. And while we may have been screaming at the telly for Gemma to tell the weaselly Simon she knew about his affair, there was far more pleasure in watching her bide her time as she systematically destroyed his life and business. And indeed more time to enjoy terrific performances from Suranne Jones and Bertie Carvel.
The betrayal – by friends, colleagues and neighbours – was shocking and painful to watch
Even in the final episode, after she had told Simon she knew about Kate, and it looked as if Gemma had gone all Medea on us and killed their son to spite his father, there were several more plotlines to be played out before the hour was over. There were other people she wanted to get even with...
It started with possibly the worst dinner party since Titus Andronicus invited Tamora's family over for meat pie, as Gemma and Simon turned up unannounced at Susie and Chris's house. Gemma proceeded to tell all – about the affair, Kate's abortion and Simon's failing business. But she wasn't the only person with secrets to blurt out, as Kate revealed she was still pregnant and it transpired that Chris hadn't told Susie about his involvement with Simon's company. What a tangled web...
When the series began, we had thought Gemma was the wronged party in Simon's cruel infidelity. But as her backstory was filled in and we learned that almost everybody in her life knew about it, we began to gather why they all had kept shtum. Quite simply, they really didn't like her, or her perfect life.
Their dislike was a mixture of envy and spite, and the betrayal – by friends, colleagues and neighbours – was shocking and painful to watch; in the last episode even Anna (Victoria Hamilton), whose husband Gemma had slept with, managed to gloat at Gemma's life falling apart, and when son Tom (Tom Taylor, terrific) confessed even he didn't like her, it was heartbreaking.
A
dmittedly some of Doctor Foster was preposterous – Gemma getting a patient to aid her sleuthing in return for medication, threatening her boyfriend with violence, Gemma and her colleague Ros (Thusitha Jayasundera) breaching patient confidentiality at will – but as the five-part series developed this looked less like laziness on Bartlett's part and more an understandable keenness to get to the heart of the story, so it was forgiveable.
And besides, he threw in some cracking red herrings – the revelation in the first episode that Simon couldn't swim, for instance, didn't lead to a watery grave for him, rather a lasting emotional mire – and there were some neatly planted clues, such as the connection between Whitestone, the mysterious investor in Simon's company, with Pierre Blanche, the villa in France owned by Kate's parents.
For those rooting for Gemma, the conclusion was not entirely satisfying. She didn't quite destroy Simon; although he was no longer part of Tom's life after his assault on his ex-wife, he started anew with Kate and their child. And in what was otherwise an admirably neutral drama it was disappointing that Bartlett gave Tom a speech in which he appeared to suggest that Gemma's commitment to her work was to blame for their unhappiness – and, by extension, Simon's infidelity. But then, nobody's perfect.