Prom 49: Hardenberger, Boston SO, Nelsons |

reviews, news & interviews
Prom 49: Hardenberger, Boston SO, Nelsons
Prom 49: Hardenberger, Boston SO, Nelsons
The masterly Latvian and his American orchestra stun in toweringly great Mahler
Andris Nelsons: an inventory of dramatic faces
So here he was in town with his top American team, the already great conductor whose premature departure from Birmingham has left the players in mourning, unable to choose a successor yet, and whose insistence that it was too early to take up the coveted post of the Berlin Phil's Principal Conductor blocked what should have been an obvious choice.
During their first season together, Andris Nelsons and the Boston Symphony Orchestra have already plunged into a series of Shostakovich recordings with a Tenth Symphony of shattering perfection, leading to high hopes that their Mahler Six last night would be equally impressive. And it was.
Quality struck within seconds of the first work on the programme, Brett Dean's Dramatis personae for trumpet and orchestra (its first Proms performance, but Håkan Hardenberger gave the UK premiere with Nelsons in Birmingham, and lucky Londoners had already been able to catch it with the BBC Symphony Orchestra under Jukka-Pekka Saraste at the end of last year). The viola line that leapt out sounded as if it might have been played on electric instruments, but no, it was totally natural. And if Hardenberger to begin with wasn't quite as line-perfect as he had been at the Barbican – last night's heat may have had something to do with it – the orchestral mesh sounded even more luminous.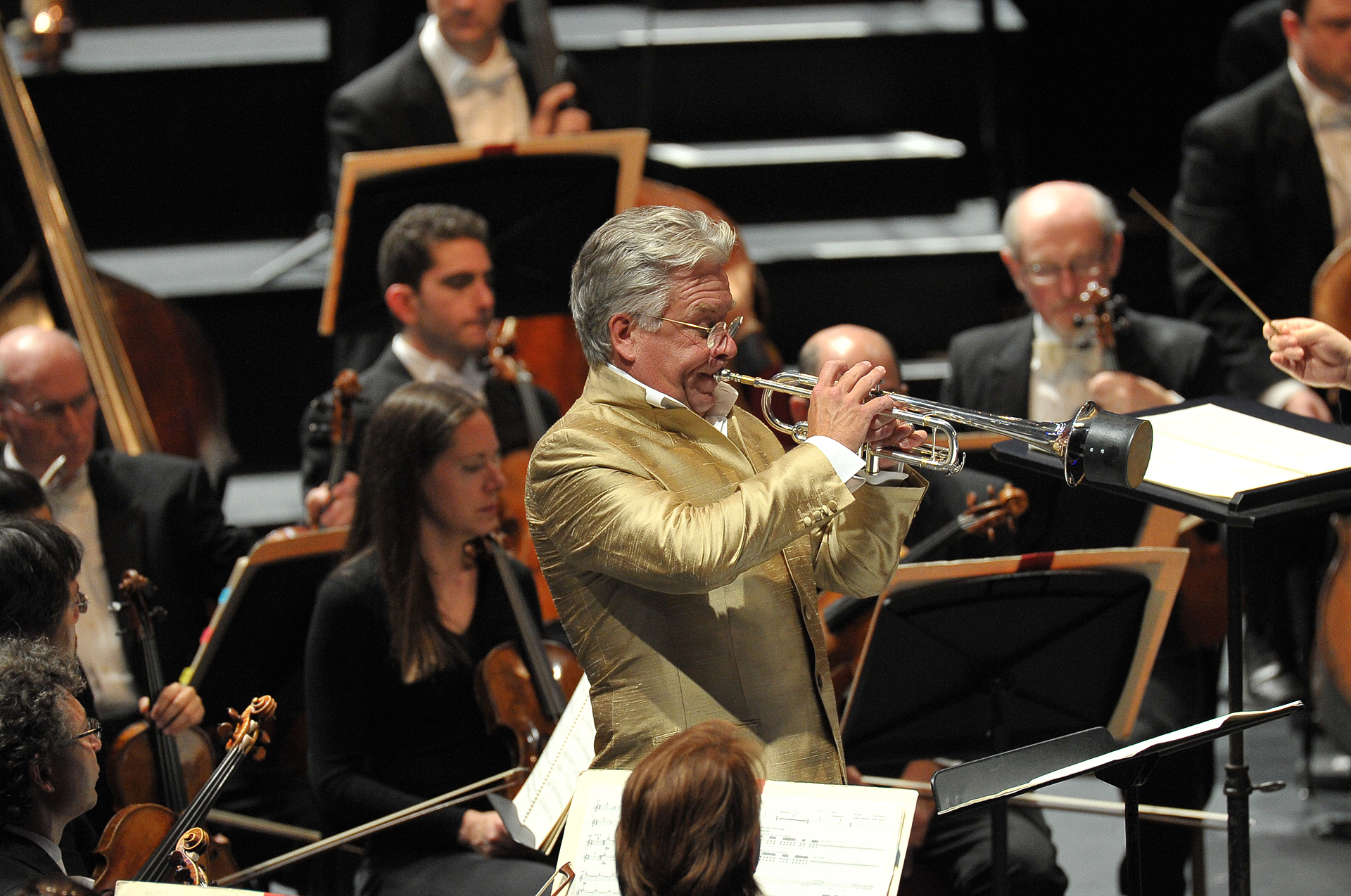 Nelsons' keen, knife-edge conducting confirmed that this is a recent work of rare rhythmic backbone, dancing in the first movement before a heady dream takes over in "Soliloquy", Hardenberger (pictured right) now settled and spine-tingingly gorgeous of tone, and a marching band sweeps up the now Chaplinesque protagonist in a witty, Ivesian conclusion to a work which up to that point has been very earnest indeed.
If the march was chosen to link to the Mahler, it worked. And how Nelsons tore into the opening Allegro energico of the Sixth: crouching, leaning forward, leaning back, pulling an inventory of dramatic faces which took on golemesque dimensions in the spooky-scary Scherzo, but never to self-regarding effect; the low-down "quieter still" in the first movement's variation on a chorale brought instant extra magic from the superb Boston woodwind, the intense bending over the first violins at the start of the Andante just the right veiled, lovely but intense sound. And Nelsons gets extra marks from me for putting that slow movement third; the reversed order of the middle movements all too often preferred robs the Scherzo of the action-reply in 3/8 and 5/8 time which connects it, if exhaustingly, to its proper predecessor.
Every little detail brought enlightenment, from the acid-edged double-bass and contrabassoon rumble at the end of the first bout of marching to John Ferrillo's infinitely nuanced and radiantly clear oboe solos, the last initiating a final power-up of astonishing force just as you thought Nelsons and his players (pictured left) couldn't pull more out of the bag. Yes, Nelsons takes quite a few tempo liberties: two of Mahler's injunctions nicht schleppen ("don't slow down"), one at the heart of the first movement's idyll on mountain heights, the other towards the end of the Andante, seemed to encourage quite the opposite – in the latter case placing the ultimate climax later than expected – but somehow Nelsons' infinite flexibility and ultimate urgency made sense of absolutely everything, to me at any rate.
Can the Bostoners achieve yet more with him in the years to come? I think so – the soft-grained, lovely strings could burn for him as they don't quite yet, and they can be overwhelmed by the splendid brass; tirelessly bright and flawless as Thomas Rolf's often present top trumpet line so impressively was, less would have been more at certain points. But this was easily the best Mahler Sixth I've ever heard in a concert hall – Tennstedt's, Haitink's and Nelsons' great Latvian elder Mariss Jansons' included – so bring on the Shostakovich this afternoon. If you don't have a ticket and you're prepared to stand, join the Arena queue as soon as you can.
Read theartsdesk's reviews of other concerts from the BBC Proms 2015
Nelsons' infinite flexibility and ultimate urgency made sense of absolutely everything
rating
Explore topics
Share this article