Prom 47 : BBCSO, Oramo/ Prom 48: AAM, Hill |

reviews, news & interviews
Prom 47 : BBCSO, Oramo/ Prom 48: AAM, Hill
Prom 47 : BBCSO, Oramo/ Prom 48: AAM, Hill
Dance rhythms pulsed through two fine Friday-night Proms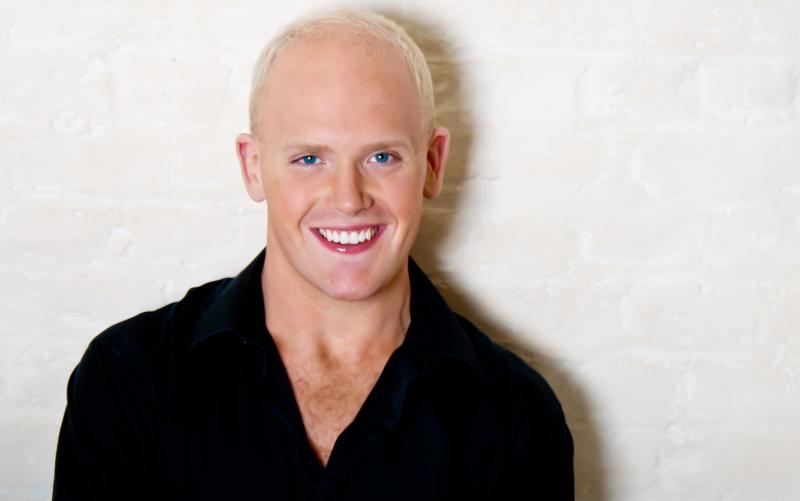 Nicky Spence: tenor was on spectacular form in Bach's demanding arias
It's been glorious to hear so much Bach at this year's Proms – most of it after dark, and still more of it for the most intimate of forces. On paper, the Academy of Ancient Music and BBC Singers' Late Night concert of Bach choral works didn't quite have the mystique of Ibragimova's Solo Sonatas and Partitas, Schiff's Goldbergs or Ma's Cello Suites. In practice, though, it was clever piece of programming that came into its own in its Friday night slot, sending people home to the weekend on the very highest of musical highs.
It's hard to look past the line-up of soloists, which reads more like a wish-list than a cast. Sophie Bevan and Iestyn Davies (both fresh from Glyndebourne's Saul the night before, and each singing as fully and stylishly as ever) were joined by Roderick Williams, Nicky Spence and Rebecca Evans to make up a proudly home-grown team.
Only the male soloists were required for Bach's Lutheran Mass in G minor – a work we don't hear nearly enough, and one with enough melodic heft to hold its own against the tuneful assault of Bach's Magnificat. Surely one reason for the neglect is the Qui Tollis, an exquisite tenor aria of almost Handelian lyricism and delicacy (with, of course, obbligato oboe) but lying high enough in the range to discomfort many. And then there's the contrast between this fine-spun theme and the thundering, quasi-operatic Quoniam. Spence was master and more of both, crooning and raging by turns, though later this latter was revealed merely as a warm-up for a Deposuit Potentes that seized the hall with its physical force and rhetorical urgency.
Although an odd choice for such low-lying music, Roderick Williams sang with characteristic musicality, selling the Magnificat's Fecit Potentiam with all possible charm. Only Evans, of the soloists, didn't have the easiest of nights, seemingly struggling to contain her voice for the slow-unfolding legato intensity of the Suscepit trio. The BBC Singers, directed by David Hill, were impeccable – diction clear, tuning exact – though at times a little too blended. This soft-focus, unit singing, rounding the corners and softening the edges of the counterpoint, at times denied us the same guttural edginess that was coming so vividly from the orchestra.
The AAM's signature one-to-a-part Brandenburg (No. 2) was a perfect central interlude, its quartet of soloists weaving in and out of spotlight-focus with long-practised subtlety and deftness. Particular mention must be made of David Blackadder, tackling the punishly high trumpet line with swagger.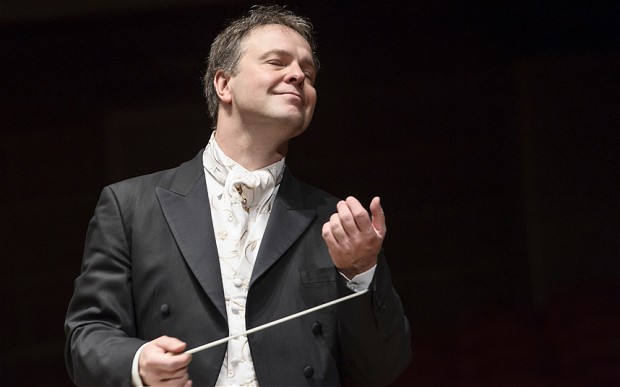 The dance rhythms that pulsed through the Late Night Bach had their origin earlier in the evening in Sakari Oramo (pictured right) and the BBC Symphony Orchestra's irrepressible take on Beethoven's Symphony No. 7. Gleeful, fleet-footed, and with just enough rusticity added by some vehement brass-playing, this was a Seventh Symphony that had the ebullient finale in its sights from the very first seconds. While this did necessitate an Allegretto of unusual efficiency (not to say briskness), the pay-off came in a first movement of such ease and unaffectedness, violins all but becoming folk-fiddles to propel it along.
There's always an element of "spoonful of sugar" programming at the Proms, and it was interesting to see last night that the pulling power of Beethoven was enough to help smuggle through unfamiliar works by Anders Hillborg and Icelandic composer Jon Leifs. Beethoven did get a little help from Sibelius. Tapiola was a natural opener, showcasing both Oramo's skill with this deeply felt, colouristic music, but also the orchestra's willingness to give him anything he asks for. Its muscular take on folklore (no mimsy sprites and nymphs here), forthright and full-blooded, established a scope and scale for the evening's music-making that prepared the audience for both the Hillborg and Leifs – each studies in extremity and aural impact.
While it's always good to hear the Royal Albert Hall organ in full spate, it was hard to warm to Leifs's Organ Concerto (despite the best efforts of soloist Stephen Farr), particularly when its rather inscrutable contrasts and exaggerations were hurled so violently at us. Atmospheric and inventive, Hillborg's Beast Sampler was more successful, the metallic coolness of its soundworld such a distinctive signature.
As ever with multi-Prom days, too much music to absorb here. But excess is a key part of this largest of classical festivals, and it would be hard to wish it any other way.
Read theartsdesk's reviews of other concerts from the BBC Proms 2015